Yumeus Taylor is an Oakland native, but everyone calls her Missy. She has been fascinated with fixing cars since she was a little girl watching her uncle and dad work on their vehicles. After graduating high school in Oakland, she enrolled in Laney College for general studies courses and then started taking automotive classes at the College of Alameda. Missy is a single mom with two sons, and when she isn't working part-time as a technician at San Leandro Hyundai/Kia, she is joining her mom and sister to give back to the Oakland community by volunteering at the Bay Area Mega Center in Oakland.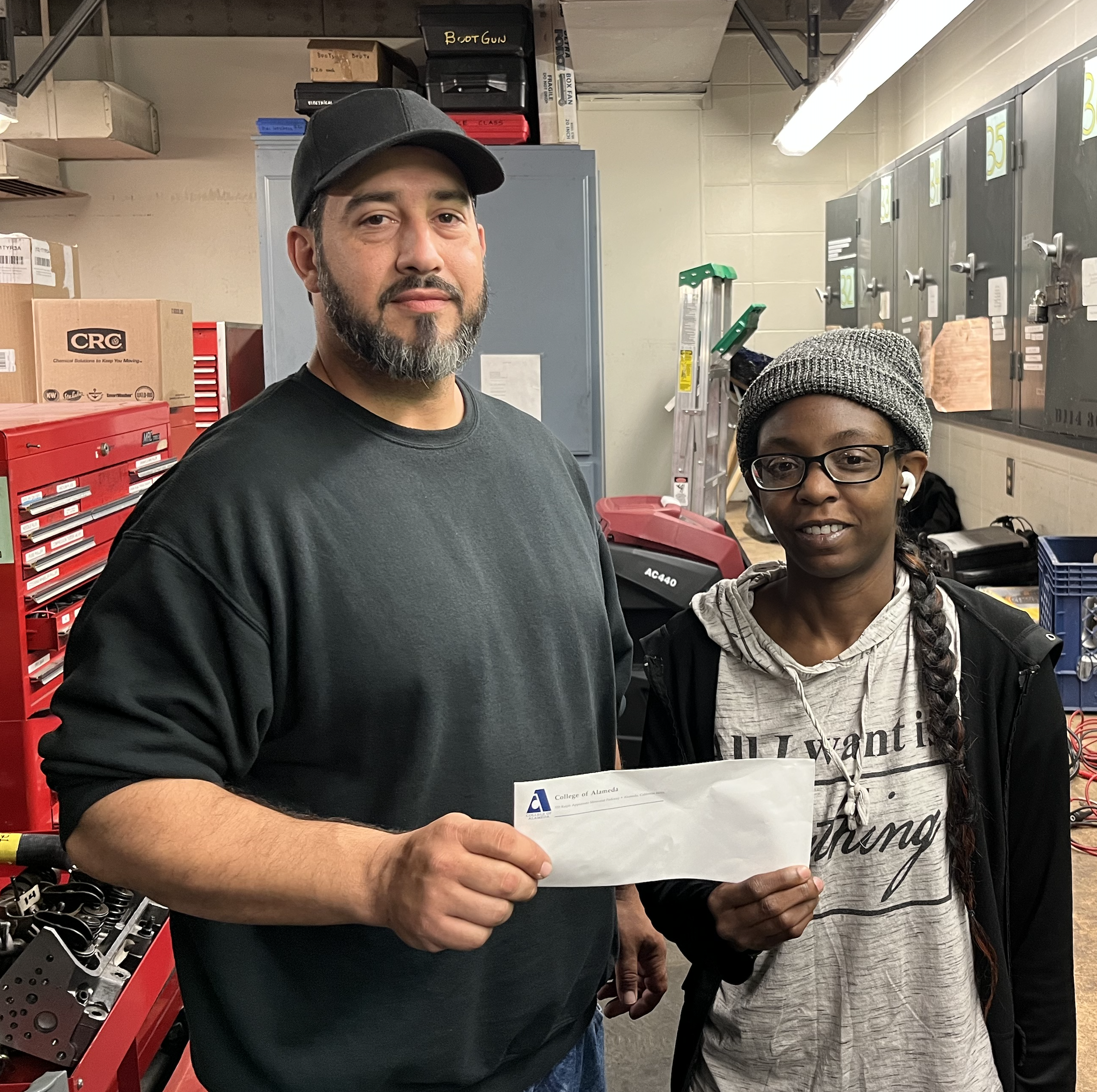 Yumeus (Missy) Taylor receives her Ozzie Day Scholarship check from Atech Toolroom keeper Candido Mejia
The Ozzie Day Scholarship is a $750 scholarship award which is presented by the Automotive Technology (ATECH) Department to students with the highest grade point average and the most units in the Atech Program. The scholarship was set up in memory of Ozzie Day, the founder of Automotive Engineering and a long-time member of the COA Automotive Advisory committee.
The Automotive Technology curriculum is designed to prepare students for employment as apprentice auto mechanics or to allow students to continue toward a Baccalaureate degree in other advanced schools of technology in preparation for future management and teaching careers in the automotive industry.
The College of Alameda ATECH program is certified by the Automotive Service Excellence (ASE) Educational Foundation as a Master-Level program.
Instruction covers safety trade ethics, use of hand and power tools, as well as the theory repair and testing of automobiles and their components. Special emphasis is placed on the diagnosis and repair of electronic and computer control systems in late model automobiles.
For more information about the College of Alameda Automotive Technology Department, please visit us online at https://alameda.edu/home/business-entrepreneurship-transportation/autotomotive-technology/ or call Atech at 510-748 2267.
Attention Students! Did you know there is a wide range of scholarships available to you? Please visit the Peralta Colleges Foundation website at https://peraltafoundation.org/ to find out about other scholarships that you might qualify to receive.
Many thanks to ATECH Professor Rick Greenspan for information about the Ozzie Day Scholarship award.