The Peralta Association of African American Affairs (PAAAA) hosted a lovely event in honor of seven outstanding students on May 4th, 2023, at the Peralta Community College District headquarters in Oakland. Dr. Lawrence VanHook (PAAAA President) led attendees through the program that included Libations by Dr. Marlon Hall (Laney College Vice President of Student Services) and a thrilling performance of "Lift Every Voice and Sing" by Laney College student Alison Fletcher.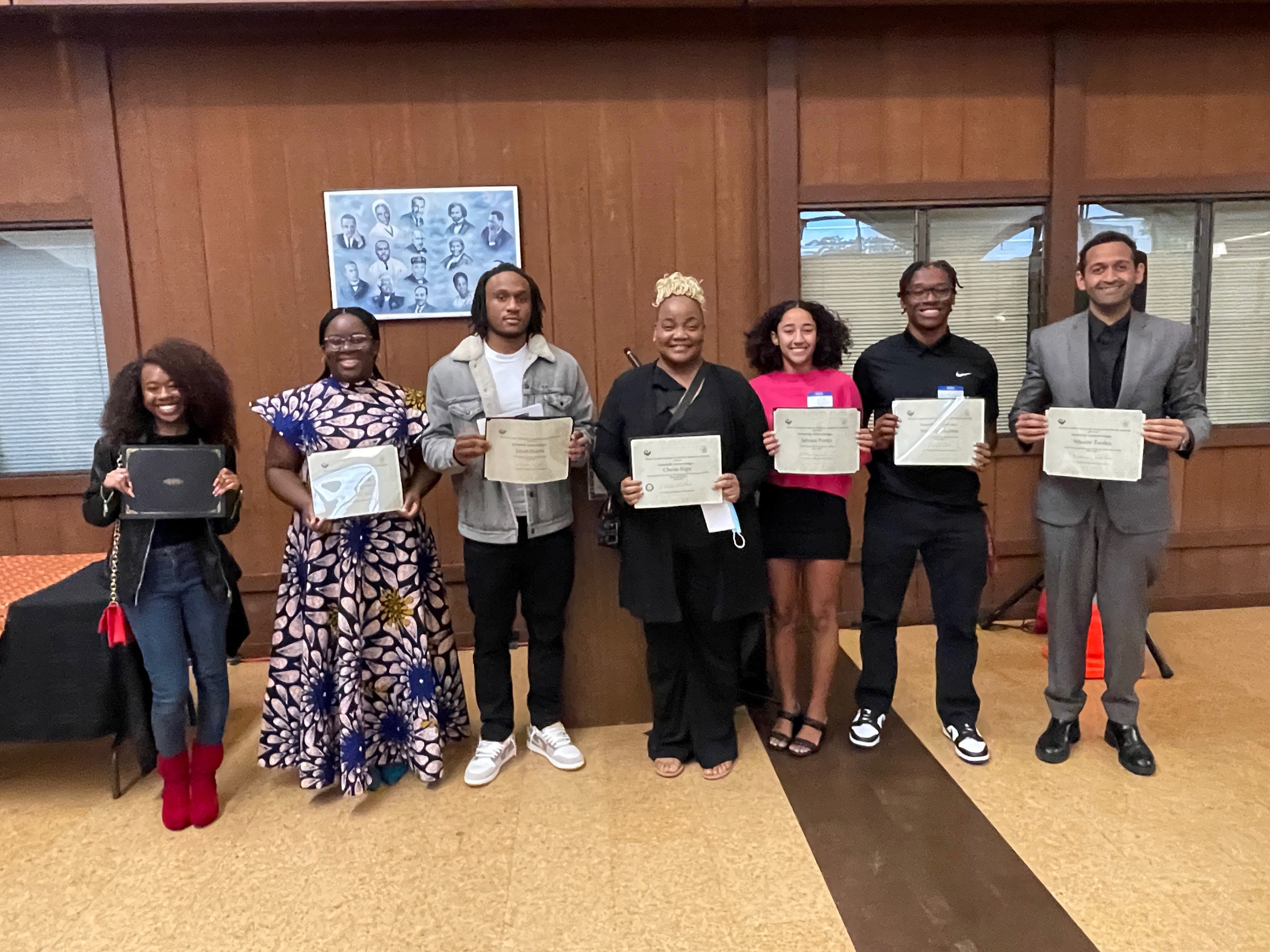 The students who received the awards were:
Xion Abidoun (Laney College)
Jacob Harris (Laney College)
Eneni Frank (Berkeley City College)
Jalyssa Portis (Merritt College)
Markus Clayton (Merritt College)
Cherie Espy (Laney College) who received the NAACP Scholarship
Mussie Tariku (Laney College) who received the Celestina Nsingang Mbianda International Award
Cherie Espy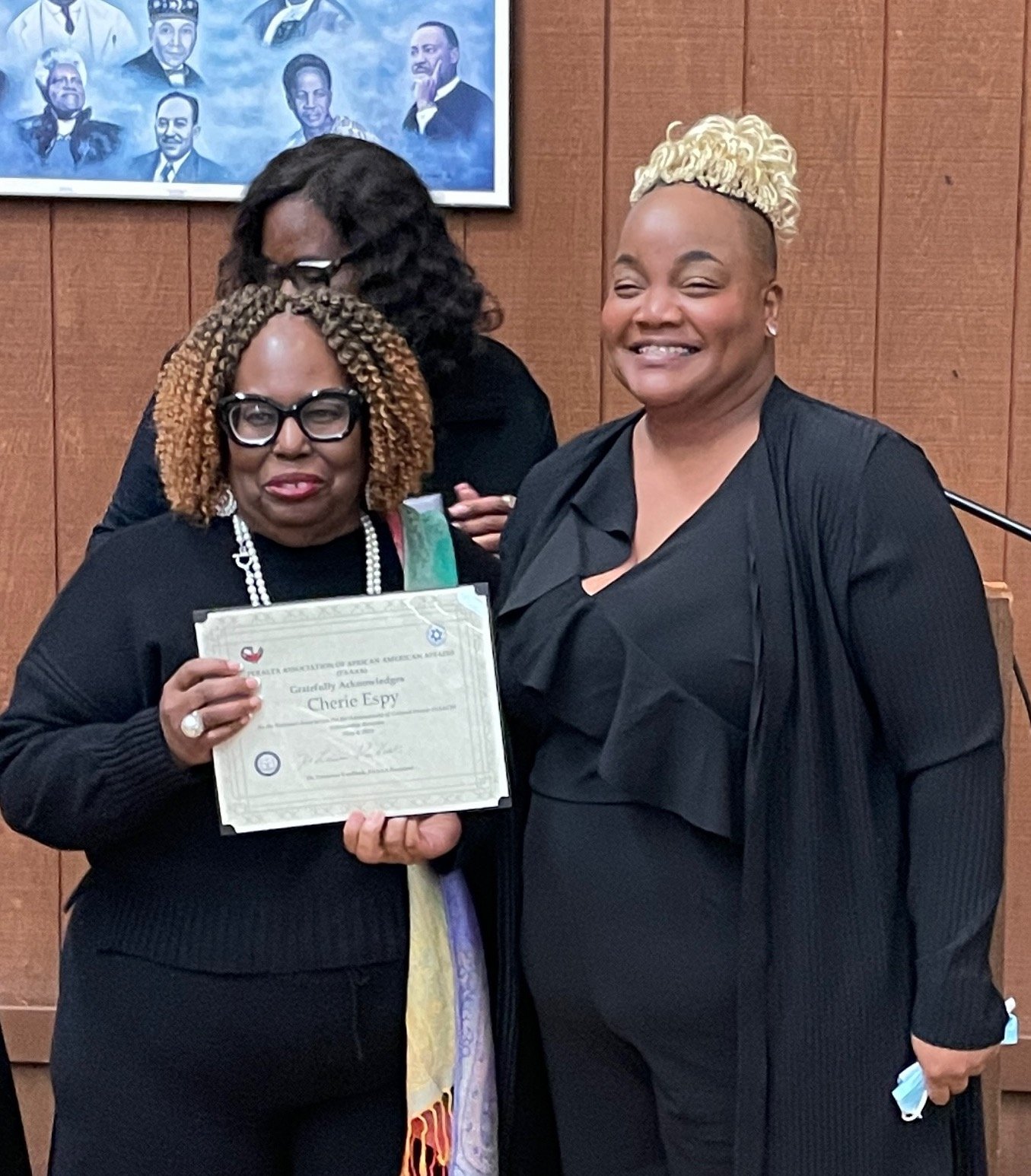 Cherie Espy (above right) received the NAACP Scholarship from Cynthia Adams (President of Oakland Branch of the NAACP/National College Research Foundation Education Community Engagement). Cherie is a Laney College student in the Cosmetology program. She's a returning student with a large and supportive family and will be the first to graduate from the cosmetology program with a hearing impairment, receiving support from Student Accessibility Services.
Jacob Harris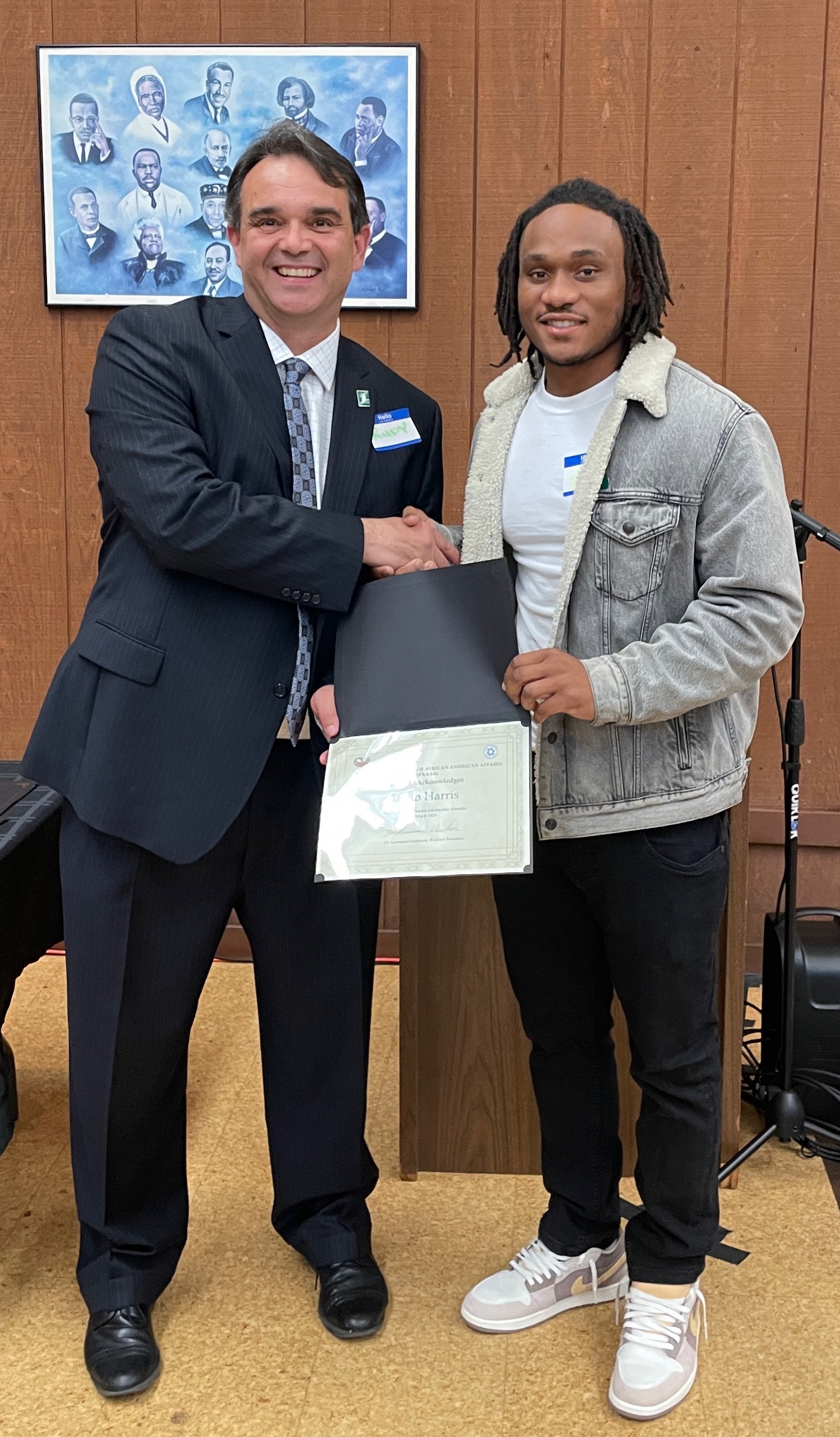 Jacob Harris will be a Spring 2023 Laney graduate. He played football for two years while at Laney and was voted team captain each year. He always leads by example by putting his responsibilities first. Currently, he is a mentor for youth ages 9 – 14 where he teaches them sportsmanship and leadership skills. Jacob plans on continuing his education at Cal State East Bay where he will pursue a bachelor's degree in communications.
Xion Abiodun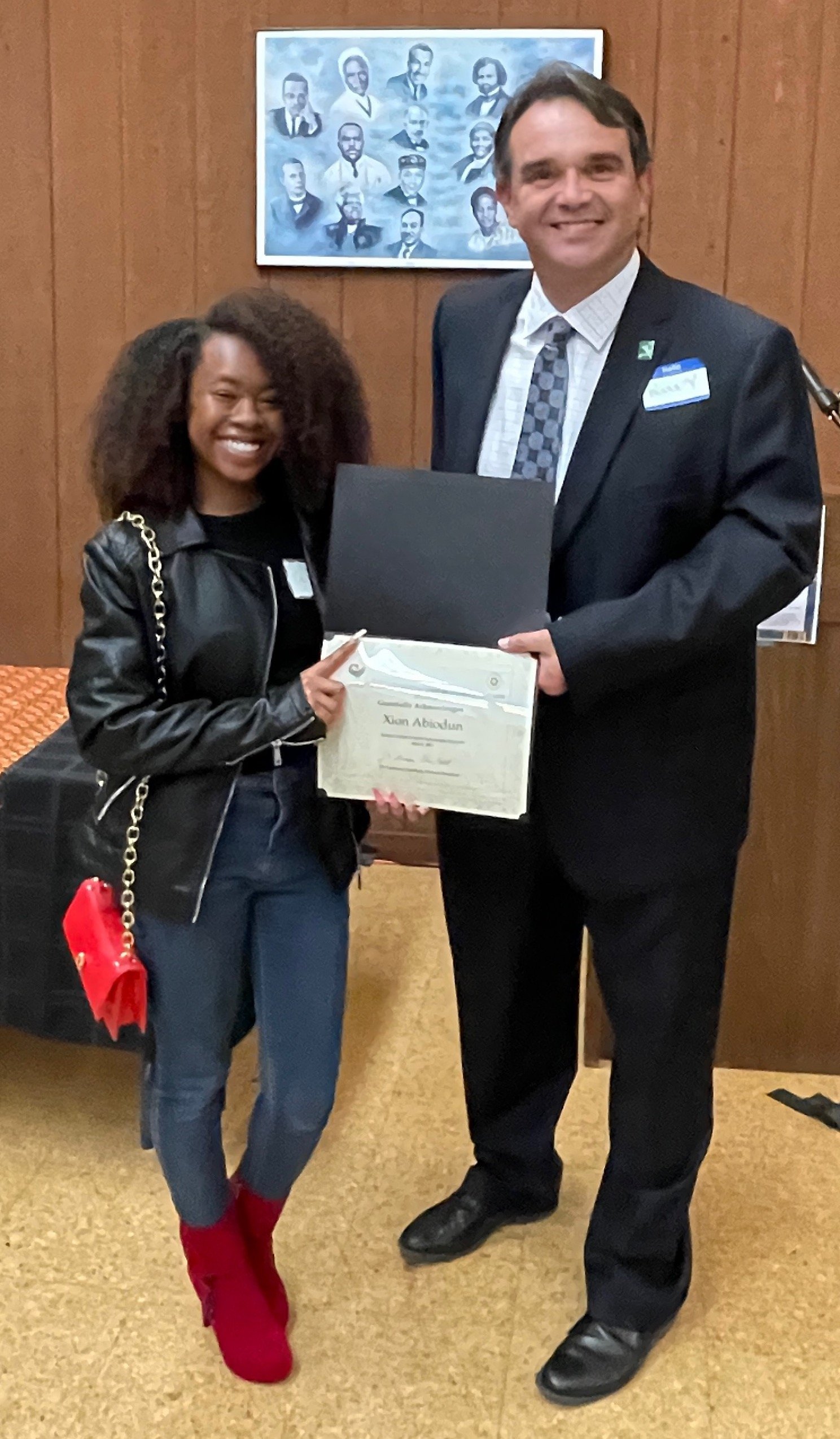 Xion Abiodun, is a second-year college student at Laney. Next year she plans to attend Laney, taking photography and videography classes. Her future goals are to transfer to a university to major in photography, her passion, and graduate with a bachelor's degree. Her career goal is to give back to the community by providing paid opportunities for people of color interested in art.
Mussie Tariku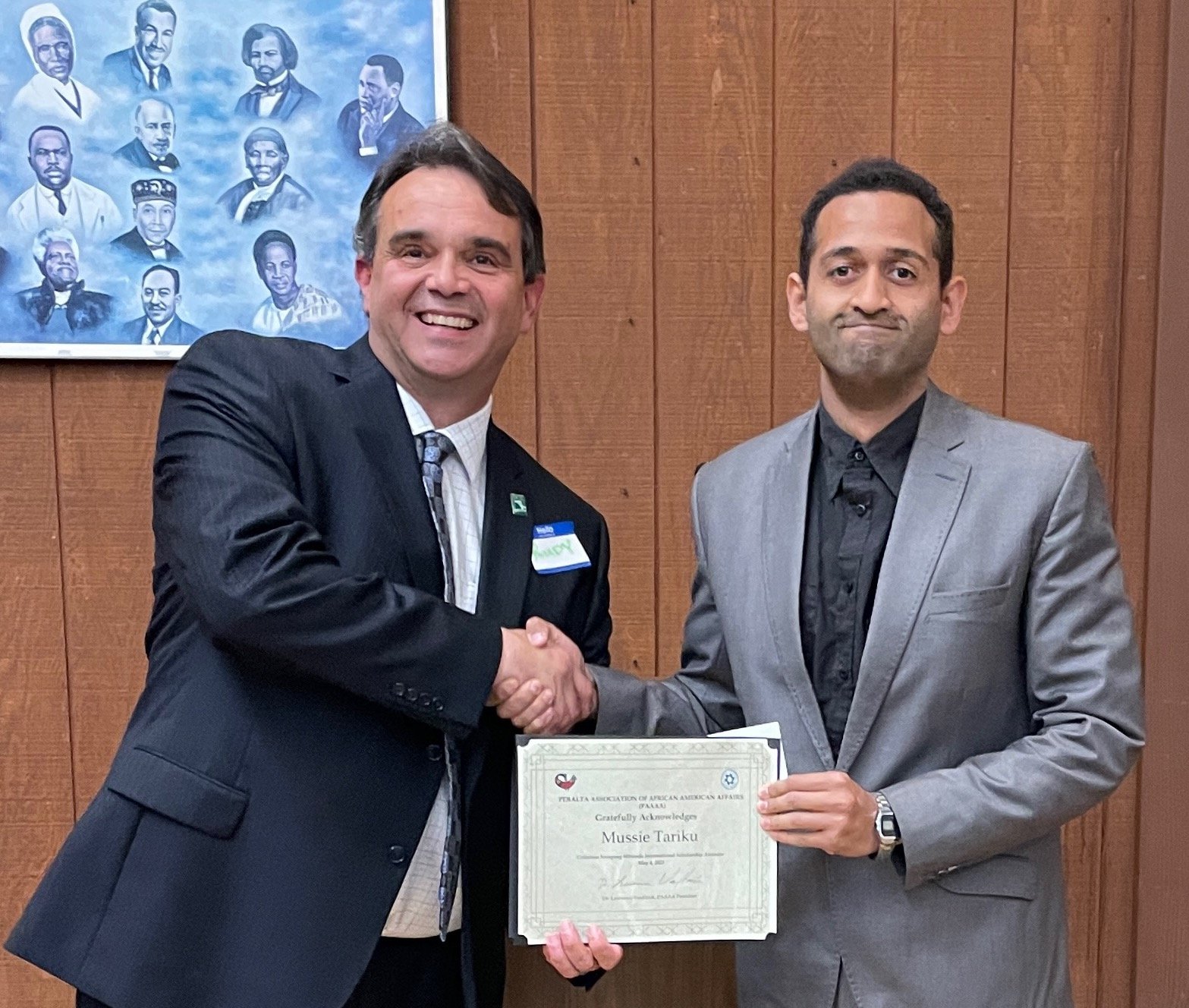 Mussie Tariku is an international student from Ethiopia. Currently he is in his second year at Laney college and a first-generation college student. He has been a student at Laney for two years majoring in Psychology. His goal is to transfer to a four-year university, hopefully UC Berkeley to become a psychologist. His vow is to continue his hard work carrying on the tradition of support and generosity for those looking to succeed.
Jalyssa Portis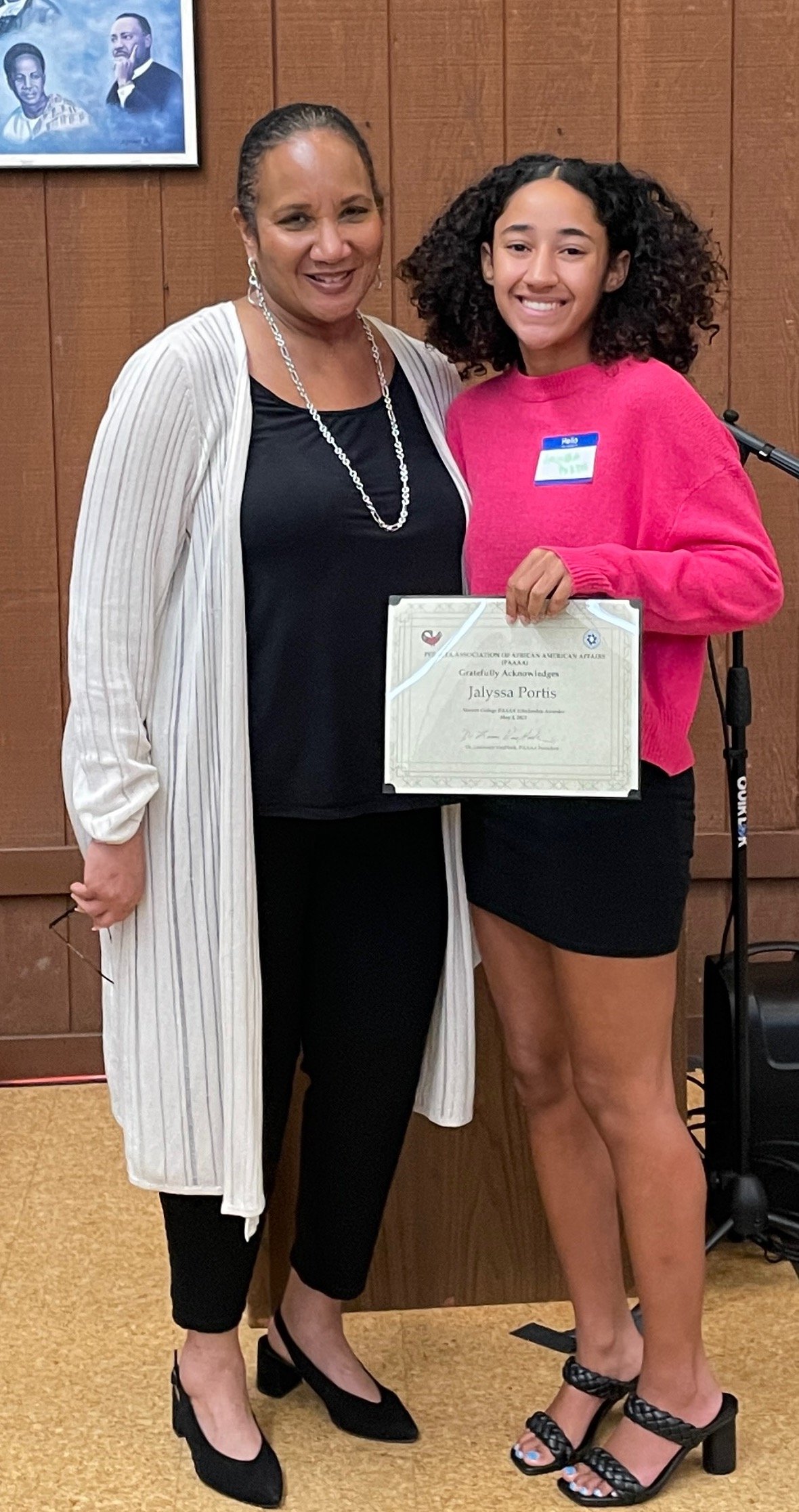 Jalyssa Portis is currently the co-captain of the Merritt College women's basketball team. Her major has been political science but she'll add Educational Studies and double major at University of La Verne - a small private college in Redlands, CA, beginning this fall. She came to see the impact she can have by being an educator. Peralta's instructors have inspired her; they showed her the importance of us being represented in the classroom. Her goal is to teach at the community college or university level. With her 4.0 GPA, she is well on her way!
Markus Clayton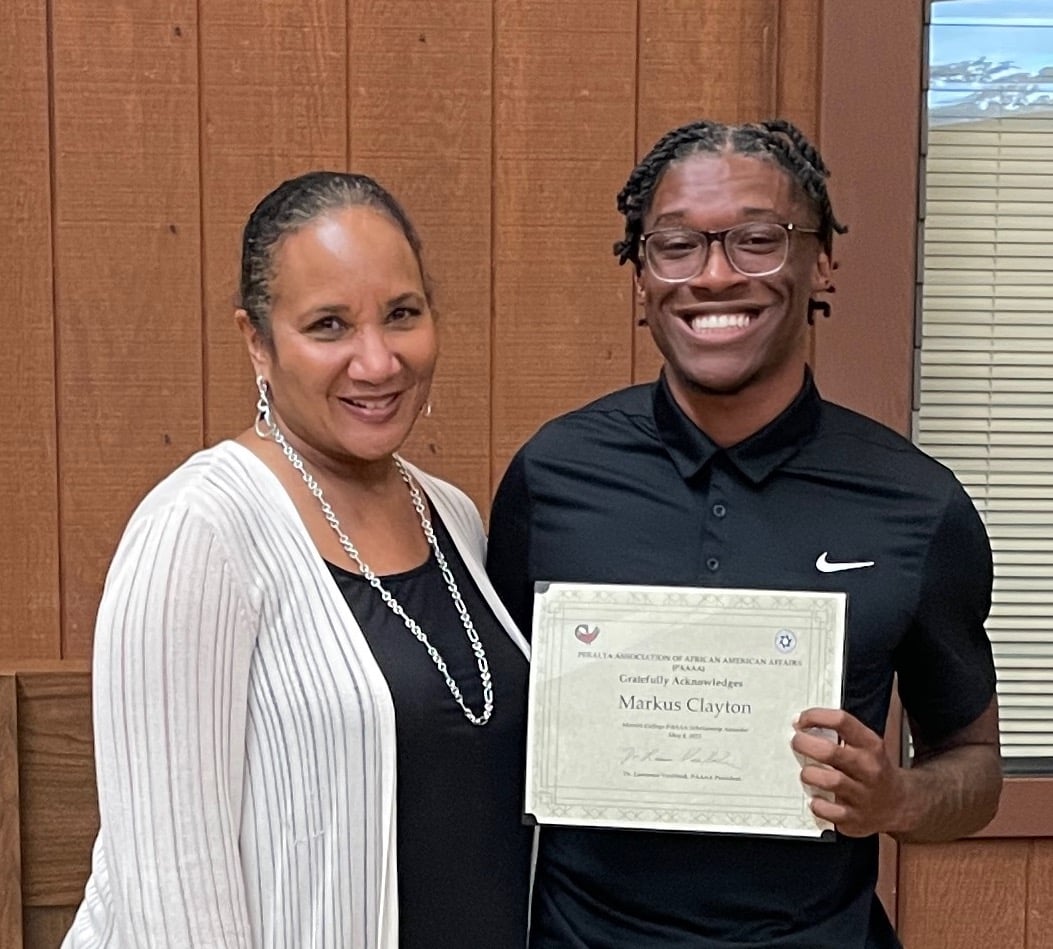 Markus Clayton is a member of the Merritt College track team. He's leaving Merritt with 2 transfer AA's - in sociology and psychology and an AA in social & behavioral sciences. He was accepted into several schools including UC Santa Cruz and UC Santa Barbara and four CSUs. He has a 3.84 GPA and is a member of Phi Theta Kappa.
Eneni Frank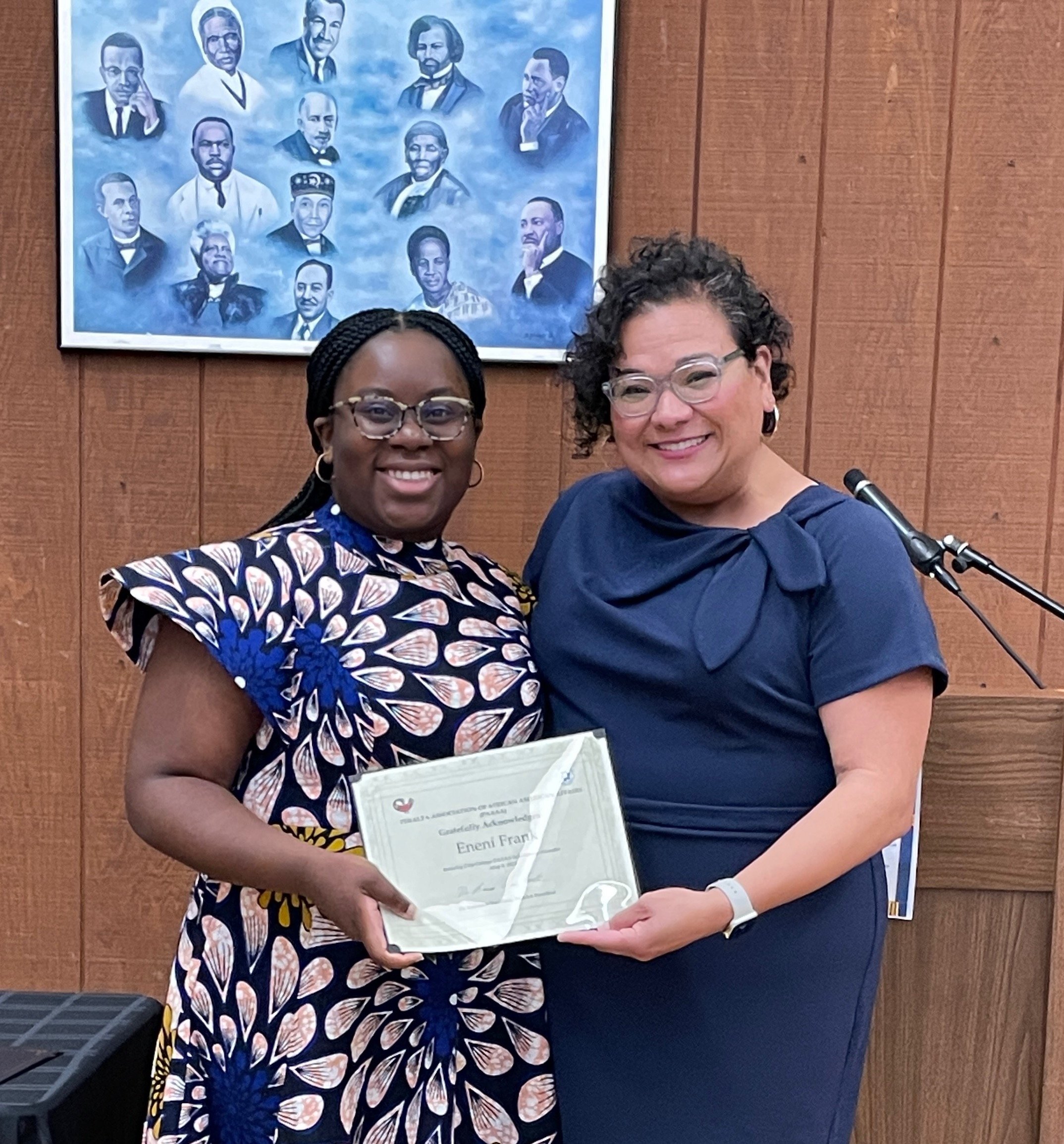 Eneni Frank is a BCC scholar and graduate who has earned her Associate Degree for Business Administration. She is proud to have chosen an educational journey that followed in her mother's footsteps, who is a BCC alumna. As the first person to attend a baccalaureate institution, Eneni is very driven and diligent. She is proactive and takes ownership of her journey, while also demonstrating tremendous communication skills and maintaining a proactive approach. She is a natural leader and contributor to communities, including the BCC Student Ambassadors and the Umoja Scholars Community. Her work ethic is impeccable and her attention to detail is remarkable.
Eneni has been an active member and leader with our Umoja Scholars community during her time with BCC/Peralta. She supports scholars in the program and also helps plan, lead and facilitate events, including Porch Talks and annual activities, such as our "Rites of Passage Ceremony" and our "Umoja Day". She also has participated in several career development programs outside of BCC, including the KPMG Frank K. Ross Leadership Institute.
Eneni Frank is a top tier scholar with impeccable skills and unlimited potential. She is a key contributor to our campus community, and we all believe she will greatly enhance the UC Berkeley Haas School of Business in the fall.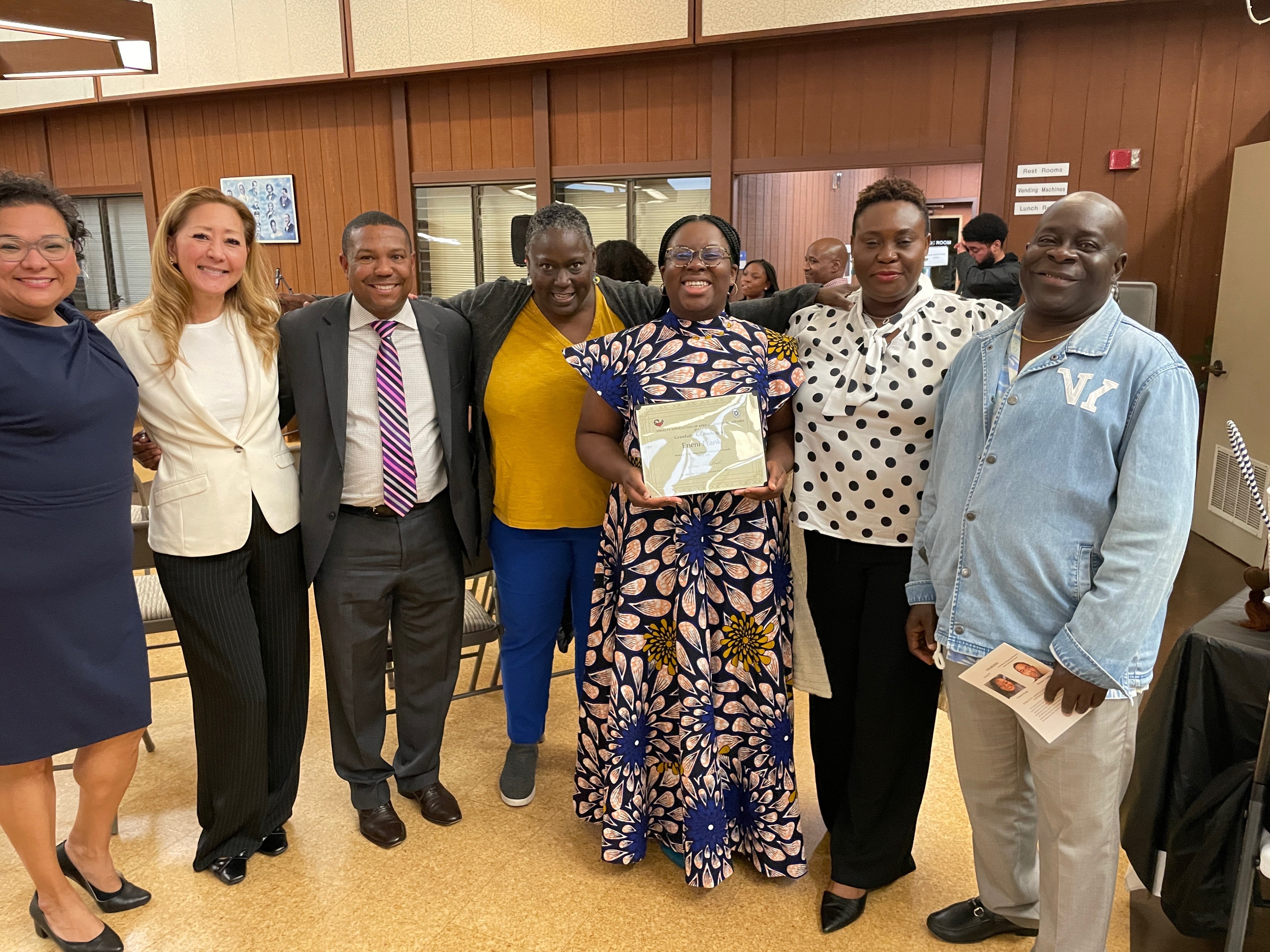 (Berkeley City College Leaders with Eneni Frank and her parents)
Awards were presented by Dr. Rudy Besikof (Laney College President), Dr. Angélica Garcia (Berkeley City College President), Dr. Denise Richardson (Merritt College Vice President of Instruction), and Cynthia Adams (President of Oakland Branch of the NAACP/National College Research Foundation Education Community Engagement).
Douglass Cobb (Laney College Counselor) led the event planning committee. The food, catered by Laney College Food Services, was excellent as always. Thanks to all the volunteers who worked the scholarship event.
The Purpose of the Peralta Association of African American Affairs (PAAAA) is to organize and operate for educational purposes as they pertain to the effective education of African Americans here in Peralta's East Bay service area including Alameda, Albany, Berkeley, Emeryville, Oakland, and Piedmont.
Congratulations to all the students who received the scholarship awards!
More photos and videos of the event can be found online here.