Sohail Ali was awarded the Ozzie Day Scholarship today for Fall, 2021. Sohail has been attending the College of Alameda for four years, and will complete his Associate of Science degree in Automotive Technology next semester. He says that he's majoring in Automotive Technology because he "loves to fix things." Sohail is currently attending college full-time, while--at the same time--working part-time at an independent repair shop in San Francisco. iH His goal is to become a certified Master tech, specializing in Engine Performance.
Below, Professor Rufino Ramos provides the Ozzie Day Scholarship check to a grateful and well-deserving student Sohail Ali (right).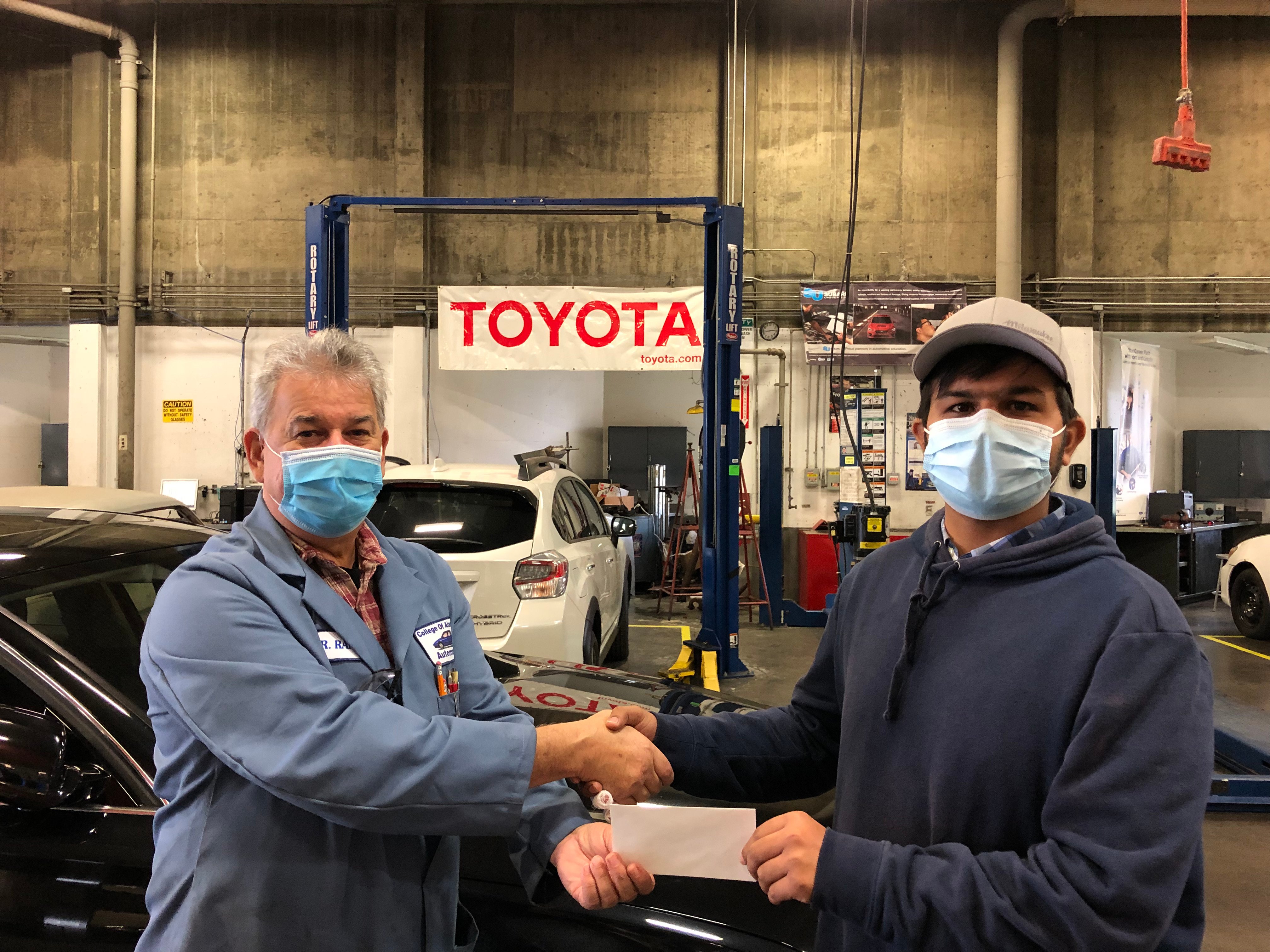 The Ozzie Day Scholarship is a $750 scholarship award which is presented by the Automotive Technology (ATECH) Department to students with the highest grade point average and the most units in the Atech Program. The scholarship was set up in memory of Ozzie Day, the founder of Automotive Engineering and a long-time member of the COA Automotive Advisory committee.
The Automotive Technology curriculum is designed to prepare students for employment as apprentice auto mechanics or to allow students to continue toward a Baccalaureate degree in other advanced schools of technology in preparation for future management and teaching careers in the automotive industry.
The College of Alameda ATECH program is certified by the Automotive Service Excellence (ASE) Educational Foundation as a Master-Level program.
Instruction covers safety trade ethics, use of hand and power tools, as well as the theory repair and testing of automobiles and their components. Special emphasis is placed on the diagnosis and repair of electronic and computer control systems in late model automobiles.
For more information about the College of Alameda Automotive Technology Department, please visit us online at https://alameda.edu/home/business-entrepreneurship-transportation/autotomotive-technology/ or call Atech at 510-748 2267.
Attention Students! Did you know there is a wide range of scholarships available to you? Please visit the Peralta Colleges Foundation website at https://peraltafoundation.org/ to find out about other scholarships that you might qualify to receive.
Many thanks to Rick Greenspan and John Taylor for information about the Ozzie Day Scholarship award.