Welcome students and educators to the Fall 2020 Semester at the Peralta Community College District!
In a normal semester, the faculty, administration, and classified professionals would gather at one of the Peralta Colleges the week before classes for a final round of in-person preparations and professional development. But nothing about the year 2020 has been normal so far. As we deal with the global pandemic and the local Alameda County shelter-in-place requirements, not to mention the additional challenges of heat, fires, and air quality currently impacting the East Bay, for Fall 2020 we took the Flex Day events online.
Flex Day events were organized by Dr. Inger Stark, the Staff Development Officer for the 2020-21 academic year. In collaboration with the Peralta Federation of Teachers and Dr. Siri Brown and the office of Vice Chancellor of Academic Affairs and Student Services, Inger put together a rich agenda of training, planning, and career development opportunities for faculty and other employees. The Flex Day agenda is available here.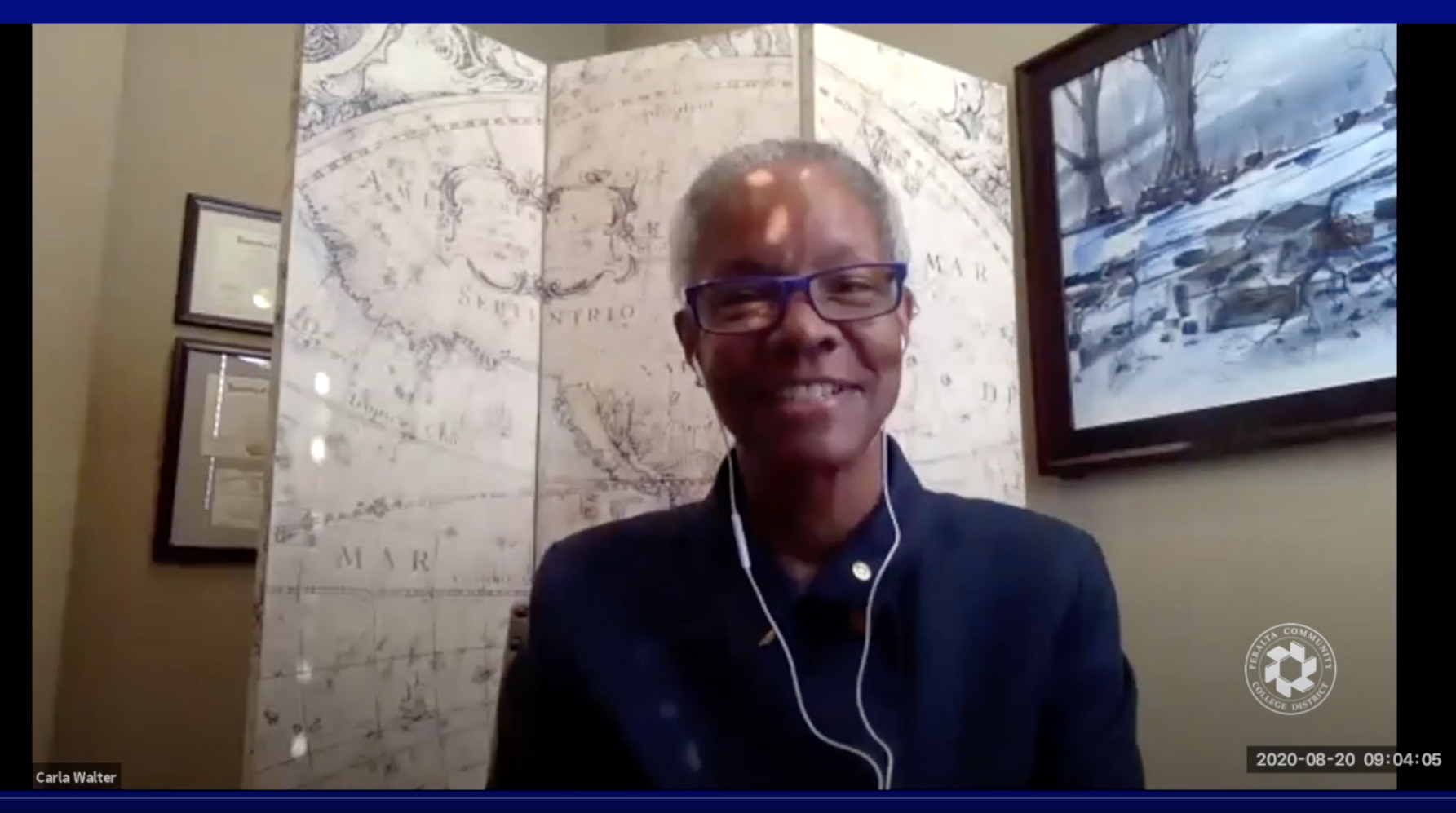 Flex Day started with a Plenary Session that featured Acting Chancellor Dr. Carla Walter. Chancellor Walter's talk focused on Cultivating Stability for Students. She noted that all of us at Peralta Community College District want students to succeed and thrive, and we can do so by cultivating conditions that intensely focus on students and their well being. Dr. Walter called on employees to "Think big, think bold, think 'Why not?'" as we develop plans that provide vision and hope along with milestones and rewards to help guide us. In particular, she advocated something she called "DEEP C-ing" which is based on:
Diligence
Energy
Effort
Perseverance
Compassion (for yourself and others)
She went on to cite examples from inspirational leaders who have used DEEP C-ing to accomplish major changes and remind us that achievements are innumerable when seeking a shared vision and overcoming diversions. Her speech was followed by a Q&A session and both the speech and Q&A are available on YouTube here:
The Flex Day Plenary Session continued with a lively panel discussion featuring leaders from collective bargaining units, the Academic Senate, the Classified Senate, and the administration. The session was moderated by Dr. Inger Stark and featured the following Panelists :
Dr. Siri Brown, Vice Chancellor of Academic Affairs and Student Services

Roberto Gonzalez, VP of District Classified Senate

Antoine Mehouelley, Director of Information Technology

Dr. Donald Moore, President of District Academic Senate

Dr. Jennifer Shanoski, President of Peralta Federation of Teachers

Richard Thoele, President of SEIU 1021
Each panelist gave a short statement and then answered a wide range of questions from the community. One theme emerged which is the AMAZING work that Peralta faculty and classified professionals have done over the past year to bring instruction and student services online to protect our community as much as possible from COVID-19. Faculty have completely reorganized their courses for online and remote modalities while classified professionals have taken face to face services around admissions, records, financial aid, student services and health services online. As Dr. Stark noted, we are all a team and we have to work together as a team to serve our students. A video of the panel discussion is available on YouTube here:
Many thanks to Staff Development Officer Dr. Inger Stark for organizing a very productive Flex Day and we wish you all success in the coming semester!