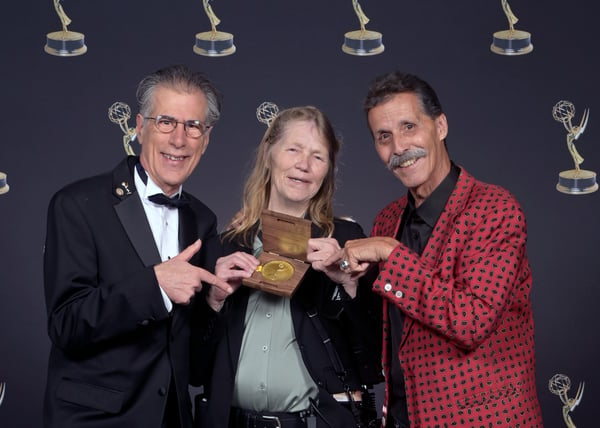 Photo credit: Michael Moya
This year The National Academy of Television Arts & Sciences (NATAS) - the organization that provides the Emmy Awards - awarded two recipients for the 2023 Governors Service Medallion Award. Devin Fehely, CBS Bay Area KPIX and Susan Bradley, Susan A. Bradley Photography. What makes this year's award more memorable is Susan Bradley is the first student to be awarded the Governors Service Medallion.
Susan Bradley is an active NATAS member and Governor. Susan set a precedent as the first student Governor for the San Francisco NATAS chapter. Because of her continual contribution as a photographer for NATAS Susan was nominated for the 2023 Governors Service Medallion after only three years of service.
Susan started her photography training as a Black & White still photographer in the Laney College Professional Photography Program in 2010. Completing all of the introductory classes in professional photography, Susan was recognized as an acclaimed Black & White Photographer. She has exhibited locally in numerous exhibitions with her Black & White photography.
Continuing in the advanced Professional Photography Program at Laney, Susan started her photography career working as a still and video photographer. She is completing all of the required photography courses for her AS degree at Laney College. Susan has also contributed to the Laney Photography program as a senior photographer and Instructional Assistant under the mentorship and instruction of Michael Moya of MOYAfotografx. Susan started shooting the NATAS Gala and the Gold & Silver awards as one of Michael's leading photographers. As active Governor, Susan is now the current Director of Photography for these annual award events. Introduced to DSLR video, Susan started her training in the Laney Media department under the guidance and instruction of Steve Shlisky.
Susan has completed all of the Media courses as well. She also assists Steve in his Documentary and Beginning Video Production Class. Susan also videotapes the live Laney Theatre Productions. Her work includes Macbeth; Disbelief; Hard to Make Art When You are Pursued by a Bear. Susan has developed her skills as an editor and camera person in both still and video mediums in both analog and digital formats.
With a full schedule as a student and professional photographer, Susan still finds time to contribute her photography services to the NATAS organization. Her dedication and commitment have been recognized by NATAS with the 2023 NATAS Governors Service Medallion! Congratulations Susan on this Award of Excellence!
Quote from Steve Shlisky:
"Susan is not only a fast learner, able to grasp concepts about video production, but able to distill them to others. I have seen her gain such confidence in her skill sets that I trust her to work one-on-one with my production students."
Editor's Note: This is the second year in a row that people within the Laney Community have been recognized by the National Association for Television Arts & Sciences (the organization behind the Emmy Awards). Last year, Larena Baldazo, then Laney PIO, also received an award.