I invite you to come explore a preview of Peralta website at Explore.Peralta.edu!
Our current Peralta Colleges website at https://web.peralta.edu is over 10 years old and in need of an update. Over the past 18 months, the Peralta Community College District Department of Marketing, Communication & Public Relations has been working really hard to redesign our website to make it more modern, accessible, mobile friendly, and useful for students and employees. It is my pleasure to share a new draft version of the website available for your review at https://explore.peralta.edu.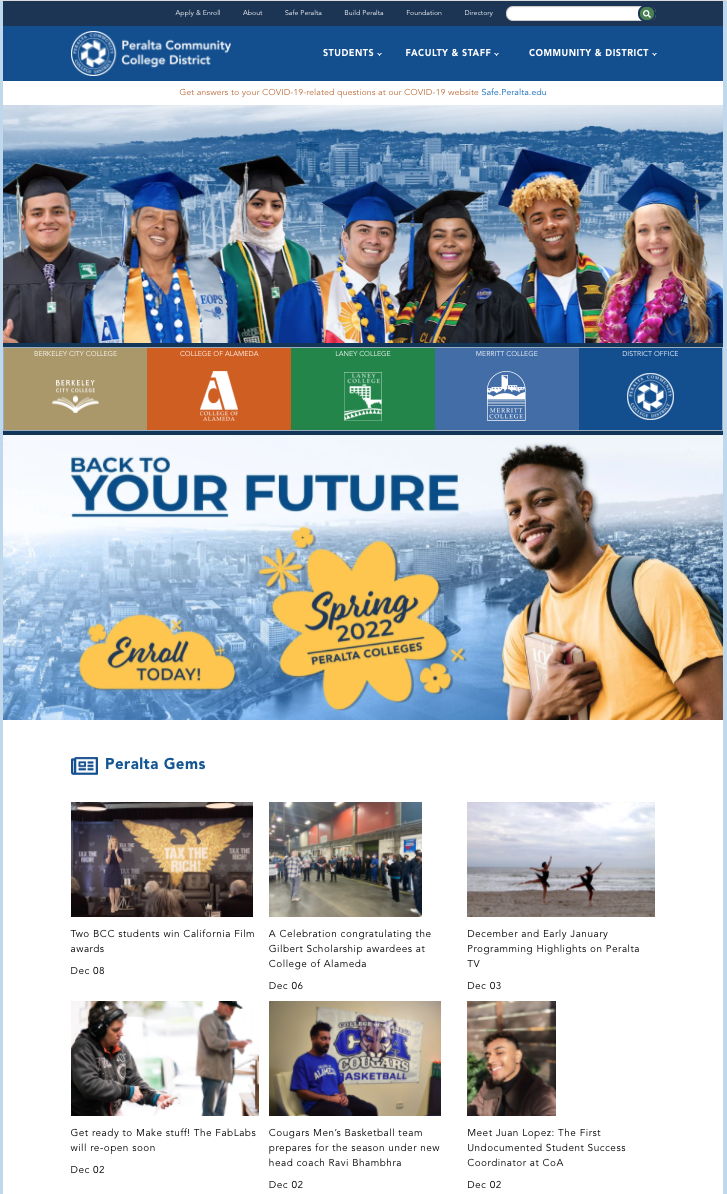 Please check out the new website and let us know what you think! If you find problems, whether it's inaccurate content, broken links or something else, please let us know. You can reply to this message or contact Aaron Harbour, the District Web Content Developer at aharbour@peralta.edu. His email address is also available at the bottom of every page on the Explore Peralta site.
I personally want to thank Aaron for all his hard work on the new site. My thanks also to the many, many people who have contributed feedback on the new site so far, including students, classified professionals, faculty, administrators, and Trustees. I'd particularly like to thank the District Technology Committee, Participatory Governance Council , Chancellor Jackson and her Cabinet for suggestions and support.
"Explore Peralta" is temporary - eventually this website will be found at www.peralta.edu. Our plan is to replace the current WordPress website with this new site created using HubSpot, our marketing and communication system in early January 2022 (with a fall back to mid-February if you all find lots of things that need to be changed).
This draft site is in English. Once we have confirmed the content is accurate, we will be working with HubSpot to generate display in other languages.
If you have other suggestions for additional features or content for the site, please let me know at markjohnson@peralta.edu.
Thank you,
Mark
Mark Johnson
Executive Director, Marketing, Communication & Public Relations
Peralta Community College District