On September 14, 2021, the Peralta Community College District Board of Trustees met for their first regular meeting since July 27th. While there was a lengthy
agenda
following their month off in August, it was a very efficient and productive meeting at just a bit over three hours. The full meeting recording is available on
YouTube here
.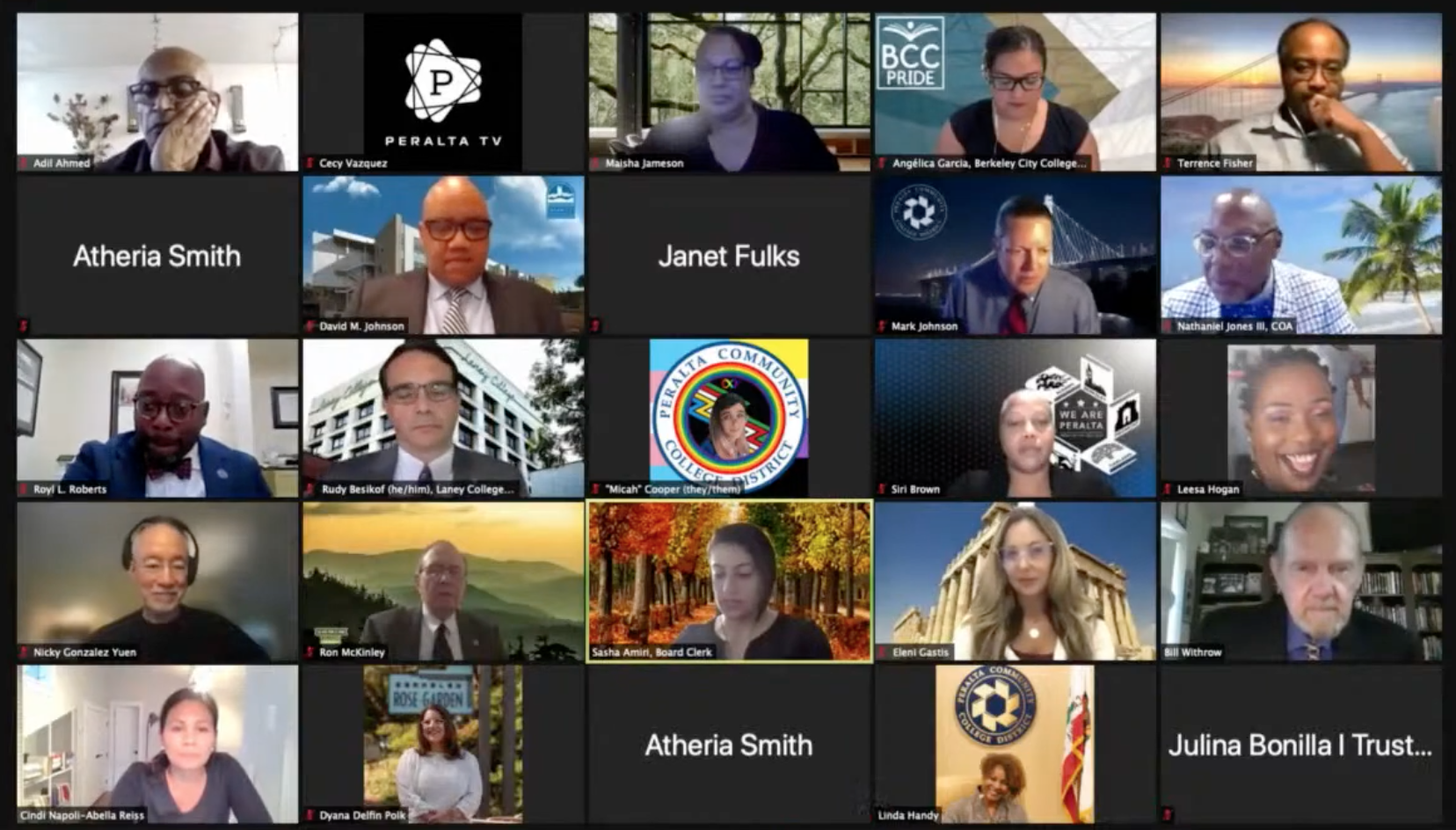 T
he Chancellor's Report segment, featuring comments by Interim Chancellor Dr. Jannett N. Jackson, college updates from BCC President Dr. Angélica Garcia, COA President Dr. Nathaniel Jones III, Laney President Dr. Rudy Besikof, and Merritt President Dr. David M. Johnson; a brief update on our COVID vaccination policy by Interim Vice Chancellor of Human Resources Dr. Ronald McKinley, and an update on enrollment and the fraud prevention actions taken by the District from Vice Chancellor of Academic Affairs and Student Success Dr. Siri Brown, is available on YouTube here: https://youtu.be/KTeYY4i3YeA. This 41-minute video is highly recommended, especially if you don't have time to watch the full three-hour meeting.
Please check out the Presidents' Reports for exciting news from each of the colleges:
The Consent Calendar and the Action Items were each consolidated into one vote and approved unanimously. The Action Items approved included:
The Board also unanimously approved
Resolution No. 21/22-46
submitted by Trustees Dyana Delfín Polk and Kevin Jenkins that designates the 30 days beginning today, September 15, 2021, as a period to encourage the celebration of National Hispanic Heritage Month at the District's colleges and in the community, and to value the roles and contributions of the Latinx community to the local and national economies, culture, and identity. Please join me in celebrating Latinx Heritage Month at the Peralta Colleges!
President Napoli-Abella Reiss and Chancellor Jackson closed the meeting by recognizing
Mr. Jim Stein, the chief engineer at Peralta TV on his retirement. Dr. Jackson said, "Please join me in congratulating Jim on his retirement tomorrow after more than 30 years as an employee here at the Peralta Community College District. Many of our Trustees know Jim for his years as the boardroom 'technical support guy.' Mark Johnson, Angel Hunter, Joe Sullivan and the Peralta TV team have assembled a short video honoring Jim we'd like to play for you now." Enjoy the video here. Thank you for thirty-one-derful years Jim!
The Board expressed their gratitude to everyone at Peralta - the faculty, classified professionals, and administrators - who are working so hard to support students in these challenging times. Thanks for all you do!