The Peralta Community College District welcomes Dr. Joya Chavarin, as the new interim Dean, Math, Science, Business, and Applied Technology at Berkeley City College. She began her role on June 29, 2020. Please take a moment to say hello and welcome her to the College Community.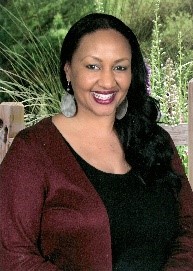 Dr. Chavarin was the former Director of Workforce Development at the YMCA of the East Bay, overseeing twenty-one program sites across four counties in CA. Projects include directing the development of a high-quality teacher preparation workforce, including the SEIU Head Start Apprenticeship and Early Educator Youth Apprenticeship programs.
Chavarin holds a Doctor of Education (Ed.D.) and Master of Arts in Education (M.Ed.) with a focus in Educational Leadership from Mills College; Masters of Arts in Education with a focus in Early Childhood from CSU Monterey Bay; and a BA in American Studies, Concentration in Maternal and Child Public Health from the University of California at Berkeley.
Chavarin's experience spans over 24 years in the education and human services fields, including WestEd Center for Child and Family Studies and BANANAS Child Care Resource and Referral Network. As the former Senior Research Associate for WestEd's Center or Child and Family Studies, Chavarin directed technical assistance and strategic research micro-aggression tasks funded by First 5 California and the CA Department of Education. Chavarin conducted and coordinated research efforts to assess California's capacity and systems for the care and development of children, birth to 5 years of age. Chavarin assisted in managing analysis efforts to identify trends, needs, gaps, and options regarding early childhood practice and policy recommendations. Chavarin contributed to the development of the CA Early Childhood Educator Competencies and other statewide workforce initiatives. Prior to joining WestEd, Chavarin was the early childhood career advocate at BANANAS in northern Alameda (CA) County supporting marginalized and linguistically diverse students in accessing the early childhood professional development system.
Chavarin's professional experiences in Higher Education began as a preschool teacher at UC Berkeley's Anna Head program while earning a BA, to successfully directing a campus-based child development program at CSU Monterey Bay while earning a MA. Chavarin participated in the Faculty Diversity Internship Program at Hartnell College and began teaching part-time in the Child Development Department. Chavarin continued teaching part-time at local community colleges, including Merritt and Berkeley City after acceptance into the Mills College doctoral program and returning to Oakland where Chavarin was raised and a product of the Oakland Unified School District.