On January 8, 2021, Governor Newsom released information regarding the California state budget proposal for Fiscal Year 2021-22. A District-wide announcement was sent on behalf of Adil Ahmed, Interim Vice Chancellor of Finance & Administration, to provide employees with some of his preliminary thoughts on the proposed budget.
The Governor's January 8th Budget proposes to buy down a significant portion of the 2020-21 deferrals. That is good news for us as it potentially eases some of the pressures around cash flow management.
In addition, the 2020 Budget Act extended the Student Centered Funding Formula (SCFF) existing minimum revenue provision (aka the "hold harmless" period) by two more years, through 2023-24. Under this provision, districts will earn at least their 2017-18 total computational revenue, adjusted by Cost of Living (COLA) each year, if applicable.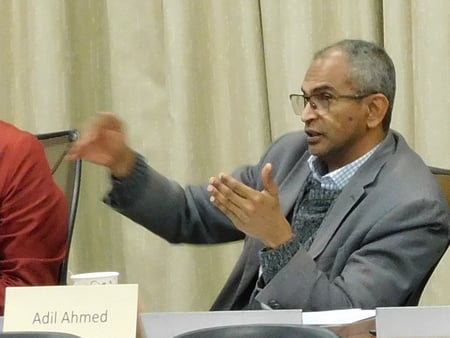 Cost of Living Adjustments (COLA):
A notable aspect of Proposition 98 funding for 2021-22 is the substantially different cost-of-living adjustments (COLA) provided to K-12 schools and to the community colleges. The Governor's Budget provides a COLA of 3.84% to the Local Control Funding Formula to make up for the lack of COLA in 2020-21. However, the proposed COLA for the Student Centered Funding Formula is 1.5%.
The Governor's Budget proposes $130 million to address students' basic needs with investments in the following areas:
$100 million one-time available over three years to address student basic needs at community colleges, including housing and food insecurity.
$30 million for targeted basic needs, including supporting students seeking access to mental health services and helping students acquire electronic devices and access high-speed internet.
No reductions to the NextUp/CAFYES program
The budget proposal includes $20 million in one-time funds for student retention and re-enrollment, to be included in the Early Action Package. The intent is to support college efforts to increase student retention rates and enrollment among students who may have withdrawn or could not enroll due to COVID-19, and among current and prospective students who are hesitant to remain or enroll in college due to the impacts of the pandemic.
Other proposals addressing student needs include $10.6 million ongoing to provide a more robust and equitable online education ecosystem and infrastructure. The proposal also includes $2.5 million in one-time funds for instructional materials for dual enrollment students.
Workforce Development
The proposed budget includes $15 million ongoing to expand the California Apprenticeship Initiative, which supports the development of new and innovative apprenticeship and pre-apprenticeship programs through competitive grants.
The proposal revives the program included in the Governor's Budget for 2020-21, which was excluded from the final budget due to the impact of COVID-19 and the resulting recession.
In addition, the Governor's Budget provides $20 million one-time for grants to expand access to work-based learning models and programs at community colleges, including working with faculty and employers to incorporate work-based learning into the curriculum.
The table below is an overview of Planning Factors for the Proposed 2021-22 Budget and comes from page 18 of the Joint Analysis of the Governor's Budget provided by the state chancellor's office (CCCCO), Association of Chief Business Officers (ACBO), Association for California Community College Administrators (ACCCA), and the Community College League of California.
Other Actions
The District would be required to maintain a number of online courses in 2021-22 that is 10% higher than the number offered in 2018-19. Specifically, it proposes the establishment of a dual admission process between the California Community Collegesj and the public university systems and calls for increased production of Associate Degrees for Transfer (ADT).