Peralta Community College District recently received three awards from CCPRO, the Community College Public Relations Organization (http://ccprocalifornia.org/). The CCPRO 2023 Annual Meeting took place in Los Angeles on April 12th - 14th and was attended by Thomas Rizza (Public Information Officer at Berkeley City College), Marcus Creel (Graphic Design Specialist at the district) and Mark Johnson (district Executive Director, Marketing, Communication & Public Relations). The conference awards ceremony took place on Thursday, April 13, 2023.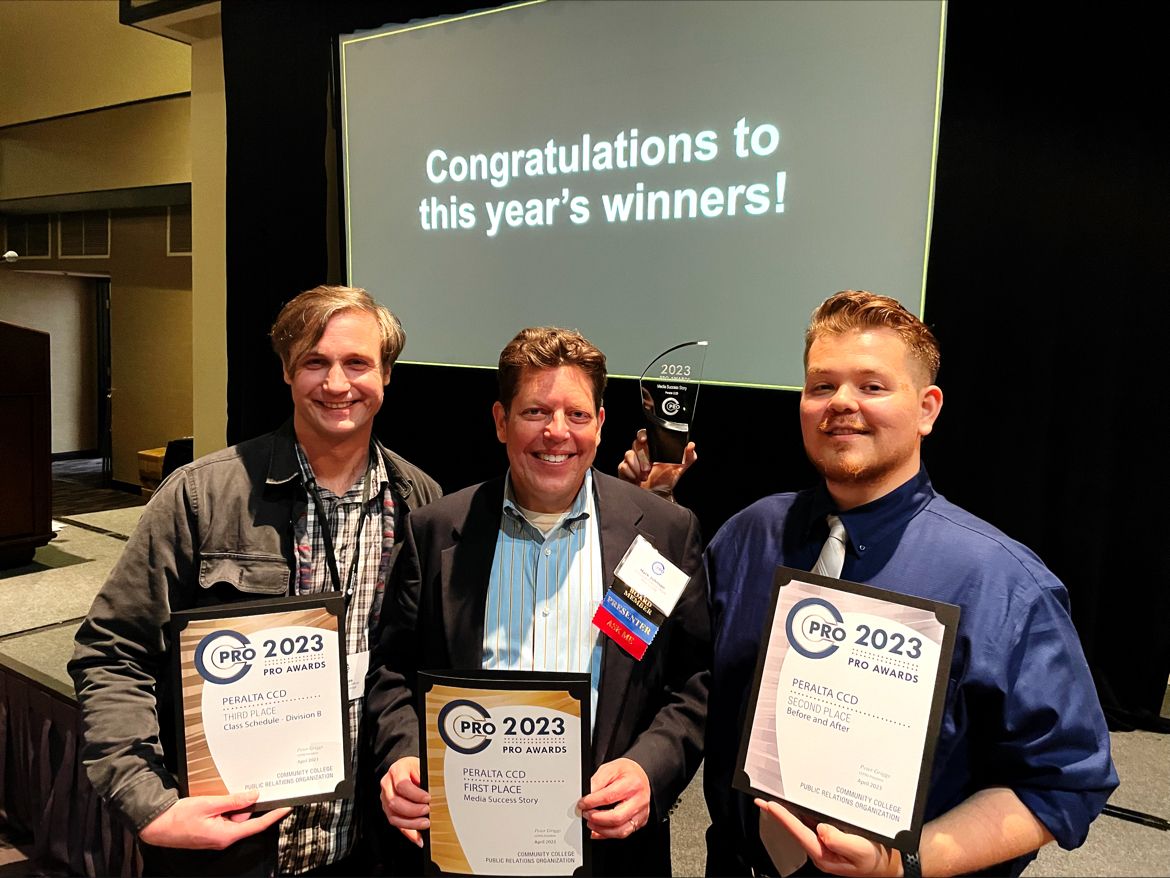 The big news is that PCCD earned three awards for work done in calendar year 2022, including FIRST place in the "Media Success Story" category. We won with our "Spring is Free" press release and the media coverage it generated including coverage from the San Francisco Chronicle, KTVU-TV, The Oaklandside, Oakland Voices, and several other media outlets. The narrative in the entry emphasized that the press release was created collaboratively by Mark Johnson with each of the college presidents, and that the "Spring is Free" campaign contributed to a 10+% increase in enrollment over Spring 2022. Hooray!
PCCD earned Second Place in the "Before & After" category for our website redesign, relaunching from WordPress into HubSpot in February 2022. More information about the relaunch is available from Peralta Gems here: https://gems.peralta.edu/welcome-to-the-new-peralta-website.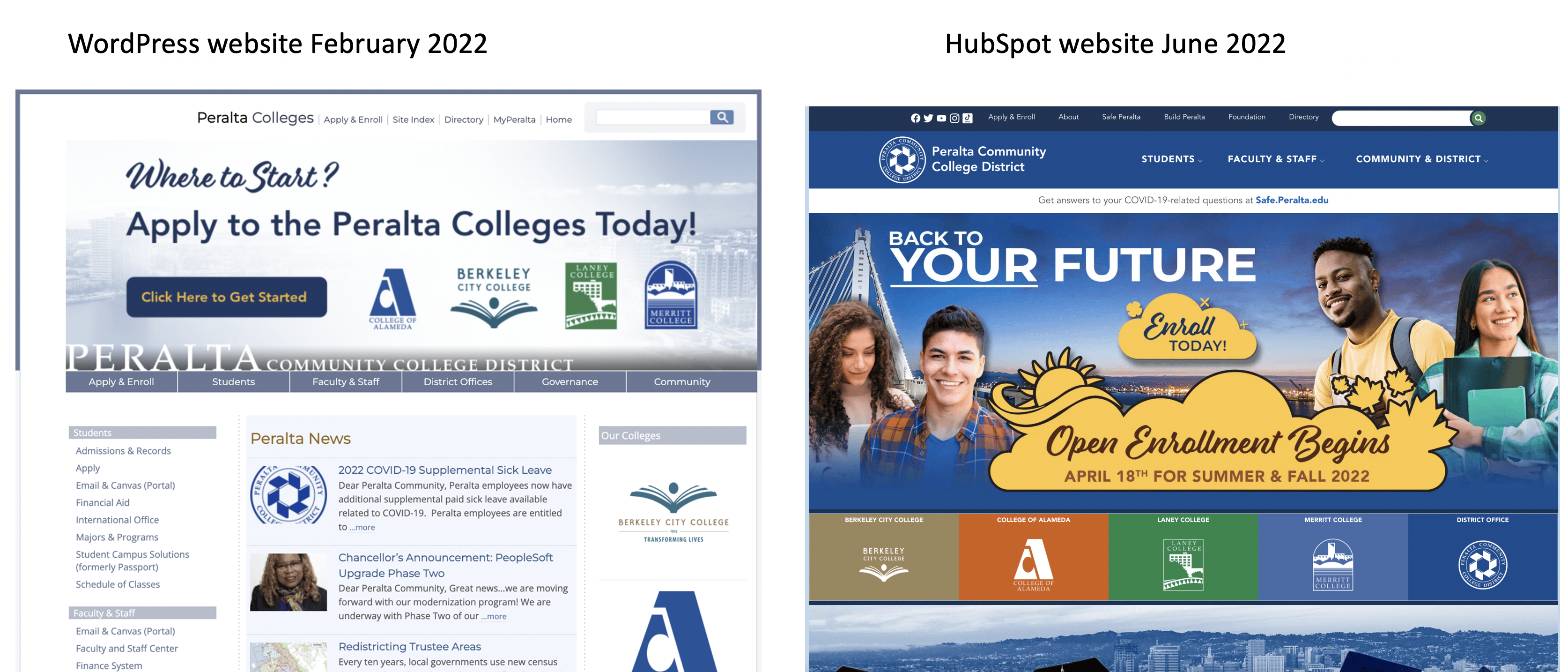 Peralta earned Third Place in the "College Schedule" category for all four of our Spring 2023 semester schedules that went online in early November 2022. The covers emphasized "Spring is Free" and had a strong family resemblance between the colleges as a nod to our "swirl" of 44% of students taking classes at more than one of the Peralta Colleges.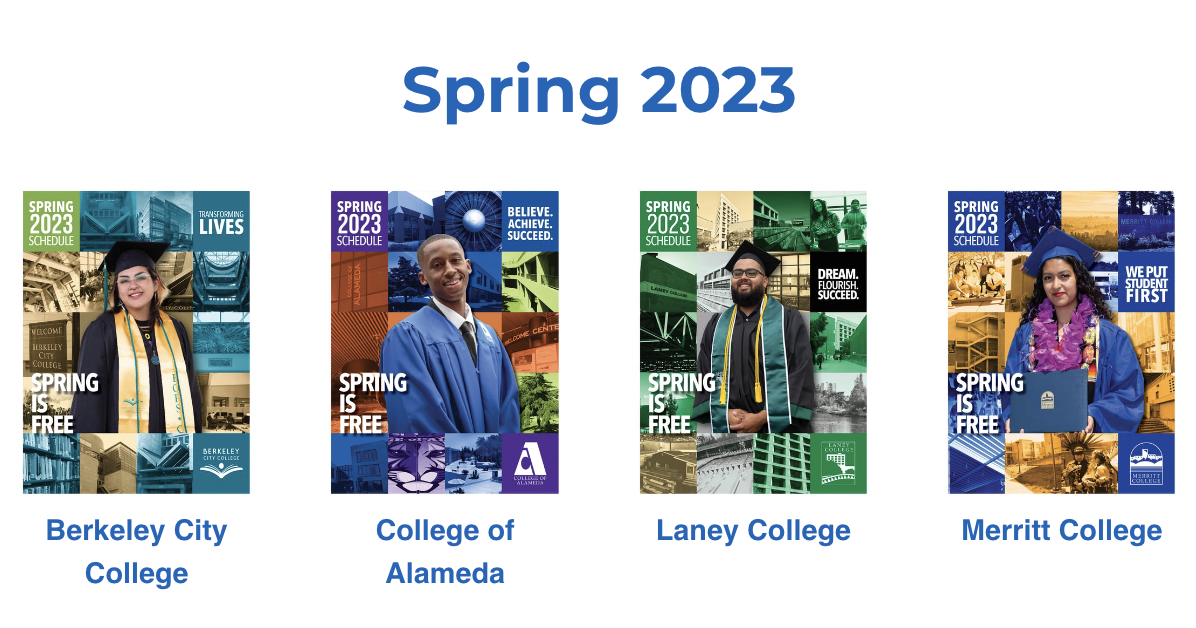 Mark Johnson commented, "I'm so proud of our team in general as each of these awards is the result of teamwork, from the press release collaboration with college presidents to the website redesign based on stakeholder input from students, faculty, classified professionals, and administrators across the district, to the schedules and collaboration with college VPIs, Educational Services, and campus stakeholders. I want to particularly recognize Aaron Harbour for his work on the website, and Marcus Creel as his design work greatly influenced our awards for both the website and schedules. Marcus was thrilled to be at the ceremony and collect the awards in-person!"
In addition to the awards, Mark Johnson -- who serves on the CCPRO Board of Directors as the Bay Area Region Representative -- gave a presentation titled "Integrating Content Management & CRM:
Building a Website with HubSpot". The session had about 30 attendees who asked lots of questions.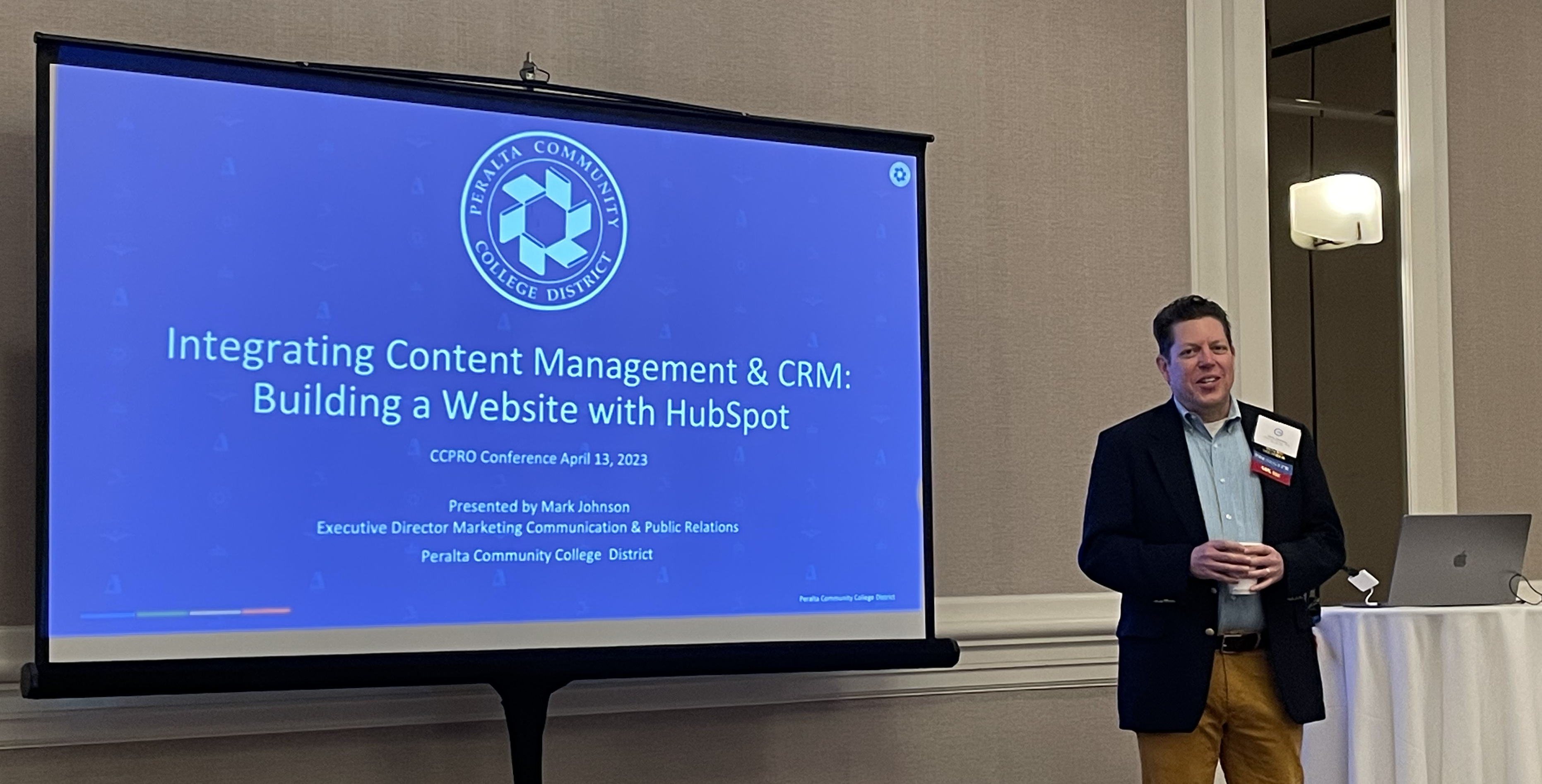 Overall, it was a successful meeting for professional development, learning from our peers across the state, and taking home some well-deserved awards.