The Peralta Community College District held its Fall District-wide Flex Day on Thursday, August 17, 2023. The day was dedicated to professional development for faculty and staff, with a focus on equity and inclusion, as we prepare for the August 21st, 2023, start of the Fall 2023 semester.
The event was organized by Chelsea Cohen and Marla Leech, Laney College faculty members who also serve as Professional Development Co-coordinators for the district.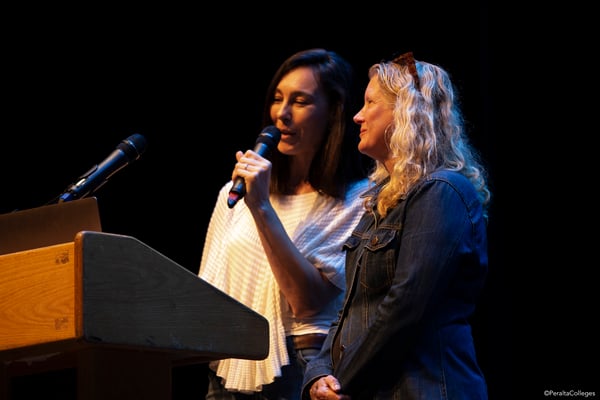 Marla commented, "We want to thank all of the faculty, classified professionals, and administrators that joined us at district Flex Day, our first in-person and hyflex combo in 3 years! We also hope everyone had a chance to mingle with their colleagues at lunch and enjoyed the music and massages!"
Chelsea agreed and continued, "Thanks to all that made this happen, especially Inger Stark (former Professional Development Coordinator and now Acting Dean of Math and Science at Laney), Tina Vasconcellos (Associate Vice Chancellor of Educational Services), Dettie Del Rosario (Laney College Vice President of Administrative Services), Kinetta Barnett (Laney College Facilities Coordinator), Peralta Federation of Teachers (PFT), Mark Johnson (Executive Director of Marketing, Communication & Public Relations at the District), and our awesome tech team of Alejandro Acosta (Laney Theater AudioVisual technician), Angel Hunter (Peralta TV producer) and Joe Sullivan (TV Broadcast Coordinator)! And to Laney Culinary for the delicious taco bar! Much appreciation to all!"
Following a brief welcome by Chelsea and Marla as well as new District Academic Senate President Matthew Goldstein and new PFT President Jeff Sanceri, Interim Chancellor Jannett N. Jackson provided her welcoming message which included deep gratitude for all that faculty ("Professors who love to teach"), classified professionals, and administrators do for the students of our district.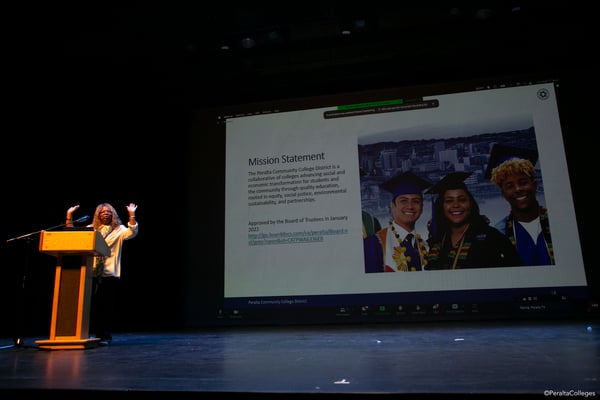 Dr. Jackson also reflected back on the state of PCCD during her first Flex Day talk in August 2021 and noted how much we all have accomplished together with the spirit of Ubuntu (I am because we are). We're no longer under ACCJC sanction, our finances and technology have improved, enrollments are up, and we're a much stronger organization now as we exit the pandemic state of emergency. A video of the chancellor's address is available here while her slides can be found here.
The keynote speakers for the day were London Skiles and Melissa Ko.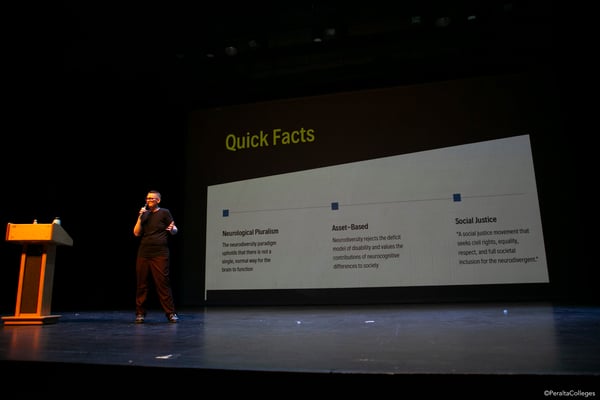 London Skiles is an instructional designer, accessibility consultant, and neurodivergent whose work explores how individuals access physical and virtual spaces in higher education. Their most recent work includes "Creating a Pathway for Accessible Course Design," a collaboration across academic enterprises at Arizona State University and presented at InstructureCon 2023, and "Designing for Neurodiversity," a conference session at the Peralta Online Equity Conference. They are a regular contributor to TeachOnline and Course Stories, both produced by EdPlus at Arizona State University.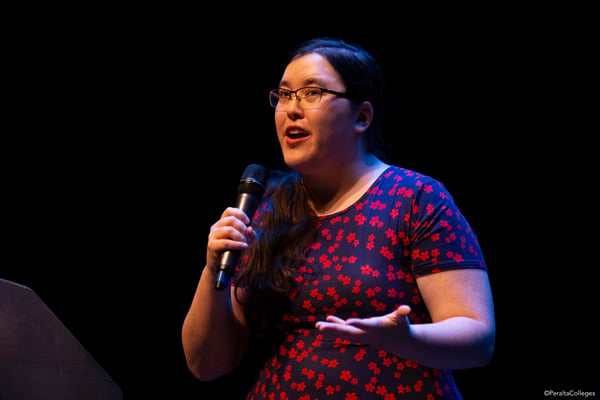 Dr. Melissa E. Ko is an assessment and educational development professional serving the Center for Teaching & Learning at UC Berkeley. Dr. Ko was trained as a computational cancer biologist having received her SB from MIT and her PhD from Stanford University. She pivoted into an education-focused career through several teaching roles at Stanford and other local institutions, before focusing on partnering with instructors to provide effective and inclusive learning experiences informed by data.
Other highlights of the day included workshops by the keynote speakers, PeopleSoft training for classified professionals and administrators, and an interactive discussion about campus public safety. There were also opportunities for networking and collaboration. The full agenda can be found here: https://docs.google.com/document/d/1oi6VBcaNnDgSHBRVyfJTXUIBaRXg8cA5_MtoQ-X0vdA/edit
Each of the colleges hosted college-specific Flex Days on Friday, August 18th, 2023 to fully prepare for students and the Fall 2023 semester.