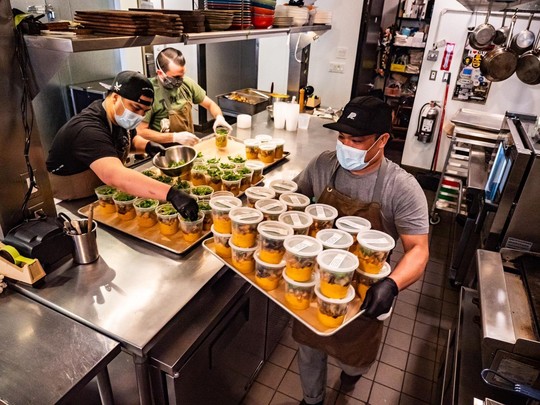 In response to dramatically increased food insecurity from the COVID-19 pandemic, the Peralta Colleges forged partnerships with two nonprofits – Oakland's Eat. Learn. Play. Foundation and the World Central Kitchen – to provide thousands of meals to students at three of its four campus locations. The Eat. Learn. Play. Foundation underwrites the cost of the meals, while the World Central Kitchen helps provide food delivery and distribution logistics. Special thanks to Peralta Colleges Foundation Executive Director LaNiece Jones for helping make this new venture possible.
Laney College Lunch & Produce is available on Mondays and Wednesdays from Noon to 2pm with drive thru pickup available at 900 Fallon Street.
College of Alameda "Grab-N-Go Free Lunch" is available on Mondays, Wednesdays and Fridays from 11:30am to 1:30pm with drive thru pickup available at 555 Ralph Appezzato Memorial Parkway.
Merritt College begins "Grab & Go Free Lunch" on Thursday, May 28 from Noon to 2pm. The pickup is located off-campus at the David E. Glover Education and Technology Center located at 6948 Foothill Blvd, Oakland.
The Berkeley City College service with World Food Kitchen and Eat. Learn. Play. is being finalized and will begin soon.
Read the press release here and a download the complete report about the programs and distribution at each college as presented to the Board of Trustees on May 26, 2020 here.