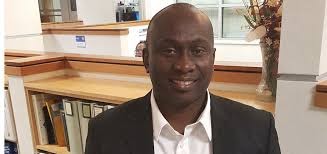 On Tuesday, March 9, 2021, the Peralta Community College District Board of Trustees approved the Chancellor's recommendation to hire Antoine L. Mehouelley as Chief Technology & Information Systems Officer. Mehouelley's IT leadership is guided by the vision and mission of the Colleges and District; he proactively promotes these through participatory governance and strategic implementation at both the Colleges and the District. He reports to Dr. Carla Walter, Interim Chancellor.
Mr. Mehouelley has been an employee at PCCD since 2002, when he started as an instructional assistant at Laney College. He is a District success story in the way he has advanced his career from classified professional to District administrator, most recently serving as the Director of Technology Services at the District from 2016 to 2021.
Mr. Mehouelley has been collegial and collaborative in his leadership style and works well with external and internal stakeholders to implement information technology to enhance and improve the student learning experience, business practices, and to provide IT instructional resources to faculty. He contributes a unique professional perspective informed by his time working at the College level that positively influences District decision making and prioritization.

His IT professional knowledge, skill, and outcomes have significantly improved the IT capacity at the Colleges, and he has made many contributions to the District IT priority work list. He willingly shares his knowledge with others while also leveraging the support of his colleagues to ensure successful achievement of ACCJC Standard IIIC requirements. He consistently demonstrates the values of the district, especially accountability, respect, appreciation, integrity, and collaboration.

Some of Mr. Mehouelley's major accomplishments include at Peralta include:
Lead the implementation of PeopleSoft migration and 9.2 upgrade to Oracle cloud infrastructure.
Implemented district wide SolarWinds Helpdesk, improving ticket processing, visibility, and fast response. Helpdesk currently responds to approximately 300 tickets a week.
Lead Standard III C (Technology) ACCJC, self –evaluation, research, writing and coordination for District 2020.
Designed and implemented Peralta Portal, providing single point of access to Microsoft Office 365 Suite and Canvas for students, faculty, and staff.
Designed and implemented 134 smart classrooms at Laney College in collaboration with the college's IT department.
Congratulations Antoine on this well-deserved promotion! We look forward to your continued leadership as we begin the next phase of the PeopleSoft upgrade, develop our updated Technology Master Plan, and leverage new technologies in the continued development of our Strategic Enrollment Plans.