The Laney Biomanufacturing BIOSCOPE program has developed from a pilot project funded with Strong Workforce Program funds into a National Science Foundation - Advanced Technological Education (NSF-ATE) grant awarded summer 2020 for 3 years. The supply chain project is a partnership between Laney College, Skyline College and BABEC ( a bioscience non profit organization that works to increase access and equity in science education) and local high schools. Laney students make supplies (pouring agar plates used in biotechnology experiments - pictured) that are then sent to local high schools for their biology classes to learn some biotechnology techniques. You can learn more about the BABEC project here.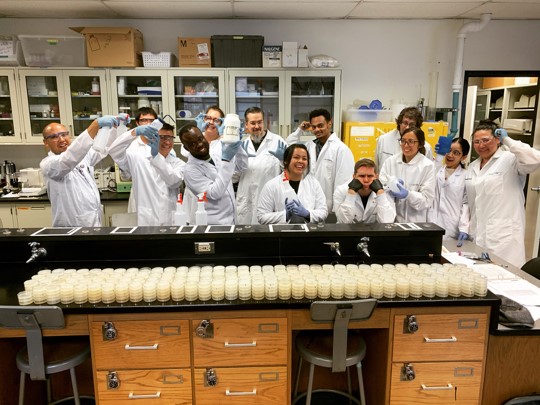 San Mateo County Community College District (SMCCCD) was awarded a National Science Foundation Advanced Technological Education grant for the regional BioScope project. Laney is named as a sub-awardee in the grant in this 36-month award. The total amount of the grant received by SMCCCD was over $444,000 and of that Laney College will receive approximately $96,000 spread out over the three years of the award. The Peralta Board of Trustees unanimously approved the grant project at their December 14, 2020 meeting.
This project is closely aligned with evolving trends and workforce needs in the growing and dynamic biotechnology and bio-manufacturing industry sector.
Dr. Leslie Blackie will serve as a Co-Principal Investigator for the Bio-Scope project. Her work will involve recruiting and retaining students for the Laney Biomanufacturing program, assisting and advising on project evaluation, writing formative and summative project reports, maintaining and publishing social media for the program, preparing the scope of activities for student projects, acting as advisor for the Laney Biomanufacturing club, developing curriculum for articulated high school to college courses in biotech, and preparing for quality control certification tests.
Students at Laney will act as local leads for student projects. Students will also train and help monitor their replacements. Students will learn to develop, plan and schedule the manufacturing process for various items. Students are responsible for communicating with the lead faculty as well as the contract manufacturing organization in order to maintain the continuity of work flow, work products, and product quality. Students are expected to document their weekly activities and to report to their faculty advisor.
Congratulations to Dr. Leslie Blackie and Dean Peter Crabtree and the Students of the Laney Biomanufacturing BIOSCOPE program on receiving this exciting grant award!