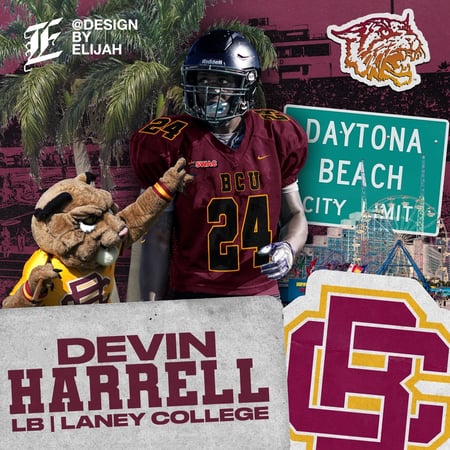 KGPC bids farewell to Devin Herrell, who joined KGPC in Fall 2021 to support basic operations at the station. Devin was responsible for research, writing, and was the voice of the Community Calendar. He is also the new voice of the KGPC voicemail system.
Devin came to KGPC by way of Tallahassee Florida where he was born. But it was the love of football that brought him to Laney College. He has always had a love for learning and football, and according to his parents, his first word was ball. "I enjoy playing football (of course), reading, traveling, and learning how to cook," said Devin. After graduating high school in 2020, he started college at Butler Community College, then he transferred to Laney in the Summer of 2021. "Football is what brought me to California. Playing for Butler did not work out how I thought it would, but thanks to Coaches Vale and Adam I took a chance, and here I am! No regrets at all," says Devin in recalling his move to Laney.
What brought him to work-study at the radio station, was the non-conventional environment. "When I applied for work-study, I was offered to work at a few places on campus. I chose the radio station because I felt I could learn something totally different from the norm. Working in an office setting to me seemed as though it would've been boring and I wanted something challenging, something I'd never experienced before. Working at the station has piqued my interest in starting a blog. After my last semester at Laney, I will be playing D1 football continuing my pursuit of becoming an NFL legend as well as a successful businessman," said Devin about deciding to choose KGPC as his work-study site and his sites on the future. We could not have been happier!
As of the posting of this article, Devin has accepted an offer to attend and play football at Bethune Cookman in Daytona Beach Florida. In his parting thoughts, Devin told KGPC management that the weather in California is a little too cold for him and he can't wait to get back to Florida. KGPC appreciates all his help and wishes him well in his new pursuits.
The Peralta Community College Marketing and Public Relations Department has a variety of work-study opportunities for students who are interested in writing, graphic arts, television, and radio communications. And, now a new caveat is the recently installed video studio at the radio station. If you have the chops for simulcasting a show on the KGPC live stream and on Peralta TV. Here is the opportunity to add just one more high-demand skill to your tool chest. For more details go to the KGPC website at: http://www.kgpc969.org/work-study.