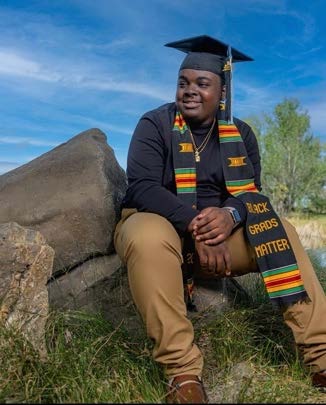 Yemisi C. Obalade Jr. tells a personal story of success and accomplishment:
"I wear many hats here on Laney's campus. For Instance, I am vice president of Laney's Black Student Union, one of the Senators for the ASLC (Associated Students of Laney College), and an intern at Laney's Athletics as a student trainer. I am also a part of Umoja-Ubaka, a learning community, where I've got many opportunities, one of them being a participant of the Huston-Tillotson University recruiting visit to Laney.
The presentation from their admissions teams was so great that I ended up applying right after it was over. On that same day, I was accepted into Huston-Tillotson University to further my education in Kinesiology with a $4,000 scholarship.
Director of Recruitment and Admission, Asia Haney, also told me to apply to two additional scholarships that could change my life forever, with one being the W.E.B. Du Bois Honors Program which pays for my tuition all four years being a part of the accelerated program HT has to offer, so the only thing I will have to pay for is housing and my meal plan. And the other one being the African American Male Teacher Initiative Scholarship, which would give me a full ride (everything paid for) if I minor or major in education. With that being said as of April 8, 2023, I have received the W.E.B. Du Bois Honors Program scholarship and was notified of being a semifinalist for the African American Male Teacher Initiative scholarship, which will have a result after April 21st. I am extremely excited, humbled, and honored to have received acceptance and scholarship from this institution thanks to Laney College."
As with all of our graduates and transferees, Laney is proud of Yemisi!
This article was included in the April 26 Laney College President's Report. To view the full report, click here.