College of Alameda Commencement
COA 2021 Virtual Commencement will be available for viewing Friday, May 28, 2021 at https://alameda.peralta.edu/commencement/. The ceremony will include pre-recorded speeches, acknowledgement of student awards, and degree and certificate presentations for each participating graduate.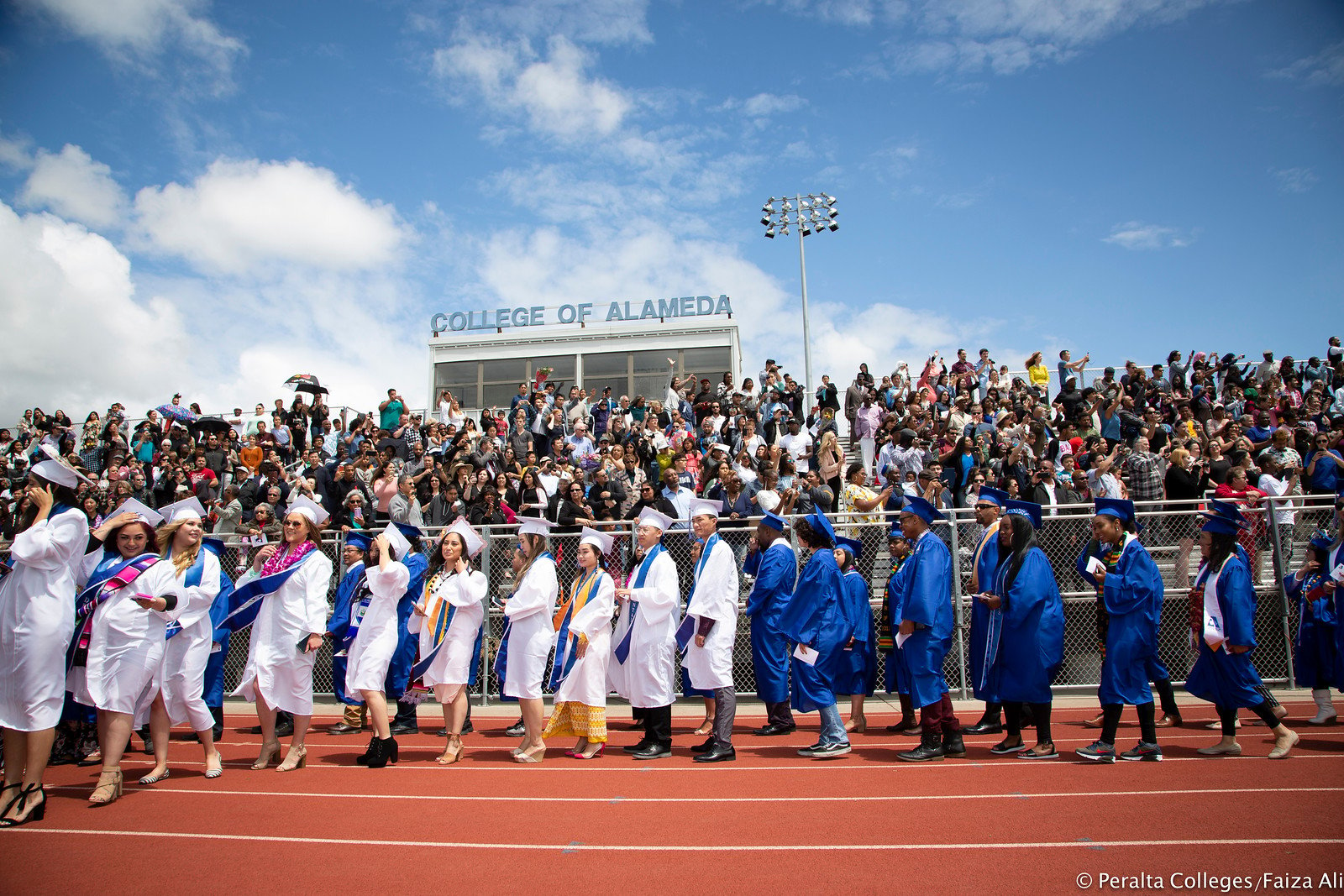 The name, degree and/or certificate for each participating graduate will be professionally announced and presented on an individual slide during the virtual commencement. They will have the opportunity to customize their individual degree/certificate slide by adding a photo and/or special message. Additionally, graduates that choose not to have a custom slide, will have their degree and/or certificate information presented on a standard individual slide.
College of Alameda Student Success Week's Daily Webinar Series: The Black Hour

Black Student Success Week took place during the week of April 26-30, 2021. The College of Alameda was represented by President Jones and other administrators, faculty and staff, who participated in the daily, one- hour The Black Hour webinars, engaging in discussions and exploring this year's theme,"Follow the Money: Unapologetically Supporting Black Students." As a part of the advocacy component of the program, Dr. Jones, along with the other community college leaders met with Assembly-member Gomez Reyes and/or staff, Senator Portantino and/or staff, and Assembly-member Gipson and/or staff.
State of the College
On Friday, April 30, 2021 during the college hour, the CoA leadership team (President Jones, Vice President Miller, and Dean Duke in for Vice President Vasconcellos) held a State of the College forum, engaging in a conversation on critical topics such as CoA's keys to success (student success for all, enrollment growth, improve and enhance operations, culture of DEI, revenue diversification and increase, and assessment and data-driven decision making), Fall 2021 return to campus plan, and holistic Strategic Enrollment Management strategies. There was robust discussion and dialogue on the agendised topics. The virtual event was well attended by faculty, staff and administrators.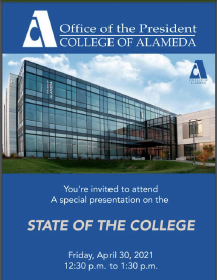 College of Alameda Career Discovery Day
College of Alameda is excited for the opportunity to share its unique Career Education (CE)
programs. Students are invited to explore our range of vocational/technical programs which include: Apparel Design and Merchandising, Automotive Technology, Auto Body and Paint, Aviation Maintenance Technology, Business and Entrepreneurship, Computer Information Systems, Dental Assisting, Certified Nursing Assistant, and Diesel Mechanics.
CoA Career Discovery Day will be held online for two mornings, Thursday, May 13th and Friday, May 14th from 9:00 a.m. to 12:00 p.m.
Registration is required by clicking on the link below.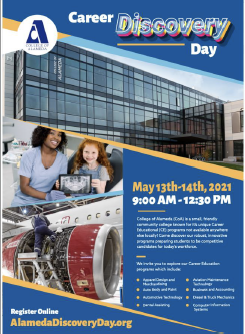 AAPI Heritage Month at COA
The CoA Asian America Pacific Islander (AAPI) heritage month planning committee brings events that shed light on current events as well as infuse positive energy to the campus. A live demonstration to "level up your ramen game" took place on May 7th from 12:00 p.m. - 1:00 p.m. as comfort food for crazy times. Additionally, a space for students to heal, listen if they'd like, and share their stories online will take place on Wednesday, May 12th from 12:30 p.m. - 1:30 p.m.; some CoA colleagues will share the origins of their names and some will share thoughts on healing during these times while providing students an opportunity to share their own experiences.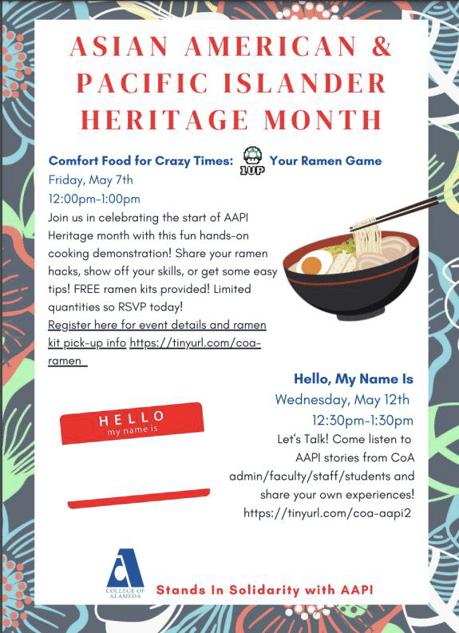 This article is taken from the President's Report, written by Dr. Nathaniel Jones III, College of Alameda President, that was presented to the PCCD Board of Trustees during their regular meeting on Tuesday, May 11, 2021.