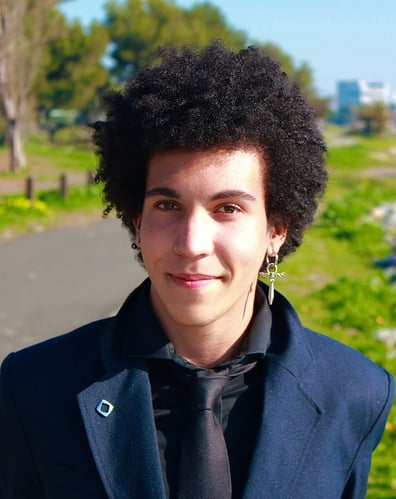 Peralta Community College District wishes to congratulate College of Alameda alum Benjamin Wilson-Ripsom, who recently received the prestigious Robert L. Lippert Foundation college scholarship in the amount of $5000.
Benjamin is graduating from Encinal High School on June 9, 2022, a year after he graduated Summa Cum Laude from COA in May 2021, at 16 years of age, with three different Associate degrees: in Psychology (for transfer), Sociology, and Social Sciences. By taking advantage of dual enrollment – enrolling in college classes as a high school student – Benjamin was able to earn three college degrees before his high school graduation.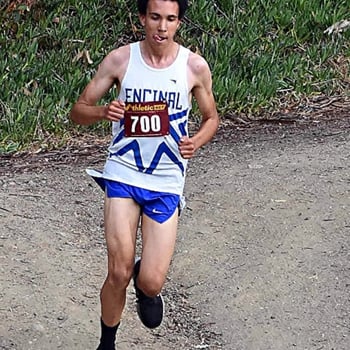 The Robert L. Lippert Foundation, established in 1990 and based in Alameda, has a long history of community support, providing educational scholarships to worthy local students. The Foundation, created in the name of the late Robert L. Lippert, who was a film producer as well as the owner of a chain of California cinemas, assists those deserving students who exemplify a high level of scholarship, leadership, and participation in extra-curricular activities. The award was announced in April by Robert L. Lippert Foundation president Bill Withrow (who also serves as a Peralta Community College District Trustee) at the Foundation's annual banquet in April, but Benjamin was not able to attend in person. Benjamin is involved in many extra-curricular activities, including DECA (training emerging leaders and entrepreneurs in marketing, finance, hospitality, and management), and was in the state of Georgia at a national DECA conference. He is also a varsity athlete in track and cross country at Encinal. Benjamin is a busy young man and definitely meets the academic, leadership, and activity criteria of the award.
In order to get to know Benjamin Wilson-Ripsom, please check out his moving Salutatorian speech from the 2021 College of Alameda Commencement ceremony by clicking here or on the image below.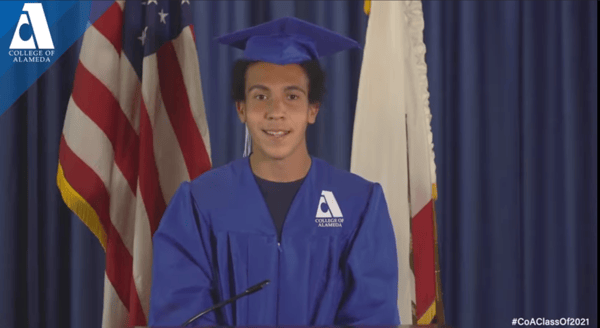 Benjamin is currently planning to attend the University of California Los Angeles (UCLA) in the fall, although he's also considering UC Berkeley or a gap semester to work full time and earn money for UCLA. He is planning to use the scholarship money either directly towards tuition or to pay fees associated with room and board.
When asked if he'll be able to graduate from a four-year university faster thanks to his college credits, he responded, "Yes, I will be able to graduate faster! Because I have not yet received my high school diploma, all of the schools I am applying to made me apply as a freshman rather than a transfer, so while it will be a long process transferring courses over individually, I have pretty much everything I need in terms of IGETC requirements." The Intersegmental General Education Transfer Curriculum (IGETC) is a series of courses that California community college students may complete to satisfy the lower-division breadth/general education requirements before transferring to either the California State University or most colleges and majors at UC campuses. Taking these community college classes will save Benjamin and his family a lot of money as he continues his education.
So how was Benjamin able to balance college classes with all his high school extra-curricular activities? "Honestly, time management. It sounds pretty cliché, but the moment I started allotting time for things in my life, I began to excel. I had time to focus on DECA, time to plan National Honors Society meetings, time to read and plan for book club, and time spent practicing running and archery already in my day, and by setting my time and my expectations I'm able to get a lot done without feeling unfulfilled." He added, "trust that your professors will help break down material for you, and that every task that seems daunting at first will slowly make more sense as you continue to work through the class...If you feel like you need to take a break, take a break, but don't quit. If you stop, you'll always be able to pick up where you left off, but if you give up completely, you'll never know if you could have made it to your goal at all. Also, take psych 28! Best class you'll ever have."
When asked if he had any instructors who inspired him, Benjamin responded, "My track coach/DECA advisor/Marketing teacher Mr. Lyons has been there for me in nearly every aspect of my school experience, and has taught myself and others practical and useful skills. My English teachers, book club advisor Maggi and NHS advisor Ms. Kerber have also been big support systems for me, and have helped me grow as an individual. From my time at Peralta, I really enjoyed and felt engaged by classes from history professor Tim Rose, as well as from humanities professor Dylan Eret."
During his 2021 graduation speech, Benjamin stated, "During my time within the Peralta system, I was able to meet and connect with so many wonderful professors and students. When working with professors at the College of Alameda and other Peralta schools I really felt like my education and my future were valued. And I always felt encouraged to continue with my education and to pursue knowledge."
Thank you, Benjamin, for your comments, and very best wishes to you for whatever comes your way!