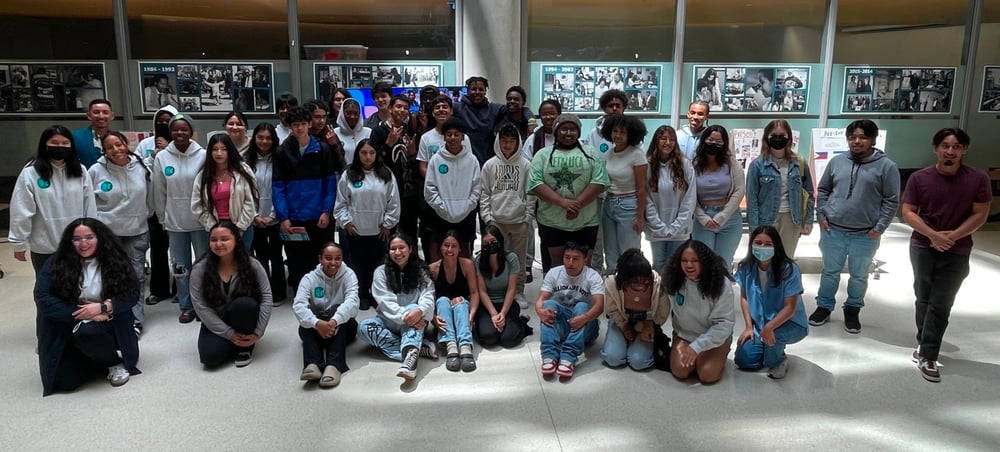 BCC NOVA Scholars Summer Program Gallery Walk
On July 13th, 2023, the NOVA & RISE team hosted a Gallery Walk in celebration of scholars in our fourth cohort of NOVA, which stands for Networking, Opportunities, Vision, & Action. NOVA is a dual enrollment pathway program, co-taught by Skyler Barton and Dri Regalado, designed to support Berkeley Unified School District (BUSD) rising 9th graders with their transition into high school.
In partnership with the RISE Agency, NOVA scholars completed a series of two BCC career exploration courses: COUN 207A Career Exploration & COUN 207B Career Exploration. Throughout the summer, NOVA scholars explored interests, skills, and sources of motivation that support their personal and academic growth. The scholars created display boards that visualized their past, present, and future goals based on their personal exploration of the courses. Scholars were introduced to academic and career pathways while earning college credits and getting connected to key resources at Berkeley High School and BCC.
During the event, nearly 40 scholars displayed their culminating projects and shared their stories and dreams in the company of their families and our larger BCC community.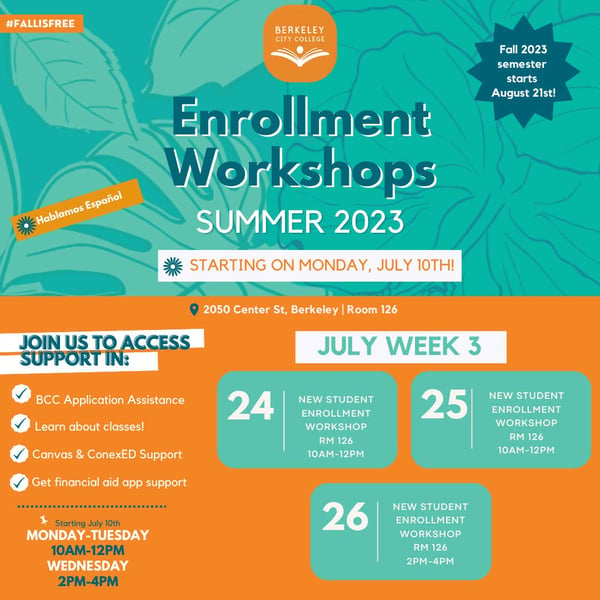 BCC Enrollment Workshops Providing Support This Summer
Berkeley City College Outreach and Support continues throughout the summer with Enrollment Workshops. Beginning July 10, Enrollment Services Coordinator Gail Pendleton and Counselor Angelica Pena have organized in-person Enrollment Workshops providing support in applying to college, registration and classes counseling, Canvas and ConexED web support, financial aid application support, and Fall is Free eligibility. The workshops will continue to run through the summer months as BCC approaches the beginning of the Fall 2023 semester on August 21.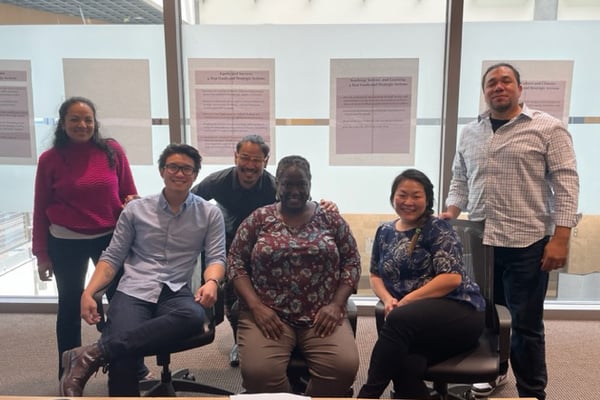 Berkeley City College Managers Retreat
On Thursday, July 20, Berkeley City College Administrative Team hosted a Cabinet retreat. Vice President of Student Services Dr. Stacey Shears, Dean of Enrollment Services Dr. Amy Lee, Associate Dean of Student Engagement & Basic Needs John Nguyen, Dean of Counseling and Student Equity Dr. Martin de Mucha Flores, HSI Director Lissette Flores, and Financial Aid Director Ernesto Nery met to review and revise the Leadership Standards of Excellence. Other topics included establishing Cabinet Goals considering the newly published EMP, Visions for Success, and SCFF, and developing the 2023-24 budget planning and processes.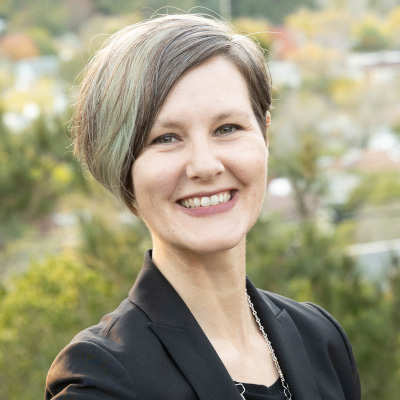 Upcoming ACCJC Campus Visit
On August 9, Vice President of the Accrediting Commission for Community and Junior Colleges (ACCJC) Dr. Catherine Webb will visit Berkeley City College to meet with the President's Cabinet, followed by a tour of the College. Among the topics planned for discussion are:
Introductions of Dr. Webb with new and continuing BCC administrators

Updates to the ISER and midterm processes Critical changes that ACCJC recently went through, including practices and published policies
We look forward to welcoming Dr. Webb to BCC and introducing her to the campus community!
BCC Takes Part in 2023 National Workshop on Data Science Education
Berkeley City College Dean of Math, Science, and Career Education Chris Lewis and BCC CIS Faculty member Michael Seidel attended this workshop the 2023 National Workshop on Data Science Education held at UC Berkeley from June 20-23. The workshop kicked off BCC's collaboration with UC Berkeley, UC Merced, Laney College, and CCSF entitled "Building Inclusive and Collaborative Foundations in Data Science." The workshop was organized by UC Berkeley's College of Computing, Data Science, and Society with support from Microsoft and the West Big Data Innovation Hub.
At this event, Dean Lewis and Mr. Seidel met with UCB Outreach and Tech Lead for Data Science Undergraduate Studies, Eric Van Dusen, and UCB Student STEM Role Model (and BCC student) Kseniya Usovich to begin planning the collaborative work over the next two years to both integrate data science tools into our existing programs as well as to support a more inclusive and streamlined pathway from community college to 4-year universities in data science.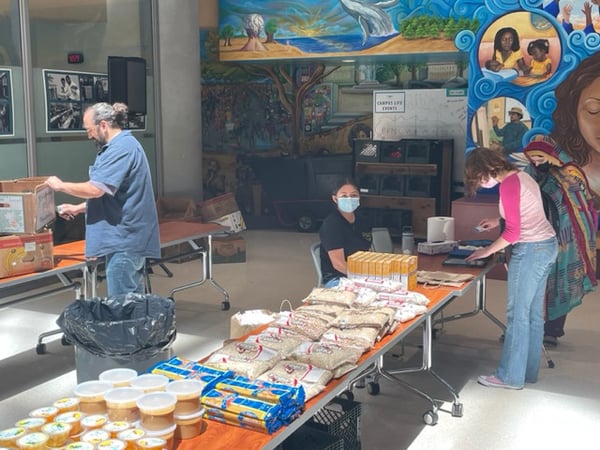 BCC Food Pantry Continues to Serve Students in Summer
Berkeley City College is continuing its Summer Food Pantry through the end of July, providing free fresh produce and grocery items to students and BCC staff. The BCC Basic Needs Center has seen continued growth in participation from the BCC community through the summer months and has been proud to provide this service. The Basic Needs Center partners with the Berkeley Food Network which provides produce from the Berkeley Bowl and non-perishable items from the Alameda County Food Bank. The Food Pantry is open on Thursdays from 12:00pm - 3:00pm and will resume in the Fall semester. BCC thanks Basic Needs Coordinator Izzie Villanueva and the student ambassadors for their work in organizing this food distribution.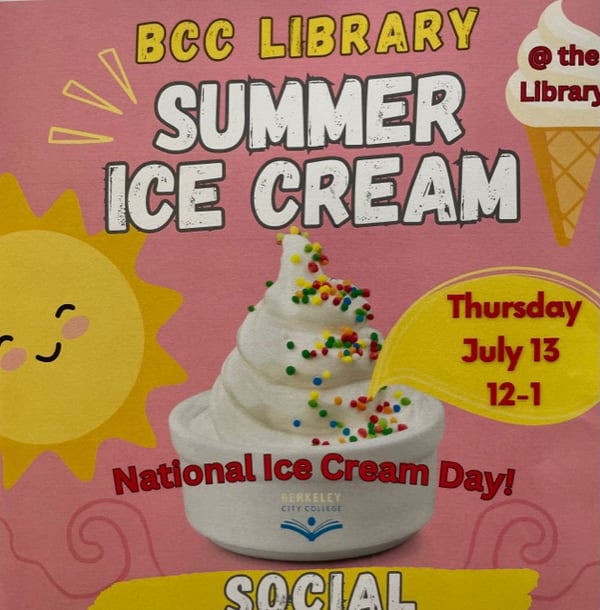 BCC Library Hosts Ice Cream Social
On Thursday, July 13th, the Berkeley City College Library hosted an Ice Cream Social for students in honor of National Ice Cream Day. Library staff offered free scoops of vanilla and chocolate chip cookie dough to students. The event was scheduled to run from 12:00-1:00pm, but BCC Library staff reported serving nearly 100 students in the first half hour and running out of ice cream! Many of the students treated themselves to ice cream after taking advantage of the Food Pantry services, which were being held at the same time.
This article is taken from the President's Report, written by Dr. Denise Richardson, Berkeley City College Interim President, that was presented to the PCCD Board of Trustees during their regular meeting on Tuesday, July 25, 2023. To view it as a pdf, click here.