Five BCC students received the Artists Resisting Sugar city-wide art contest sponsored by the City of Berkeley and the BCC Public Health Club. Their art will be on display in Berkeley at Lifelong. In December the winning students were awarded prize money. The City of Berkeley has commended the art as outstanding pieces.
This work is part of an endeavor to decrease the incidence of diabetes and obesity in our community which increases the risk of COVID.
Community Health Education Institute received a grant from the City of Berkeley to work through the Artists Resisting Soda Public Health Club at Berkeley City College with students to hold an art contest and distribute student-created art to local businesses and other venues downtown to publicize the health hazards of sugar sweetened drinks and to teach students public health advocacy. They in turn testified before Berkeley City Council to create a Healthy Checkout lane in downtown stores where no sugared snacks would be sold. This is the first Health Checkout ordinance in the world. Community Health Education Institute worked with Center for Science in the Public Interest in Washington, D.C., the City of Berkeley Healthy Berkeley, Sugar Sweetened Beverage Commissioner Holly Schneider and Bay Area Community Resources. Funding was provided by the City of Berkeley through the Sugar-Sweetened beverage tax.
Students presented to other students on sugar-sweetened beverage and sugar health hazards. The Art and Graphic Arts Departments supported our class presentations and publicized the contest, as well as Graphic Arts Teacher Michel Bohbot who worked extensively with students providing feedback to them on their pieces.
Jasmin Martinez, assistant to the BCC Vice President of Student Services has served as club advisor for a number of years.
Community Health Education Institute will sponsor another art contest in the spring with a deadline of March 15th. For more information contact the club at
ArtistsResistingSugar@gmail.com
.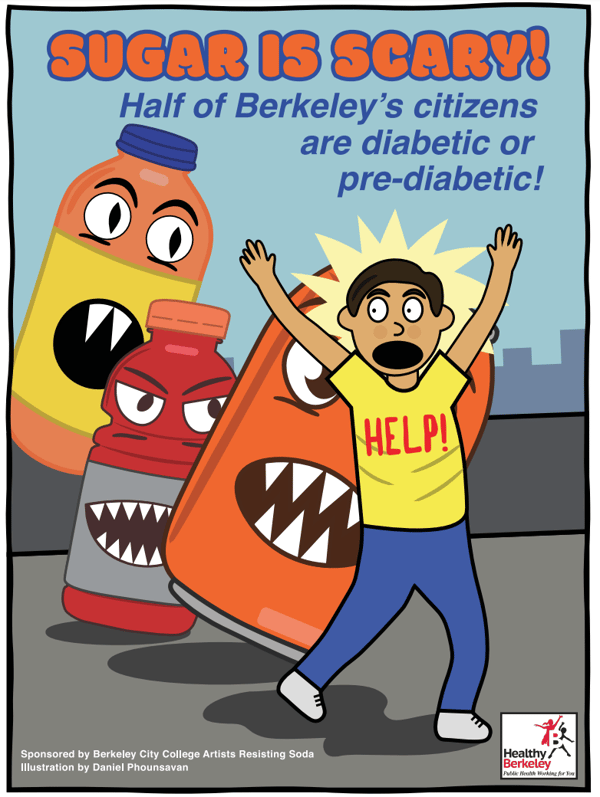 According to Pauline Bondono, Executive Director of the Community Health Education Institute, "the multimedia department is doing an outstanding job on using art to promote health awareness. The students are showing their resourcefulness. The art pieces are dramatic, powerful and deserve community merit."
1st place Brian Pham for Don't Be Deceived
1st place Jerry Hsiao for Water Wins
2nd place Raquel Romero for Sugar in acids and soda will rot your teeth
3rd place Daniel Phounsavan for Soda is Addictive
Martha Hernandez Honorable Mention for Sugar Train
BCC President Angélica Garcia commented, "This is certainly wonderful news to celebrate the accomplishments and contributions of Berkeley City College students to our local community."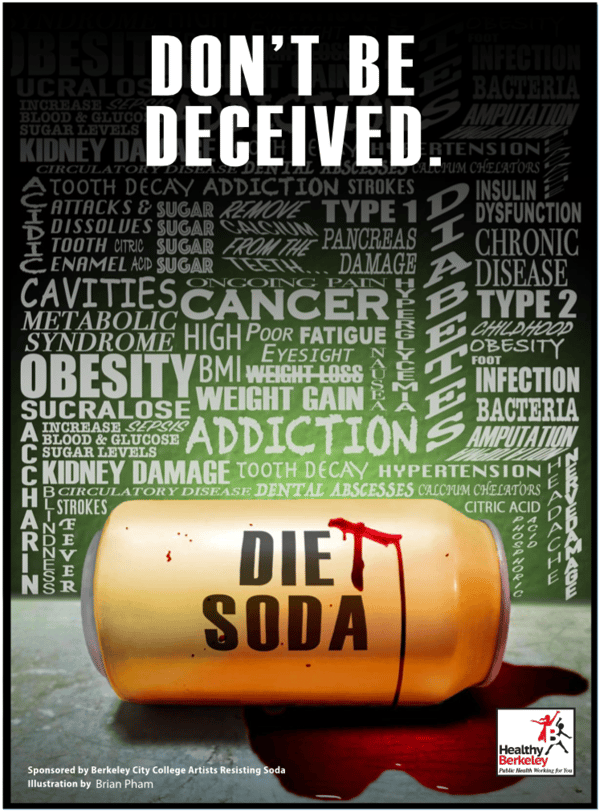 BCC Graphic Design instructor Michel Bohbot added it is "great to see my student's work get their due especially as they they produced award winning art in spite of all the stress the pandemic has placed on them during the semester."
Congratulations students!
Many thanks to Pauline Bondono, Michel Bohbot, Dr. Angélica Garcia, Dr. Stacey Shears, and Jasmíne Martínez for contributing to this story.