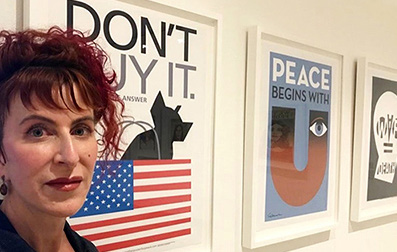 Artist and former BCC Student Kimberly Cross's work is on display as part of the "What Would You Say? - Activist Graphics from the Los Angeles County Museum of Art" exhibit at the Vincent Price Art Museum at the East Los Angeles College campus in Monterey Park.
The show features posters from Cross's 2003 project Another Poster for Peace (APAR) created in response to the Iraq War. Cross started by distributing stickers at local protests and grew the project, creating posters in collaboration with over 30 design and activist luminaries. The posters, hosted on Another Poster for Peace's website, turned into the first viral digital, copyright-free distribution hub resulting in over 1 million downloads in 2003-04.
A select number of posters APAR posters are featured at the exhibit alongside design legends including Emory Douglas, Rupert Garcia, Wes Wilson, and Shepard Fairey.
Cross is the art director of Cakewalk Creative, a San Francisco-based branding studio that's worked with a number of major companies including Noah's Bagels and McRoskey Mattress Co. She attended BCC in 2017-18 and studied web programming and social media in classes instructed by Multimedia Art Chair Justin Hoffman and Professor Josh Dickinson. "I was looking to boost my professional skills. As a branding professional who got her degree in 1995, I felt like I was falling behind the times," said Cross. "BCC classes helped me understand digital media and keep up with client needs. I'm hoping some of the work I started in Justin and Josh's Social Media class may join Another Poster for Peace in a museum collection one day."
The exhibit is running now through June 24. You can find out more here.