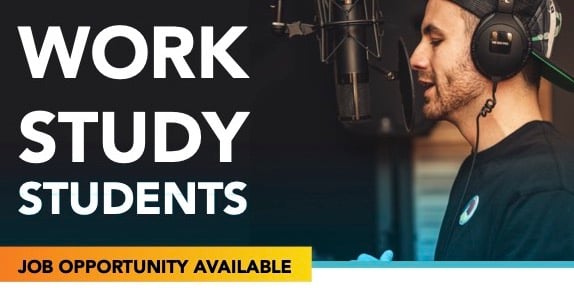 The Peralta radio station (KGPC) is offering work opportunities to students. The District station is in search of a few enthusiastic students to support the production and broadcast of its daily schedule. Interns will assist with content creation, recording, and simple board operations of the Peralta Community College District radio station.
KGPC is a treasure in our Peralta Community – a Federal Communications Commission (FCC) licensed low-power radio station broadcasting on 96.9 FM and online at kgpc969.org. KGPC has existed since 2015 with the purpose of serving the community, students, faculty, and staff. The station is a resource that allows individuals to get involved in local media production and add their voice to the airwaves.
The style of KGPC has evolved over time. Since its early days, the station had mostly punk, experimental, and offbeat musicians' music as its content and was seen as a voice for underground indie culture. Over time, KGPC has added to its schedule a mosaic of programming that ranged from music, public affairs, and cultural shows.
Now KGPC is preparing to enter a new phase. The station is seeking creative thinkers and fresh content. Students interested in radio broadcasting and podcasts will have the opportunity to learn how to produce their own radio/podcast segment. That involves sound editing and mixing, scripting, and producing. KGPC is challenging students to think outside of the box exploring their creativity to develop their unique content, with their own style, and their own voice.
Felicia Bridges, the General Manager of KGPC, is excited for the new cycle of Peralta radio station. She shares that she is willing to let students be creative and challenge themselves. Felicia encourages students to join the KGPC team and assures them that they will have all the necessary support to develop their skills.
"I am in need of creative thinkers and content. I would welcome their contribution. I would serve as a mentor/advisor to assist them with creating radio quality work. As far as existing projects, they would immediately gain skills in scripting and voicing the community calendar. A segment that I will be adding to the broadcast schedule. They also will be assisting with monitoring the recording of current producers as they record their shows.", says Felicia
All levels of ability are welcomed, and no experience is needed, just the motivation to learn new skills. For those students who are new to radio production and/or podcast recording, this is the opportunity to gain valuable skills in radio broadcasting.
KGPC offers two shift times, in the morning and afternoon, with a two-day commitment a week. To apply follow the link.
http://www.kgpc969.org/work-study