Chancellor Jackson, along with several cabinet members and the BuildPeralta Bond team, recently met with the Downtown Berkeley Association to present their plans for expanding Berkeley City College with the construction of a new building. The project would add a new six-story building on a site at the corner of Milvia and Center Streets to expand the number of classrooms, add art studios, increase learning resource facilities, and expand student and faculty support areas for BCC.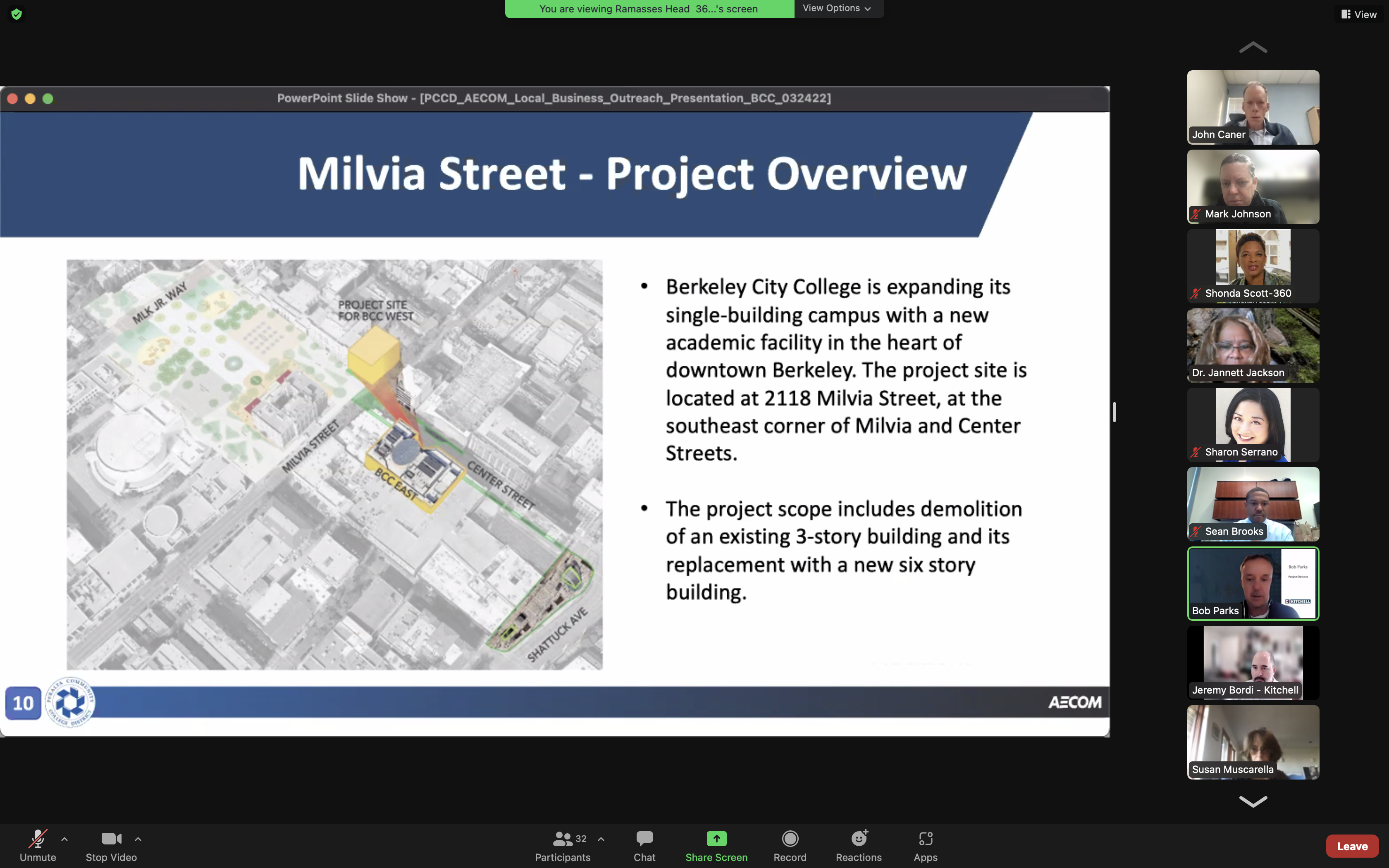 Chancellor Jackson began with a brief introduction and expressed gratitude to the Downtown Berkeley Association for inviting Peralta CCD to present the plans for expanding Berkeley City College. She then introduced Sean Brooks, VP of Administrative Services at BCC.
VP Brooks commented on the interconnectedness between BCC and the downtown area. "We have a long history in downtown Berkeley since the 1970s and couldn't be more grateful for the consolidation efforts to bring all of BCC into one house and one roof in the mid-2000s in the 165,000sf building we reside in today in the heart of downtown. The level of vibrancy that our students, staff, and visitors create aids in the overall development of downtown Berkeley."
"Our enthusiasm for Berkeley, downtown Berkeley, and education is highlighted by our doubling down with this new state-of-the-art Art building. This building will not only provide increased educational opportunities but also add a nice event space/amenity that the community can enjoy. It is clear that the Peralta Community College District and BCC are bullish on Berkeley and consider this Downtown Berkeley Association owners' group as a partner in community-building activities."
John Caner has served as CEO of the Downtown Berkeley Association for over 10 years and currently serves on the boards of the International Downtown Association and California Downtown Association. In their vision, the DBA focuses on sustainability, stating, "Downtown will be a place that embraces and exemplifies all three pillars of sustainability –environmental balance, particularly in a time of extreme drought; economic prosperity with a focus on local independent businesses; and social equity, creating a variety of opportunities through diverse housing, jobs, and education."
To view a summary of the presentation, click here for a PDF.
To view the full presentation, click here for a PDF.