The Peralta Colleges are often mentioned in news media outlets. Recently, our colleges have seen a lot of positive press from national news outlets, such as when Dr. Angélica Garcia was appointed to a presidential committee including celebrities resulting in the mention of Berkeley City College in publications ranging from InStyle (12 Million readers) to Telemundo Puerto Rico (471 Thousand readers). Here are a few other recent news items mentioning our colleges.

Laney College to be Included in $72 Million Bipartisan Infrastructure Law
In a press release from the U.S. Department of Energy, Laney College, in partnership with San Jose State University, San Diego State University, and Cuyamaca College, was selected to be one of five Centers of Excellence that will receive a combined $18.7 million in funding from the Bipartisan Infrastructure Law. This serves as part of a larger effort by the Biden-Harris Administration to streamline the career pipeline for students looking to join the clean energy economy
Read the full press release here: https://content.govdelivery.com/accounts/USDOEMESC/bulletins/353912c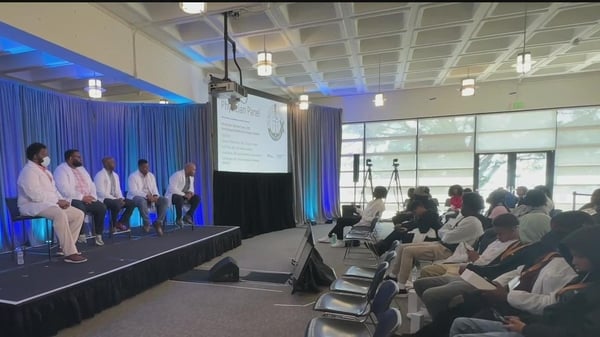 "Black Men in White Coats" Gains Media Attention After First Summit at Merritt College
"Black Men in White Coats", a nonprofit organization that focuses on exposing young African American boys to the medical field and the opportunity to become doctors, held its first youth summit on April 24, 2023, at Merritt College. The summit was attended by nearly 100 students as young as middle school.
The event was covered by CBS News Bay Area. Read the full article here: https://www.cbsnews.com/sanfrancisco/news/nonprofit-encourages-black-youths-to-become-doctors-practicing-medicine-with-summit/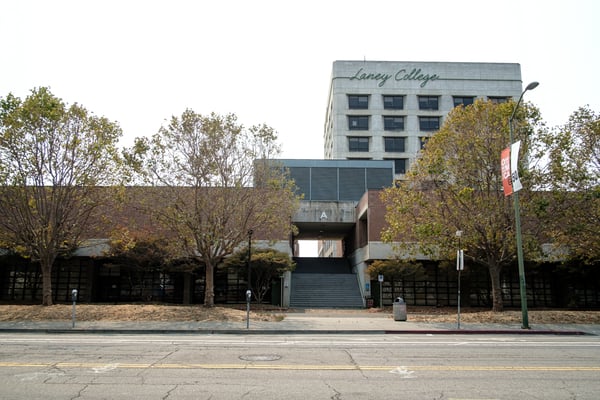 Photo credit: Pete Rosos
Students Want the Peralta Community College District to Build Housing
"A group of Peralta students and alumni, including some homeless students, is urging the district to build housing near its campuses in Oakland, Berkeley, and Alameda, so high rents and housing insecurity don't prevent anyone from getting an education or building skills for a career."
Read the full article by Natalie Orenstein here: https://oaklandside.org/2023/05/11/peralta-colleges-student-housing-oakland/
"Opinion: California Air Board Should Set New Truck Electrification Rules" (Article by Laney Student)
Rhian Slater, a youth climate activist and first-year Laney College student, wrote an article for the East Bay Times urging the California Air Resources Board to expedite the approval of their "Advanced Clean Fleet" rule and help improve the air quality of underserved communities of color.
Read the full article here: https://www.eastbaytimes.com/2023/04/27/opinion-state-air-board-should-set-new-truck-electrification-rules/