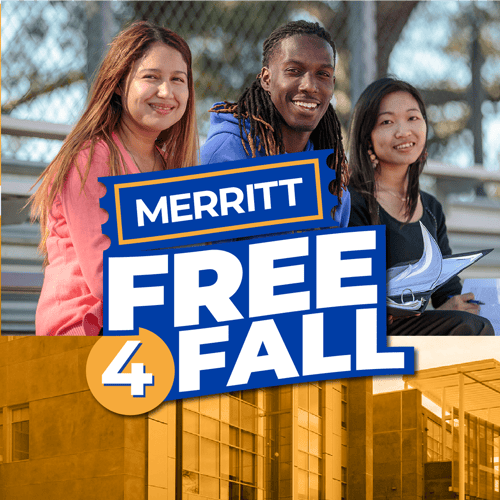 Program to benefit current and new students in the semester starting August 22, 2022
OAKLAND, Calif., August 9, 2022 – Merritt College has announced the innovative Free 4 Fall campaign to help support students who attend college for the Fall 2022 semester.
Free 4 Fall qualifying students will receive:
$500 grant to help offset the costs of attending college
$500 housing voucher (in recognition of the high cost of living here in the Bay Area)
Free breakfast (up to $10 value per meal) served in the Merritt College cafeteria
Free parking in student lots

To qualify, students must take 12 or more units of classes this fall at Merritt College and complete the FAFSA (Free Application for Federal Student Aid) or the California Dream Act application by October 1, 2022. The funds will be awarded after the FAFSA is completed, but students do not need to qualify for financial aid to receive payment.

"Merritt College puts students first, so consistent with our Mission we developed Merritt Free 4 Fall to help students prioritize their education," said college president Dr. David M. Johnson. "We want to support students financially and lighten the load where we can. Making direct payments to students who complete the FAFSA is a good first step in helping them defray tuition, housing, and childcare costs."

The program is funded in part by the federal government's Higher Education Emergency Relief Fund (HEERF), which is intended to help students get an education and reach their academic and career goals during the pandemic. Merritt College has several other programs and resources aimed at lowering the financial barriers to receiving a quality education.

"We took some inspiration from the Black Panther Party, which was founded here at Merritt College in 1966," noted Dr. Lilia Chavez, Vice President of Student Services. "Free Breakfast for Children was their signature program and some of our employees received those meals when they were kids." She added that "offering free breakfast is a terrific way for us to help our students start their day with a healthy meal and get energized for their classes."

For more than sixty years Merritt College has been an essential community partner with a rich history of academic excellence, career training, and civic engagement. The college offers a wide range of degrees and certificates for students looking to transfer to four-year universities, enter the workforce, or earn more in their current roles by adding knowledge and skills.

President Johnson continued, "Our curriculum affords you the opportunity to explore a wide array of intellectual, vocational, or recreational interests. Our faculty comprises some of the most accomplished and dedicated educators in their respective fields. In addition, our counselors and professional staff will provide you with the services and support that you need to be successful. It is also an exciting time for Merritt in that we are implementing new campus technology, erecting new facilities, and expanding course offerings and programs in the community."

Fall 2022 classes start August 22, 2022. To learn more about the "Free 4 Fall" program or to apply and/or enroll, visit https://www.merritt.edu/free4fall/
About Merritt College
Merritt College, located at 12500 Campus Drive, Oakland, California, is a public, two-year college and one of four colleges in the Peralta Community College District in Alameda County. Merritt College offers courses and comprehensive programs that support transfer to four-year institutions as well as technical and occupational endeavors. Merritt College is committed to meeting the educational needs of the diverse student population and the community it serves. Located on a 125-acre site in the hills of southeastern Oakland, Merritt College combines modern, spacious facilities with a panoramic, spectacular view of the entire Bay Area. Merritt College has a deep and rich history of commitment to social justice, equity, and inclusion. An important part of that identity includes being the birthplace and home of the Black Panthers. We strive to build upon that legacy and are proud of the progress that we have made in serving our students and community. Some notable acknowledgments include being the recipient of the Campaign for College Opportunity - Champion of Higher Education Award in 2020. This was in recognition of Merritt leading the way in conferring Associate Degrees for Transfer to Black and Latinx transfer-seeking students. In 2021 Merritt received the Dr. John W. Rice Award for Diversity & Equity from the California Community Colleges Board of Governors. Our important work in these areas continues and we look forward to ongoing successes for our students and our College.
About Peralta Community College District
Founded in 1964, the Peralta Community College District (PCCD) is a collaborative community of colleges comprised of Berkeley City College, College of Alameda, and Laney and Merritt colleges in Oakland, Calif. The Peralta Colleges provide a dynamic multicultural learning environment offering accessible, high-quality educational programs and services, including two-year degrees, certificates, and university transfer programs, to more than 30,000 students each year. PCCD is home to award-winning Peralta TV (Comcast ch. 27/28, AT&T ch. 99) and community radio KGPC-LP 96.9 FM. To learn more about the Peralta Colleges, visit www.peralta.edu.