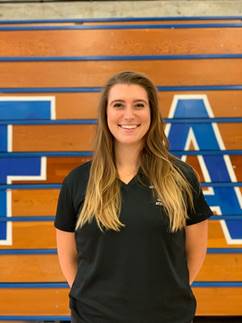 Welcome the new head coach of the Women's Volleyball team of COA Taylor Elliot! Taylor has been a volleyball player since 2013. She began her career as a student-athlete at College of Alameda as a member of the Cougars volleyball team. In 2017, she accepted a position of assistant coach at CoA and started coaching the team. In 2021, Taylor was approved as the new head coach of the Cougars. She takes over from former head coach and athletic director Linda Thompson, who retires after 27 years of athletic service in Peralta Colleges.
Taylor's career in volleyball began in 2013 when she met former head coach Linda Thompson. She joined the Women's volleyball team (Cougars) and played during the 2013 and 2014 seasons. Her talent for the sport and her commitment helped lead the Cougars to their first Sweet 16 playoffs. Taylor describes, "I started at College of Alameda just taking summer classes when I was hanging out by the gym between classes and met Coach Thompson in 2013. That first year we played was the first year women's volleyball made it to the sweet 16 playoffs"
After her second year as a student-athlete at CoA, Taylor was named to the Bay Valley Conference-First Team. In the same year, Taylor played with the Bay Valley in the sophomore showcase. As a result of her excellent performance, she was recruited to play at San Jose State University as a middle blocker. For her senior collegiate year, she transferred to Cal State East Bay where she received a full ride to play under head coach Jim Spagle. While a student-athlete at Cal State East Bay, Taylor helped lead her team to a spot in the CCAA playoffs.
Taylor has coached all levels of club volleyball. Her experience as a student-athlete, assistant coach, and now head coach proves that she is highly qualified for her new role. Former coach and athletic director Linda Thompson shares that she is confident about Taylor and adds that she knows that Cougars will be in good hands.
"Taylor Elliott was one of my volleyball alumnae where she played during the 2013 and 2014 seasons at COA. Once Taylor graduated with her bachelor's degree, I offered her a position as my assistant volleyball coach and was happy she accepted! She not only assisted me with coaching the teams, but she was also able to share her experiences as a student-athlete and provide mentorship to many of the young women on my teams."
Head coach Taylor Elliot earned her bachelor's degree in Psychology from CSUEB and completed her master's degree in Exercise Science. She is looking forward to making the team an even bigger part of the Peralta community and pushing her student-athletes to be their best on and off the court.
"I'm really excited to grow into this role as the new head coach and build the volleyball culture here at College of Alameda. I know my student-athletes are excited to be able to be back in the gym and on campus during these weird times, and they're ready to work and make the best of their season!" concludes Taylor.