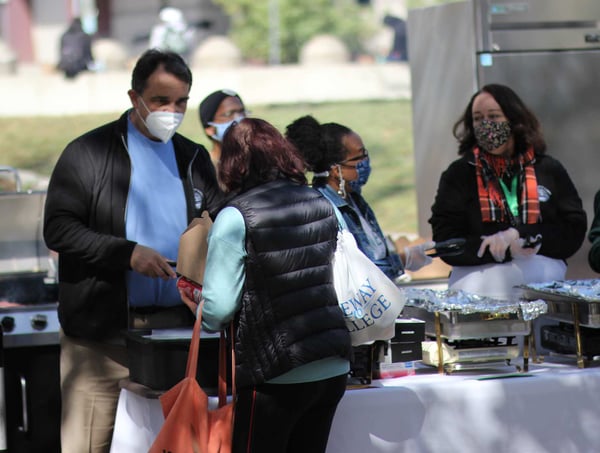 Spring Fest 2.0 Highlighted by Large Campus, Student, Community Turnout
On March 16, Laney College held its second mid-semester One-Stop event, a hybrid gathering. After the initial modest turnout in the Fall, at least 200 students and prospective students took part to learn about programs and receive additional support, all while being treated to lunch served by the Food Services team and Laney College administrators. Attendees were greeted by celebratory balloons that were Beautifully Branded by Adina Meza. Working with the community, Laney welcomed students and staff from our OUSD partners at McClymonds and Metwest High Schools.
The campus community is to be commended for coming together, as so many colleagues worked tirelessly to welcome the community. The planning and execution came thanks in great part to a core team that included Hope Lane, Vice President Knox, Kinetta Roberts, Jessica Liu, Blanca Montes de Oca, Larena Baldazo, Arlene Lontoc, Katrina Santos, Alma Gomez, Evelyn Moreno, Savaugn Holcomb, Joy Perrin, Alison Fletcher and Mussie Tariku.
Special thanks also go to the following colleagues and areas at Laney who also contributed:
Neil Burmenko, Alfred Brown, and the entire Laney Culinary team

Amy Marshall and team in the Business Office

The Laney College Custodial team

Laney Counselors

The Laney IT team

Staff in Enrollment Services, including Financial Aid, the Welcome Center, and Admission & Records

Tutoring and Supplemental Instruction Colleagues as well as the Library

The many Learning Communities and Resources doing tabling at the event, including Union Bank

The Laney College Management Team
Laney Hosts a Successful Flex Day for All!
On March 15, the Laney Professional Development Committee hosted another successful Flex Day! The day began with a wonderful morning meditation, Qi Gong and acupressure session, brought together by Laney's mental health counselor Susan Yee! After the opening session, our awesome Laney Counselors reviewed various areas of focus tp provide an overview of what counselors do, how we can work with them, how to refer students, and all the amazing things that they do!
This was a very well attended gathering of Laney faculty, staff and admin. After this gathering, we had a super-informative session on identity with William Ochoa, and from there on we had several sessions to choose from, including a virtual tour of the applications in Adobe Creative Cloud, the Peralta budget, WordPress, Assessments, how PD works, and many more! It was a full day of excellent presentations, and great options for all! Many thanks to Felipe Wilson and Marla Leech for going above and beyond to coordinate Flex Day!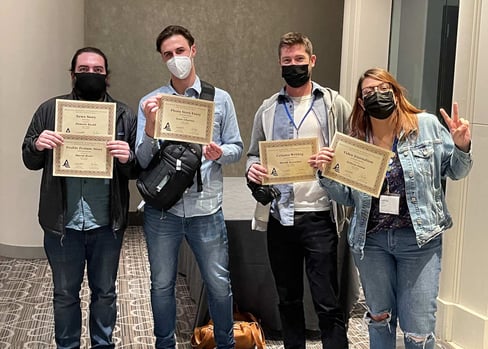 The Citizen Receives Multiple Honors and Awards!
Laney College is pleased to announce that the Citizen, has won the Society of Professional Journalists' James Madison Freedom of Information Award! The news was received during Sunshine Week, which highlights freedom of information in government.
The newsroom was selected by local journalists and is mentioned in a press release, announced March 16, 2022 by the Society of Professional Journalists. The students have been given this award specifically for their commitment to transparency and accountability at PCCD, beginning with, but not limited to, their coverage of PCCD security.
The students will be honored with a trophy that will live in Professor Eleni Gastis' newsroom, as a reminder of the Citizen's commitment — and future work — at Peralta.
In other news, the Citizen also picked up several awards at the Journalism Association of Community Colleges/Associate Collegiate Press conference they attended last week in Long Beach. The winners are:
Ivan Chairez, photo essay

David Rowe, profile feature story

Derek Sylvester, column writing

Leticia Luna, video journalism

Pamela Rudd, news story
Please join Laney College in congratulating our students for their gumption, integrity and talent!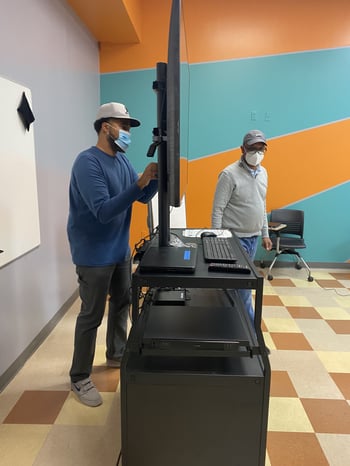 Restoring our Communities Launches Face-to-Face Class
On March 9, Laney's Restoring our Communities program launched CIS 205, face-to-face for ten students. In addition to instruction, counselors, Doug Cobb and Terrance Greene and Ethnic Studies faculty, Jimmy Crutison, provide workshops and advising. ROC has been eager to see this project in fruition! In early 2020, the California Legislature passed Bill SB 823, effectively closing the Division of Juvenile Justice by the year 2022.
As a result, youth would be redirected to County Juvenile Hall Facilities and be held in custody up to the age of 25, making postsecondary pathways for these youth a priority. Laney College has partnered with the Alameda County Department of Probation as well as the Alameda County Office of Education to ensure all incarcerated young people have access to college. This means face-to-face classes, online classes, dual enrollment, and counseling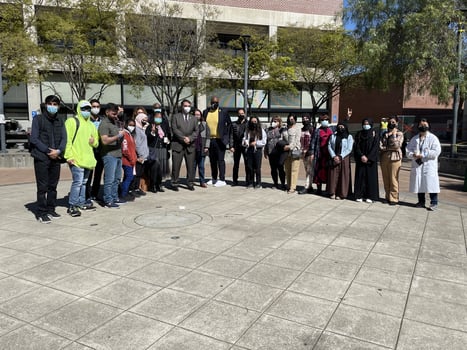 Coffee in the Quad a Hit
On March 9, the President's Office hosted its first Coffee in the Quad, which will be an ongoing event, occurring every other week. So much has taken place during the pandemic, and the goal of this event is to take some time during college-hour every other Wednesday to simply connect, converse and caffeinate! While the event generated quite the buzz, as students, faculty, and staff members stopped by, President Besikof was appreciative to provide a warm welcome to Laney ESOL students who just so happened to be touring the campus.
The group of 18 is funded by The Employment Services, Vocational English as a Second Language and Social Adjustment grant, which is managed by Laura Espino of the Adult Education Office in partnership with Raya Zion of Laney's Employment Services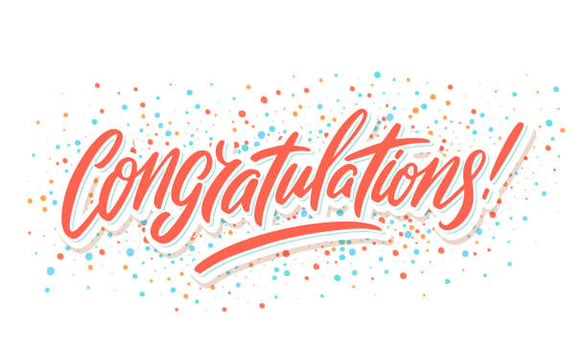 Laney Congratulates the Following people Who Have Made Tenure This Year:
Dana Grisby

Adam Balogh

Elizabeth Cowan

Robert Crowley

Irfan Ortak

Nick Shaposhnikov

Beth Wadell

Bangjun (Tiffany) Wu
This article is taken from the President's Report, written by Dr. Rudy Besikof, Laney College President, that was presented to the PCCD Board of Trustees during their regular meeting on Tuesday, March 22, 2022. To view as a pdf, click here.