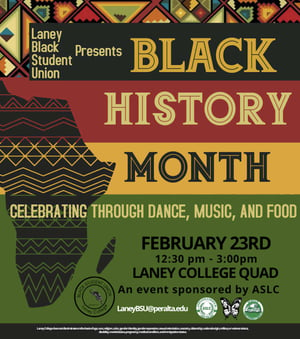 Black History Month - February & Forever
February is Black History Month, and Laney College has a number of activities to celebrate its significance. The Black Student Union and Umoja/UBAKA program, employees who are part of the Black Laney Love group, and the Associated Students of Laney College are putting on events all month. The March Board Report will highlight those activities, which begin Wednesday, February with a virtual screening of King Richard put on by the Laney BSU in conjunction. Laney College will host a total of 9 events.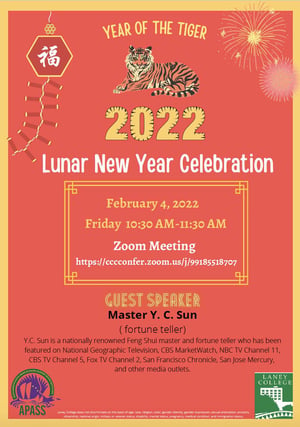 APASS Hosts Lunar New Year Celebration Among Other Events
On Friday, February 4, APASS hosted a virtual celebration in recognition of the Lunar New Year - the Year of the Tiger, with Master Sun, a world-famous fortune teller, who gave us his highly anticipated forecast. In addition to this event, APASS staff and ambassadors were delighted to welcome students at Laney's in-person One-Stop Saturday two weeks ago.
Our bilingual Cantonese, Mandarin, Vietnamese and Spanish speakers provided translation assistance to students enrolling in classes and helped introduce new students to the support services offered by APASS counselors and peer mentors. In the coming weeks, APASS will be working with AAPI nonprofit partners, to help students find internship opportunities. We also look forward to sending a delegation. of students to the Asian Pacific Americans in Higher Education Conference April 6-8 this year!
Lastly, UCLA scholar Dr. Robert Teranishi and UNLV research Dr. Federick Ngo just completed a year-long study of APASS' embedded counseling program with ESOL students and will be publishing their results in the next month.

Laney President's Office Provides Financial Support for Students
The President's Emergency Scholarship Fund provides one-time support scholarships for students facing unforeseen financial difficulties, that impact their ability to attend school. We understand that some of our students are burdened with emergency financial hardships, which can hinder their ability to remain successful and in school, so we have partnered with the Peralta Colleges Foundation to provide Emergency Hardship Scholarships to students who can demonstrate such needs because of demand, the scholarship balance got as low as $600 in Oct, but thanks largely to employee giving the balance grew to $20,890.44 in 2021. So far in 2021/22, this fund has accomplished the following:
25 $500 scholarships were awarded Fall 2021
15 $500 scholarships have been awarded for Spring 2022 (we are still reviewing applications)
20 $500 awarded for Spring 2022, to date (we are still reviewing applications)
The support offered for Spring '22 also included seven cosmetology kits, paid for utilities, a portion of student rent, past-due educational fees, past-due childcare bills, transportation, books, and other emergency needs.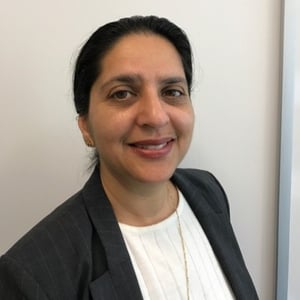 Laney Bids Farewell to Its Director of Information Technology
Ms. Rupinder Bhatia will be transitioning from Laney College to become the new Executive Director of Information Technology for the San Jose Evergreen Community College District. Ms. Bhatia joined Laney in March 2018 and has served as the Director of I.T. during her entire tenure, but that only tells part of her immeasurable contributions to our college. She has chaired or served on multiple committees, always taking the initiative when working groups needed someone to do so. Her service includes contributions to our enhanced online learning and online learning support, and the upgrades of nearly all our classrooms to Smart Technology would not have happened without her tireless efforts. Her most impactful leadership for Laney took place from December 2020 until June of last year, when she stepped in to be our Laney College's Accreditation Liaison Officer. Laney College wishes her the best.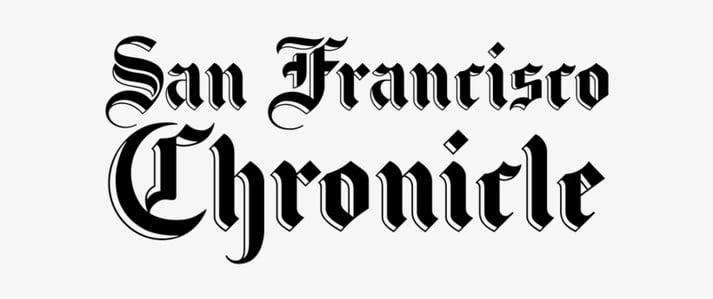 The Citizen Editor Selected for Paid Summer Internship With SF Chronicle!
Leticia Nicolini Luna, The Citizen Editor-in-Chief, has been selected for a coveted paid summer internship at The San Francisco Chronicle. She was selected for one of only 15 available internships, competing with journalism students across the state. Leticia will be working on various multimedia projects, as well as community engagement for the publication. Please join the Laney Community in congratulating her!
The good news doesn't stop there, The Citizen is also starting a local non-profit mentorship program with Oaklandside this week! The goal of this program is to give students the opportunity to be mentored by industry professionals while opening doors for collaboration! Laney College extends its sincerest gratitude to Report From America, and reporter Ricky Rodas, for collaborating with us to make this possible.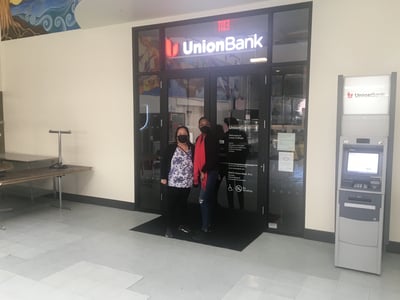 Student-Run Bank Now Available in Laney Student Center
Laney College, in partnership with Union Bank, proudly opened a student-run branch on Monday, February 7th. The bilingual staff consists of three bank officers and eight student interns (two international students) to serve students, faculty, staff, and the community. The interns will receive an educational stipend and earn transferrable college credits while working as a teller in the campus branch. Interns will also serve as campus ambassadors to share financial literacy and education to empower other students, as well as the community.
This organizational partnership creates a clear guided pathway for students interested in Banking, Finance, Accounting, and Business, and professor Kim Glosson has been instrumental in seeing this partnership to completion. The student-run branch is located in Laney's Student Center, and is open Monday – Thursday, from 9:00 am – 3:00 pm with an automated teller machine (ATM).
This article is taken from the President's Report, written by Rudy Besikof, Laney College President, that was presented to the PCCD Board of Trustees during their regular meeting on Tuesday, February 8, 2022. To read this report as a pdf click here.