Laney College Awarded $125,000 in CAI & HRTP Grants
As announced by the State Chancellor's Office on Sept. 16, Laney College is one of four colleges across the state that were awarded a $125,000 California Apprenticeship Initiative (CAI) High Road Training Partnerships (HRTP) Planning Grant. The goal of Laney College's grant is to create a detailed pre-apprenticeship/bridge curriculum that will help guide and prepare students for careers in the manufacturing, automotive, and water/wastewater sectors.
Serving as the grant's project lead and fiscal agent, Laney will be working with our sister college, College of Alameda, OUSD, and other educational institutions in the Bay Area, in building the curriculum for the pre-apprenticeship program. The curriculum will be informed by industries including the Automotive Apprenticeship Trust Fund, Bay Ship & Yacht, BAYWORK, C&H Sugar, Casa Sanchez Foods, EBMUD, FM Industries, International Association of Machinists, Lawrence Livermore National Labs, Sanmina, SFPUC and others.
Jewish Vocational Services will be a core partner and the East Bay Workforce Development Boards and Tradeswomen Inc. will also be assisting on the project.
The grant will offer a pilot cohort in the Summer of 2022, and will roll out the curriculum for use by other schools by the end of 2022. This achievement would not have been possible without Dr. Mark Martin, Deputy Sector Navigator for Advanced Manufacturing in the Bay Region, who has devoted countless hours in coordinating the application process for this grant. Lastly, we would like to thank Career and Technical Education Dean,Alejandria Tomas, for her unparalleled support and leadership.

The Citizen Cross-Publishes with Oaklandside
On Sept. 17, the Citizen cross-published their first article with local newsroom Oaklandside! The story, written by Pamela Rudd, also features a photo by Citizen reporter Gabe Johnson. You can read the front-page spread here and in the Citizen, both are identical.
We look forward to sharing more details about our partnership with Oaklandside, as the Citizen hopes to cross-publish many more pieces with their newsroom, which will also allow for mentorship opportunities and community-focussed coverage.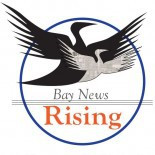 Journalism Student Work Published in the Bay News Rising Program
On Sept. 21, two of Laney's journalism students, Editor in Chief Luke Wrin Piper and Menel Raach, were published as part of the Bay News Rising program! Bay News Rising is a paid internship collaboration where local students partner with professional journalists from the Pacific News Media Guild to work on articles related to social justice issues.
Luke wrote about gig workers and Proposition 22, click here to read the story. Menel wrote about U.S. immigrants yearning for home during COVID-19, you can read the story here. Both students were paid a $1,000 stipend for their work! Please join me in congratulating Luke, Menal, and the Citizen as a whole for their hard work and dedication, not just to the Laney Community, but to the Bay Area as well.
Laney English Professor Recognized at the 42nd Annual American Book Awards
Laney English Department faculty member, Judy Juanita, has been recognized twice for her writing in 2021 alone. In addition to being honored with the Tartt Fiction Prize for work that will be published by the Livingston Press, University of West Alabama in 2022, Professor Juanita was among the recipients of the 42nd Annual American Book Awards from the Before Columbus Foundation, September 19, 2021. Her poetry has been published in Konch, 13th Moon, Asili, Drumvoices, Glint, New Verse News, Paterson Literary Review, and Poetry Monthly.com, among many others.
A fascinating summary of Professor Juanita's work may be found on the Before Columbus Foundation web page, here.
One-Stop Comes Back to Laney!
Laney will host 2 days of One-Stop Fall Fest events on campus on October 12th from 10:00 am - 3:00 pm and on October 13th from 12:00 pm – 6:00 pm. The events will be held by the Laney Tower flagpole and are open to all current and prospective students. Attendees can: learn about our many late start classes and get help enrolling in them, get connected to services, learn about clubs and student government, speak with a counselor or representative from financial aid, meet faculty to learn about exciting courses and programs, check out a Chromebook, and meet fellow Laney students!
This article is taken from the President's Report, written by Dr. Rudy Besikof, Laney College President, that was presented to the PCCD Board of Trustees during their regular meeting on Tuesday, September 28, 2021. A PDF version is available here.