Alameda Chamber Lunch & Learn Seminar Features The Power of CoA
The Alameda Chamber and Economic Alliance Education Program hosts a monthly seminar Lunch & Learn speaker series featuring guest presenters with essential knowledge on relevant business-related topics. On April 13, 2023, College of Alameda (CoA) Acting President Diana Bajrami was invited to present a seminar about the Power of CoA, focusing on how employers may recruit talent through the College's various internship, apprenticeship, and job placement services. The luncheon seminar was held at the Trabocco Kitchen in Alameda. Approximately 30 Chamber members attended the event and a number of CoA and District representatives also participated, including Trustee Bill Withrow, Trustee Sheweet Yohannes, Chancellor Jannette Jackson, Dean Eva Jennings, Director Stephanie Bradshaw, Dean Shalamon Duke, Professor Chum, Professor Derek Piazza, and Learning Resources Student Chanceline Zannou.
Three CoA Students Receive American Association of University Women Scholarships to Attend National Conference
College of Alameda scholars Nickesha Brice, Jaqueline Torres, and Macarena Valenzuela have each been awarded a full $1,500 scholarship to attend the American Association of University Women (AAUW) National Conference for College Women Student Leaders (NCCWSL) at the University of Maryland in Baltimore on May 31, 2023. The AAUW usually offers two scholarships for CoA students to attend the conference, but this year AAUW members generously donated an extra scholarship so that all three students could attend the conference. This special scholarship program is coordinated by Penny Washbourn at the AAUW Alameda Branch.

SALAAM Learning Community Celebrates Eid al-Fitr
The SALAAM Learning Community at the College of Alameda recently hosted its first Eid al-Fitr Open House to celebrate the end of Ramadan. Over 100 attendees, including students, district and college staff, parents/guardians, and children, attended the event to commemorate the one-year anniversary of the SALAAM Learning Community.
The celebration began with an introduction from SALAAM Coordinator and Counselor Fathia Mohamed, who highlighted the significance of the community center's existence, especially for students of Southwest Asian and North African ancestry (SWANA).
The SALAAM Learning Community is the first community college program of its kind to serve SWANA students and their families. Since its inception, the SALAAM Learning Community has achieved significant growth and development milestones, including a 24% increase in enrollment since its establishment in Spring 2022, with a 15% increase in full-time students. The majority of SALAAM students are women who reside in the cities of Oakland and Alameda. SALAAM students identify predominantly as White and Asian, and some also identify as Black, Latinx, and Two or More races.
Additionally, 99% of SALAAM students are receiving the California Promise Grant, and 79% are receiving PELL Grants. SALAAM students' top majors are Dental Assisting, Business Administration, and Liberal Arts.
The evening concluded with a commitment from college and high school representatives to work together toward creating additional SALAAM Learning Communities.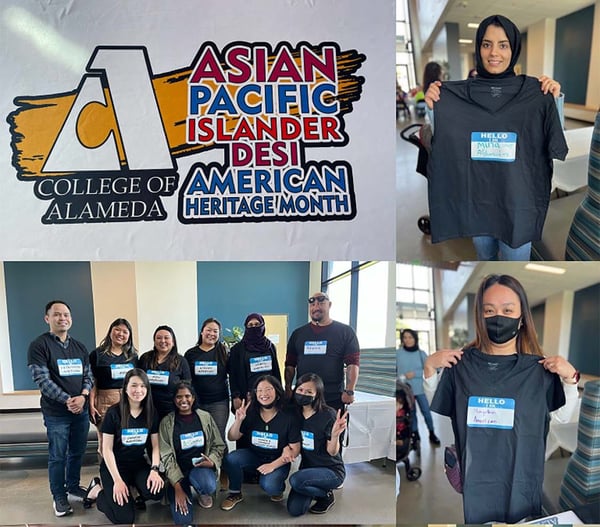 College of Alameda Kicks Off APIDA Heritage Month
The first event celebrating Asian Pacific Islander Desi American (APIDA) Heritage Month at College of Alameda took place on April 18, 2023. Students enjoyed delicious Asian cuisine and customized their own t-shirts. The specially designed "Hello, I am…" tee shirts were created to represent the diversity of the APIDA diaspora. Organizer Julie Saechao says that the intent was to "challenge the dominant racialized narrative that the APIDA community is a monolithic culture and that the shirts are an opportunity to spark conversation and sharing about our cultural histories as Americans, immigrants, and refugees." A second APIDA Heritage Month event was hosted by MESA on April 25, 2023, by Zoom and also in-person, titled Bridging Boundaries: Navigating Cultural Borders in the AAPI Community. The thought-provoking presentation by Professor Cady Carmichael (formerly Cady Bow) addressed physical and cultural boundaries within the political map of Asia and the AANHPI communities. Hosted by MESA and presented by Cady Carmichael (formerly Bow). Additional APIDA Heritage Month activities will be held at the College throughout the month of May.

San Leandro High and Lincoln High School Students and Staff Visit CoA
On Tuesday, April 25, 2023, the College of Alameda's EOPS, CARE, CalWORKs, and Next Up Programs hosted San Leandro High and Lincoln High Schools students and staff. CoA EOPS Program staff members recently established a new partnership with the San Leandro Unified School District to serve first-generation students, foster youth, and student parents.
Over 50 San Leandro Unified School District high school students attended the event, along with school counselors and classified professional staff members. Many of the high school students who participated in the visit are the first in their families planning to attend college.
The full-day event included a CoA Student Panel, a California Community Colleges (CCC) Apply demonstration, campus tours, and learning about special programs and services, including the Salaam Learning Community, ACESSO, Puente, Student Accessibility Services, and Financial Aid. The secondary component of the visit was to introduce high school students to concurrent and dual enrollment opportunities.
During the tour, students visited various campus offices and classrooms, including Admissions and Records, the Welcome Center, Apparel Design and Merchandising (ADAM), and Automotive Programs, and college classrooms. For many students, this was their first experience on a college campus and meeting college students and professors. CoA staff learned during the campus tours that there were an additional 60 high school students on the waiting list to visit the College of Alameda.
EOPS, CARE, CalWORKs, and Next Up Program staff members are planning follow-up visits, events, and phone calls with students and staff from San Leandro High and Lincoln High Schools during the Summer and Fall semesters of 2023.

CoA Breaks Ground for the New Transportation Technology Center
College and District representatives broke ground for CoA's New Transportation Technology Center (NTTC) for Auto Diesel Programs, on Wednesday, May 3, 2023. Alten Construction, a full-service San Francisco Bay Area commercial construction company, has been awarded the bid for the 40,000-square-foot transportation technology facility that will host three department programs, including Auto Body and Paint, Automotive Technology, and Diesel Mechanics. The project will be paid for thanks to community support for voter-approved bond funds.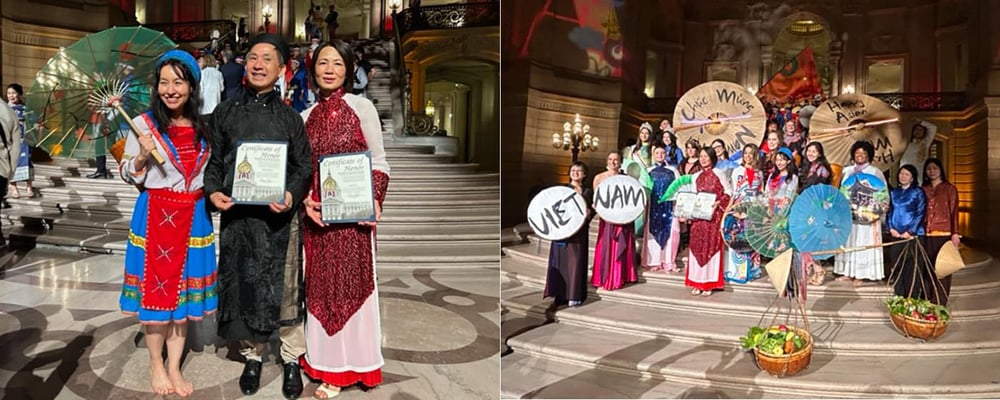 CoA Dance Class Performs at San Francisco City Hall AAPI Event
College of Alameda dance class students and the Nguyen Dance Company, under the Direction of Professor Danny Nguyen, performed at a cultural event celebrating AAPI (Asian American and Pacific Islander) Heritage Month on May 3, 2023, at San Francisco City Hall. Professor Nguyen's original choreography titled "Essence of Vietnam," illustrated the beauty and diverse cultures of Vietnam. This highly anticipated event was attended by over 500 guests, including elected officials, dignitaries, leaders, and friends from Bay Area communities.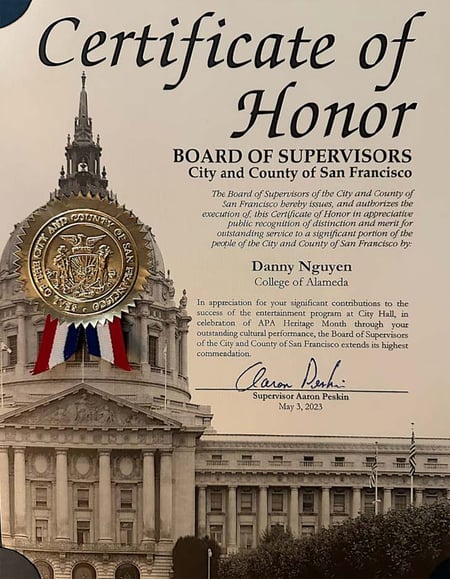 The City and County Board of Supervisors also presented a special Certificate of Honor to Professor Nguyen for his contributions to the success of the event.
A video of the performance is available online: click here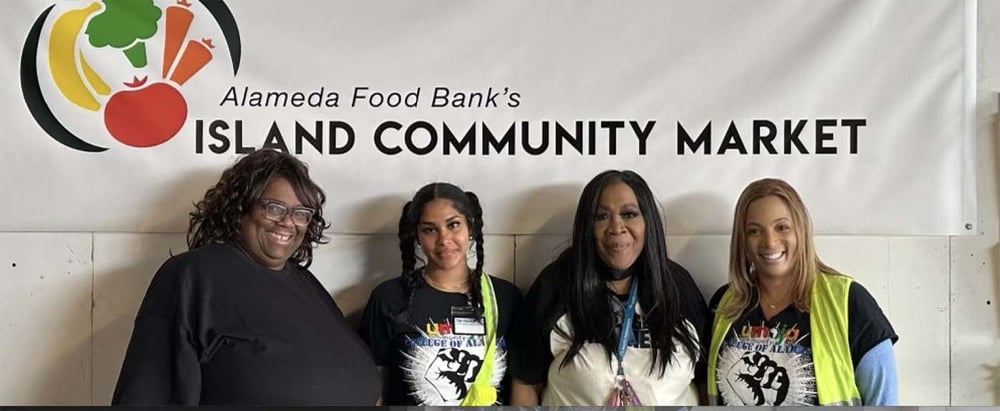 Umoja Program Volunteers Assist at the Alameda Food Bank
On April 24, 2023, CoA Umoja Program students, counseling faculty, and staff volunteered at the Alameda Food Bank. Students enthusiastically served in various food packing, sorting, and distribution volunteer roles. In order to strengthen partnership opportunities, Umoja Counselor Valarie Carey will work with Alameda Food Bank representatives to organize future activities.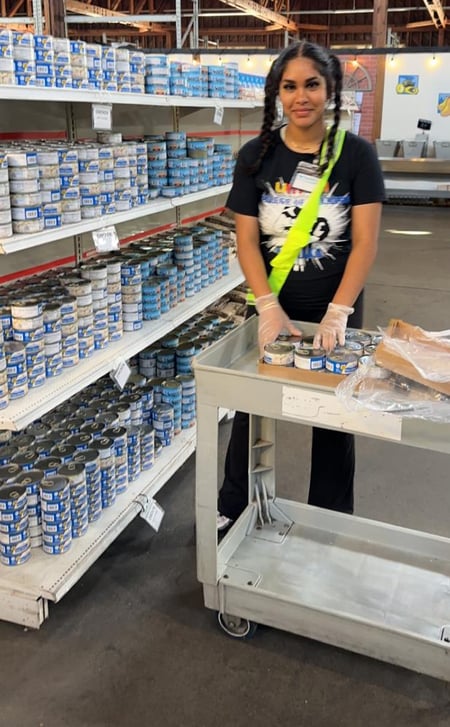 This article is an excerpt from the President's Report, written by Dr. Diana Bajrami, College of Alameda Acting President, that was presented to the PCCD Board of Trustees during their regular meeting on Tuesday, May 16, 2023. To view it as a pdf, click here.