Students Promote AMT at the Hayward Executive Airport Open House
CoA Aviation Maintenance Technology (AMT) program representatives were invited to participate in the Hayward Executive Airport's Open House Salute to Veterans and First Responders event on September 11, 2022, at the Hayward Airport. AMT Facility Supervisor Esther Cheng and 14 very enthusiastic AMT student volunteers staffed CoA's booth at the event, providing information about the College's popular aviation technology program.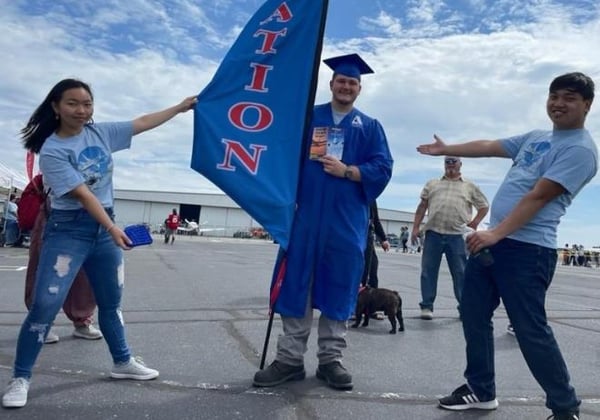 Following a three-year hiatus due to the pandemic, the Hayward Airport's open house drew a crowd of about 2,000 participants this year.
CoA students were excited to share their AMT experiences with interested community members and several paraded the airport grounds with a large aviation flag, answered questions about the College's program, and directed individuals interested in learning more about enrolling in the program to CoA's booth where Esther provided details, materials, and advice.
There were several special airplanes and helicopters on display at the event, including a B-17 plane and a B- 25 bomber aircraft. Two CoA students enjoyed free flights around the Bay on a Cessna airplane. Several CoA AMT alumni, who are now successfully employed in the aviation technology industry, stopped by the booth to share their work experiences with current students.

College of Alameda Team Attends Inaugural State-Wide COLEGAS Conference
CoA staff, faculty, and administrators attended the inaugural California Community Colleges Organización de Latinx Empowerment, Guidance, Advocacy for Success (COLEGAS) Conference: Pa'delante Juntos Podemo, which took place November 2, 2022, through November 4, 2022, in Long Beach, California. The mission of COLEGAS is to elevate authentic Latina/o/x leadership to accelerate, change, and advance equity for Latina/o/x professionals and students. Participants included: Acting President Diana Bajrami, Director of College Research and Planning Dominique Benavides, Dean of Liberal Studies and Language Arts Lilia Celhay, ACCESO Counselor Alejandra Duran, ACCESO Specialist Alejandro Gonzalez, and Hispanic Serving Institution Grant ACCESO/Puente Programs Director Horacio Corona Lira.
At the conference, the CoA team heard from California Community College leaders, higher education scholars, practitioners, and artists. The conference tracks focused on topics of equity and inclusion, Hispanic Serving Institutions, and Latinx-affirming practices and policies. Additionally, Learning Resource Center Faculty Coordinator Johanna Carranza, Director Benavides, and Director Corona Lira presented on CoA's Puente Summer Bridge pilot program. This presentation highlighted the implementation of a summer bridge program in CoA's Puente Project to enhance student retention, academic success, and a sense of community.
CoA's Puente Summer Bridge is a four-week non-credit course taught in collaboration with CoA's Learning Resource Center. The Puente Summer Bridge program's development was informed by student surveys, student interviews, and data analysis, which determined a need for stronger retention and inclusion efforts.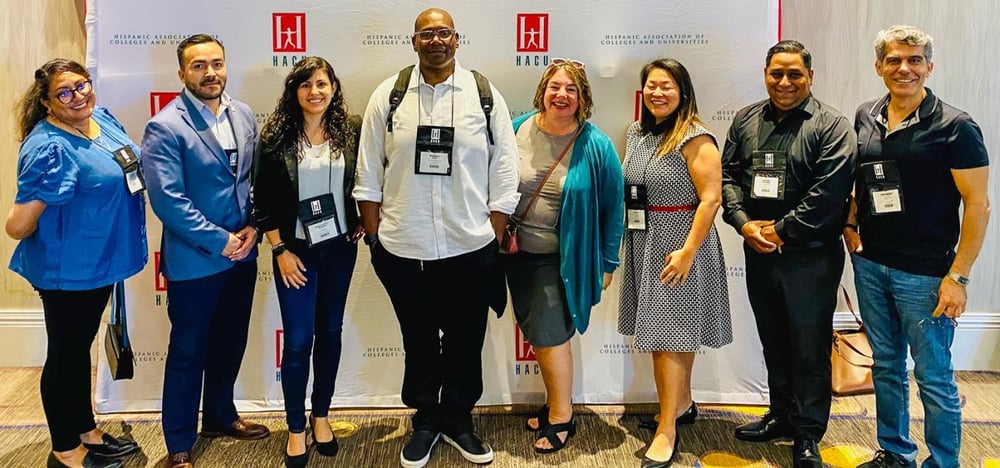 HACU's Annual Conference Offers a Unique Forum Sharing Best Practices for Educating Hispanics/Latinx Students
CoA staff, faculty, and administrators attended the Hispanic Association of Colleges and Universities (HACU) 36th Annual Conference, titled Championing Hispanic Higher Education Success: Rebuilding a More Resilient and Inclusive America, which took place on October 8, 2022, through October 10, 2022, in San Diego, California. The CoA team heard from leading HIS experts and practitioners about emerging trends in higher education affecting Hispanics/Latinx students, best practices, and effective programs and initiatives at HACU member institutions. Over 2,500 educators from around the country attended the event.
HACU was founded in 1986 and represents more than 500 colleges and universities in the United States, Latin America, Spain, and school districts throughout the U.S. It is the only national association representing existing and emerging Hispanic-Serving Institutions (HSIs).
Participants included Vice President of Student Services Dr. Tina Vasconcellos, Director of College Research and Planning Dominique Benavides, Science, Technology, Engineering, Math (STEM) Interim Dean Reza Majlesi, Dean of Counseling and Special Programs Dr. Shalamon Duke, Enrollment Services Dean Dr. Amy Lee, ACCESO Counselor Danna Chavez Baquero, ACCESO Specialist Alejandro Gonzales, and Director of HSI Horacio Corona Lira.
In 2019, College of Alameda (CoA) was the first college in the Peralta Community College District to receive a United States Department of Education Title V Hispanic Serving Institutions (HSI) Grant. HSI grants are awarded competitively each year to eligible colleges and universities.

CoA Hosts a Booth at the Oakland Día de los Muertos Festival
CoA hosted an outreach booth at the Oakland Día de los Muertos 27th Annual Festival. Each year this free, outdoor festival attracts over 100,000 people to the vibrant, culturally-rich Fruitvale neighborhood to enjoy world-class live music, family-friendly games, rides and activities, traditional Latin American artisans, and the stunning artistic altar installations created by community members paying homage to los Muertos. During this event, CoA's ACCESO and Financial Aid staff had the opportunity to interact with hundreds of community members and talk with them about educational opportunities at College of Alameda, collect their contact information, and encourage them to enroll in upcoming semesters. Thank you to ACCESO student ambassadors Almendra Bedolla and Marlyn Herrera, Financial Aid specialist Stephanie Grigg, director Dave Nguyen, and Director Horacio Corona Lira for participating in this community outreach event.

COA Launches Spring 2023 Free Classes & $500 on Us Campaign
College of Alameda will be offering free classes and $500 on Us grants to qualified students for Spring 2023 semester. The College launched its outreach campaign in mid-November, including promotions on Spotify radio and social media channels. Additional outreach will include a postcard mailer, street banners, and other advertising. For more information, students may go to https://alameda.edu/FreeSpringPlus500OnUs/, call (510) 295-073, email COA500@peralta.edu, or visit the Virtual Welcome Center Mondays from 8 a.m. to 7:30 p.m. and Tuesdays through Fridays, from 8 a.m. to 4 p.m. on Zoom https://us06web.zoom.us/my/coa500.
This article is an excerpt from the President's Report, written by Dr. Diana Bajrami, College of Alameda Acting President, that was presented to the PCCD Board of Trustees during their regular meeting on Tuesday, December 13, 2022. To view it as a pdf, click here.