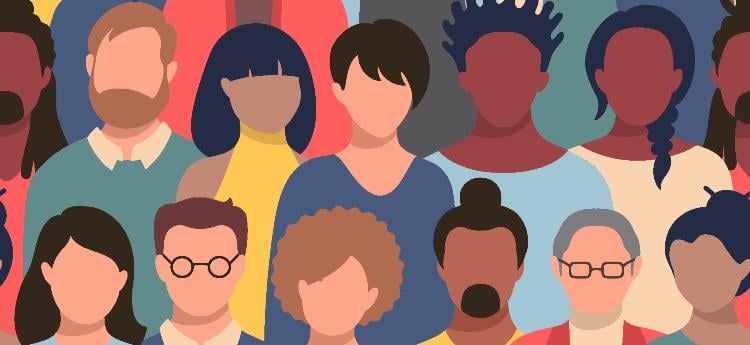 CoA joins the Second California Community Colleges Racial Equity Leadership Alliance
CoA's executive leadership team is deeply committed to Diversity, Equity, and Inclusion (DEI) at the College. Advancing DEI is one of the four CoA institutional priorities for Academic Year 21-22. As part of our work to advance DEI and commitment to equitable student success, CoA has joined 68 other California Community Colleges in participating in the second California Community Colleges Racial Equity Leadership Alliance.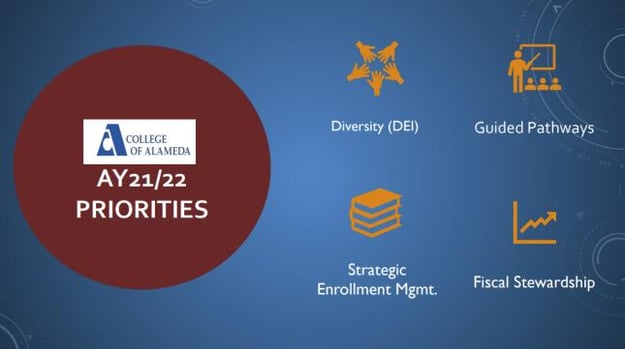 This year's Alliance programming officially begins this month and continues the important work that started last year, implementing impactful solutions to equity challenges on college campuses. The Alliance provides member colleges with resources, training, and annual assessments aimed at improving equity and diversity outcomes. Facilitators are distinguished DEI leaders from national higher education associations; highly- cited professors who study race relations; chief diversity officers; and other experienced specialists from the University of Southern California (USC) Race and Equity Center. The California Community Colleges Racial Equity Leadership Alliance was developed by USC Provost and Professor of Management and Organization Dr. Shaun Harper.
CoA will send up to 10 employees to each online monthly session. The three-hour monthly sessions will feature a different equity-focused topic and materials from the presentations will be freely accessible to all member college employees via a new online portal.
Since 2019, CoA has been in the process of implementing a college-wide equity and social justice focus through initiatives such as Guided Pathways, AB705, Strong Workforce, Student Equity and Achievement, and supporting the Board of Governor's Vision for Success. As a California Community Colleges Racial Equity Leadership Alliance member, CoA hopes to build upon its previous achievements and assess outcomes for continuous quality improvement. To this end, CoA will administer the USC Race and Equity Center's new climate survey made available to all Alliance member institutions in September/October 2022.

ACCESO Spring 2022 Career Panel Series Continues at CoA
College of Alameda's Adelante con Comunidad, Excelencia, Sabiduría y Oportunidad program (ACCESO) Program, under the direction of Mr. Horacio Corona Lira, continued its Spring 2022 Career Panel Series on Thursday, March 3, 2022, with a career panel focused on Science, Technology, Engineering, and Math (STEM). The panel discussion was co-hosted by CoA's Math Engineering Science Achievement (MESA) Program. Panelists from a variety of professional fields included: Oak Ridge National Laboratory Tech Professional Materials Researcher Ms. Alexis Flores-Betancourt, AMGEN, Inc., Process Development Scientist Mr. Miguel Gomez, SC Solutions, Inc., Senior Engineer Mr. Michael Perez, and Autodesk Senior Data Scientist Ms. Yizel Vizcarra. The panelists recounted their own educational and career journeys, provided career advice, and answered students' questions.
ACCESO's Spring 2022 Career Panel Series continues on April 7, 2022, from 5 p.m. to 6 p.m., with a discussion of Vocational and Certificate Careers, and the final presentation, titled Careers in Medical Field, will take place on Thursday, May 5, 2022, from 5 p.m. to 6 p.m.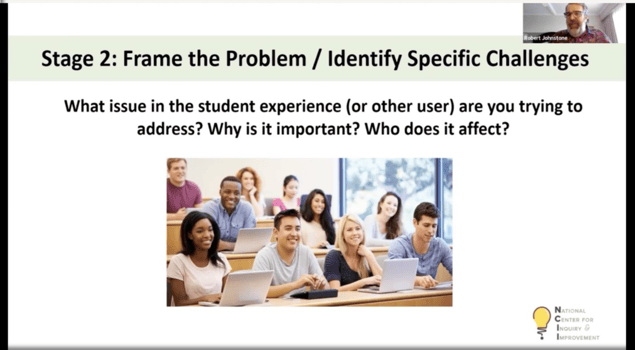 Special Workshop Explores Equity in a Guided Pathways Framework
In February 2022, the National Center for Inquiry and Improvement (NCII) presented an online workshop titled Operationalizing the Big Ideas of Guided Pathways with a Design and Implementation Framework. The workshop was facilitated by NCII Founder and President Dr. Robert Johnstone. CoA President Dr. Nathaniel Jones III, Acting Vice President of Instruction Dr. Diana Bajrami, and Director of College Research and Planning Ms. Dominique Benavides attended the event.
The workshop explored ways that colleges can design and implement improved student experiences under a guided pathways framework using an equity lens. Participants were encouraged to brainstorm new institutional approaches that would enhance students' sense of connection, belonging, and validation. Suggested activities included: identifying and discussing limiting assumptions and beliefs about students and systems, benchmarking best practices at peer institutions, and using a Disney Imagineer approach to problem-solving, in order to ensure that students of all backgrounds have equally positive college experiences resulting in academic success.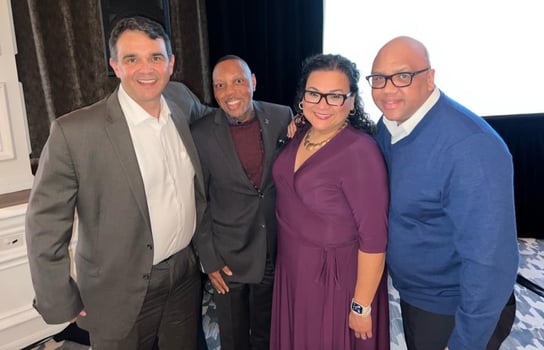 Community College League of California (CCLC) 2022 CEO Symposium
CoA President Jones joined other PCCD college presidents at the CCLC 2022 CEO Symposium in San Diego in early March. The CEO Symposium is the annual convening for California Community College chancellors, superintendent/presidents, and presidents from across the state. It is the sole CEO-only event providing a forum for statewide leaders to convene panel discussions, share information and promising practices, and network with colleagues in an informal environment. Of special interest were the following General Sessions: Beyond COVID- 19: Prioritizing Diversity, Equity, and Inclusion; Reimagining the Future Through a Fiscal Policy Lens: ECA, TCR, & Hold Harmless Changes; and A Conversation with Chancellor Eloy Ortiz Oakley.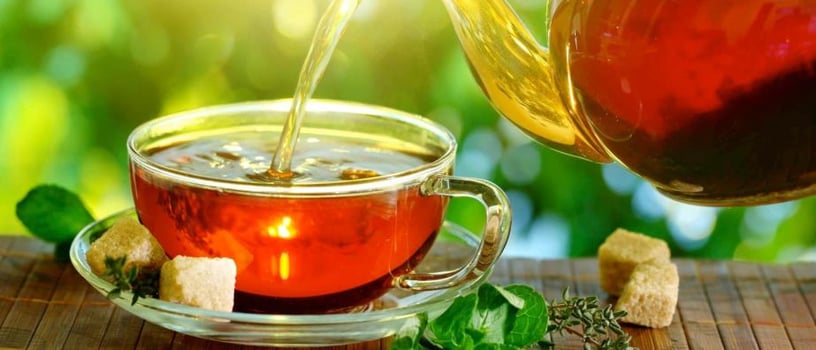 College of Alameda VPSS Dr. Tina Vasconcellos Invites Participation in College Dialogues
Vice President of Student Services Dr. Tina Vasconcellos is inviting students, faculty, and staff to join her in Room A103 for tea and informal discussions about college-related matters. The dialogues are intended to help improve institutional effectiveness and ensure continuous improvement of student learning and achievement. Upcoming Teas with Tina will take place on April, 12 and May 10, 2022.
This article is an excerpt from the President's Report, written by Dr. Nathaniel Jones III, College of Alameda President, that was presented to the PCCD Board of Trustees during their regular meeting on Tuesday, March 22, 2022. To view as a pdf, click here.