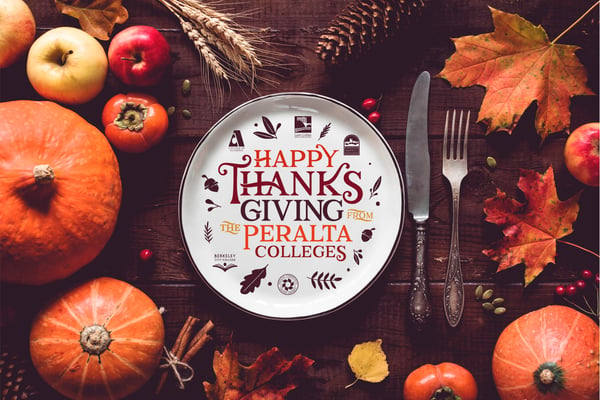 Dear Peralta Community,

Like you, I am very much looking forward to the Thanksgiving break on November 23-24, 2023. We all need this break to recharge and reflect on what is most important in our lives.
This will be my last Thanksgiving message as your chancellor, with the Board having unanimously approved the contract for Dr. Tammeil Gilkerson as permanent Chancellor to begin in January 2024. The Peralta Association of African American Affairs (PAAAA) is hosting a "Hail & Farewell" Gala to welcome Dr. Gilkerson (the "hail") and bid farewell to yours truly as a fundraiser for the Peralta Colleges Foundation. I hope you can join us! Donate to reserve your tickets here. It looks to be a sold-out event, so register soon.
Looking back on my previous Thanksgiving messages from 2021 and 2022, I'm filled with pride and satisfaction at what we all have been able to accomplish together – in the spirit of Ubuntu – as I stated in my district 2021 Flex Day address. Over the past 31 months since I've been here, we have had many challenges, but we have also had many accomplishments, and we have much to be thankful for; here are a few highlights.
Salary Increases. We started the year right, with salary increases for all employees. I am thankful for the hard work that everyone in this district does to support and educate students, and I'm so grateful that the Board of Trustees recognized this hard work and approved across-the-board pay raises for all PCCD employees.
Accreditation. We also got great news regarding accreditation in January, when the Accrediting Commission for Community and Junior Colleges (ACCJC) removed all sanctions, putting the Peralta Colleges back on a regular accreditation cycle, and effectively ending the extra reporting requirements we've had over the past four years. As a reminder, probation and warning status was about our financial and governance stability, not the excellent education we provide students. Thanks to the Board of Trustees as a whole, and particularly the leadership of current President Dyana Delfín Polk and immediate past president Dr. Cindi Napoli-Abella Reiss, we successfully addressed the financial and governance concerns and proved we are in full compliance with ACCJC standards. This is a unique and important success story as other districts who have been in similar predicaments have not been able to come back the way Peralta did.
Professional Development for All. In February, we launched our Professional Development Learning Center (PDLC). I want to recognize Dr. Siri Brown and Dr. Inger Stark for their hard work in that successful launch. I also want to thank Dr. Stephanie Droker, Dr. Tina Vasconcellos, Maria Spencer, and the new PDLC Program Manager, Natasha Spivey, for their continued stewardship of this important resource for career development for Peralta employees.
Bond Measure G. I'm thankful for the sale of $151 Million worth of general obligation bonds. The transaction closed a year ago and the money has been funding important facilities projects at all four campuses, including the groundbreaking for a new Transportation Technology building at College of Alameda as well as the new Child Development Center and Horticulture Center at Merritt College. The old building at Milvia and Center Street in Berkeley has been demolished to make way for the new BCC Milvia Street Building, and work continues on the new Learning Resource Center at Laney College. Not only will this work provide students and employees with improved facilities, it also boosts the local economy with construction jobs for trade partners (including Small and Minority-owned Local Businesses) and community members.
In-Person Graduations. I'm so grateful that the "shelter in place" era of COVID is behind us; and, thanks to our "Fall is Free (2022)" and "Spring is Free (2023)" campaigns, we are almost back to the pre-pandemic enrollment numbers. Our campuses are beginning to reflect this, and they are becoming lively places once again. And best of all, we had in-person graduations for the graduates of Berkeley City College, College of Alameda, Laney College, and Merritt College in May. I attended all four and they were all special and reflective of each campus's culture.
Life Milestones. I'm grateful we got to celebrate major milestones in employee careers with our in-person celebrations for faculty tenure and our first reception ever for valued longtime employees receiving Emeritus status. Fun was had by all, and many of the emeritus recipients expressed their heartfelt thanks for the recognition, members of the newly tenured faculty were engulfed with devotion and pride from their families for their accomplishments and a job well done.
Spring 2024 is Free. If you have not heard yet, we are using the last of the California COVID Block Grant funds to offer "Spring is Free" again next semester. The fee waiver is available for all California residents who submit a financial aid application (either the federal FAFSA or the state California Dream Act applications) and enroll in at least six units. Enrollment is now open and students can go to https://www.peralta.edu/enroll to start the enrollment process.
I'm thankful there are so many passionate people here in the Peralta Community College District, people like you who have dedicated their careers to improving the lives of students.
Best wishes for a safe and healthy holiday,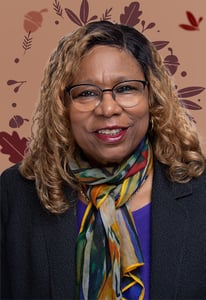 Dr. Jannett N. Jackson
Interim Chancellor