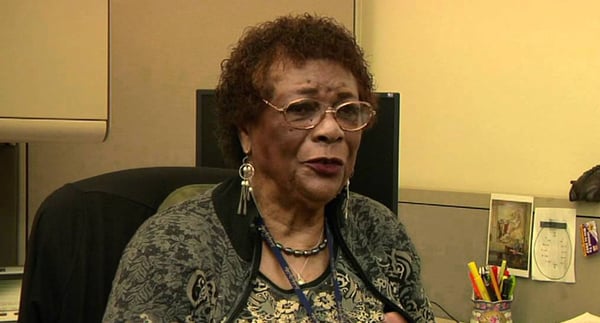 It is with great sadness we share that Loretta Newsom passed away Friday, September 23rd in Oakland at the age of 91.
Ms. Loretta had an impressive 51 years of service working in Admissions & Records at Peralta Community College District and nearly all 4 PCCD campuses, beginning at Merritt College in 1970 and retiring from Berkeley City College in 2021. Her dedication and impact on the district is unmatched. In her retirement letter, she wrote that she requested a doctor allow her to continue working but was advised to retire. It speaks to the love she had serving students and working alongside her colleagues, many of whom viewed her as the Matriarch of Peralta.
"Loretta warmly welcomed everyone in the morning while having her coffee," said Charlotte Smith, PCCD Admissions and Records Officer. "She was very conscientious about her time in the interest of getting the work done. She was a team player."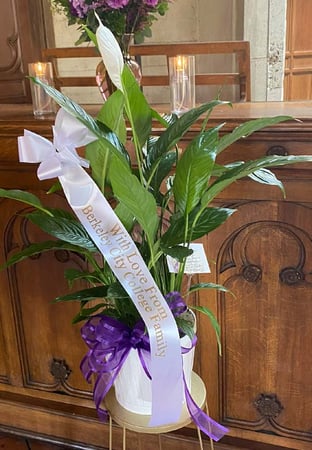 Ms. Loretta is remembered for her dedication to students and being able to communicate all the protocols and policies of admissions and records. While her interactions often came firmly and directly with a waving finger and "no, no, that's not how it works!" it was always in the interest of making sure students and colleagues understood the correct policies and procedures so they could succeed in their endeavors. Take a moment to watch this video of Ms. Loretta, filmed in 2012, explaining her work, the evolving A&R systems at Peralta, and the rewards of working in A&R.
"I miss her and learned a lot from her," said Hue Huynh, Berkeley City College Senior Admissions and Records Specialist. "She was a very kind and caring person, even though she often said "no!" She was one of the wisest women I have ever known. I appreciate her and her services to PCCD and our community."
Her colleagues shared stories about Ms. Loretta's dignified nature. Her hair was always well put together, her favorite fragrance would always signal she was in the room, and she loved wearing her red lipstick. She always kindly reminded her coworkers to take timely breaks and be ready to get back to work when they finished.
"Ms. Loretta was one in a million. She was like a mother and truly a diamond in the sky," said Maryhelen Kaufman, Merritt College Admissions and Records Clerk. "She provided a very strong foundation for everyone in Admissions and Records across the district."
Ms. Loretta loved to travel. She would sometimes invite her coworkers to take vacations with her and would always bring home trinkets from her travels to share with her colleagues. Work-life balance was important to her and showed up in her advocacy and involvement in SEIU Local 1021 affairs.
Ms. Loretta advocated for her coworkers' success. She was involved in the training and elevation of numerous Peralta employees over the course of her illustrious career. Many of the staff working in Admissions and Records at PCCD, Merritt College, College of Alameda, and Berkeley City College were trained and elevated because of her recommendations or were hired by Ms. Loretta. Her imprint is felt across PCCD to this day.
Most of all, Ms. Loretta was a family-oriented person. She loved her six children and her husband Robert. She was very attentive to her coworkers' families as well. Colleagues shared stories of her attending family functions, birthdays, and funerals.
Her attending and loving nature extended outside of the Admissions and Records office and into people's lives.
Ms. Loretta will truly be missed by everyone at the Peralta Community College District, and we send her family our love as they process this loss.