Spring to Success at BCC - Still Free, No Fees!
Berkeley City College announced its Spring to Success program, enhancing the successful Fall is Free program by adding more benefits for BCC students. You can learn more at our website: www.berkeleycitycollege.edu/free.
ALL eligible students who enroll at Berkeley City College will have their cost per unit, campus center fee, student center fee, and health center fee waived - with no unit minimum! All eligible students will also receive one free weekly meal provided by BCC! Students who enroll in six or more units of in-person classes at Berkeley City College will be eligible for FREE parking, and be able to apply for a $150 Clipper Card and a Spring to Success grant! Berkeley City College students applying for a certificate or degree petition for the Spring & Summer semesters will be entered in a drawing for a $250 gift card!
To qualify, students must complete a FAFSA (Free Application for Federal Student Aid), California Dream Act Application, or California Promise Grant Application. Students will receive funds after the financial aid application is completed, but students do not need to qualify for financial aid to receive Spring to Success benefits.
The program includes first-time college students, currently enrolled students, returning students, English language learners, recreational learners, career education students,
and dual-enrolled high school students. Out-of-state and international students are not eligible for this program. Eligible students who already paid their fees for the Spring '23 semester will be reimbursed.
"We looked at the success of our Fall is Free program and got creative with ways to do more for our students with Spring to Success," said Berkeley City College President Angélica Garcia. "Berkeley City College is pleased to remove the barriers to attaining higher education by expanding the benefits
and widening the pool of eligible students. Building on our Fall efforts with a focus on completion can keep students connected to their career and academic goals."
Berkeley City College hosted Spring 2023 Enrollment Workshops beginning in October through December to assist students with the application process, financial aid applications, and registration. 93 total students attended the workshops. 73% of surveyed students stated, "after attending this event I feel that BCC is invested in my success."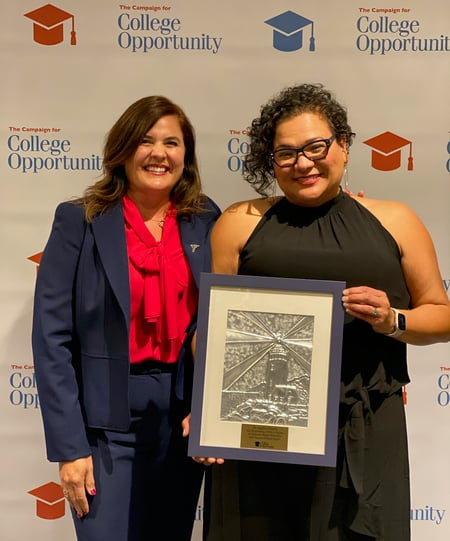 BCC President Angélica Garcia Named 2022 Beacon of Racial Equity
On Friday, November 18, President Angélica Garcia was recognized as a 2022 Beacon of Racial Equity by the Campaign for College Opportunity. The award honors California Community College leaders who embody a commitment to racial equity and creating a brighter future for Black and Latinx Students. The award was presented at the Community College League Conference in San Francisco. The event was co-hosted by colleagues with COLEGAS, A2MEND, and APAHE.
President Garcia is recognized for instituting racially equitable hiring practices, international student service programming, and commitment to mentoring other college leaders to ensure more community college students will be able to pursue a college degree.
"Much appreciation to the Campaign for College Opportunity, COLEGAS, A2MEND, and APAHE for this recognition. We do this work in coalition!" said President Garcia. "I am honored to serve the students of Berkeley City College and the Peralta colleges. Thanks to the Community College League for hosting this conference."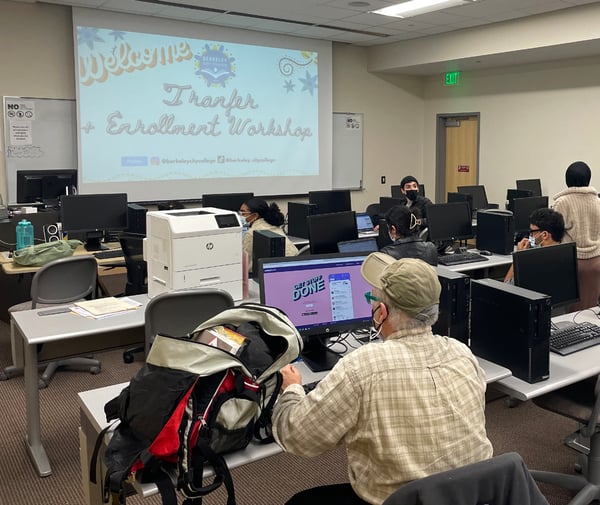 Supporting Transfer Students with UC and CSU Applications
Berkeley City College, in partnership with Cal State East Bay and UC Berkeley, hosted a series of CSU and UC Application workshops to help students with their transfer applications. Over 100 students visited room 126 from Monday, November 28th to Wednesday, November 30th to meet with counselors and outreach specialists to get support for submitting their transfer applications to colleges before the November 30th deadline. A catered lunch was also served to students.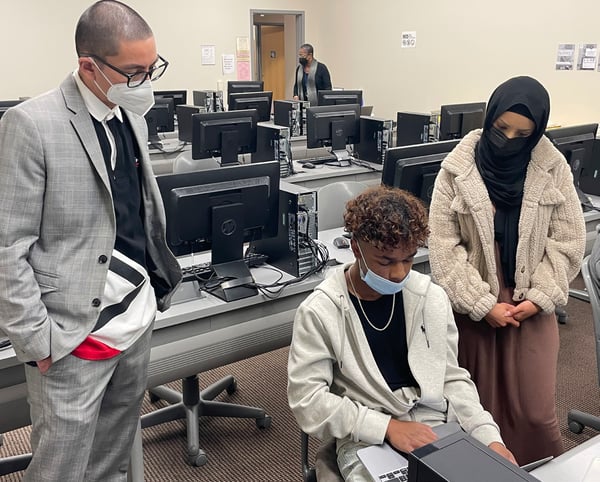 BCC thanks Transfer and Career Services Coordinator Andrea Williams, Enrollment Services Coordinator Gail Pendleton, Outreach Program Specialist Christine Trowbridge, and Society of Scholars Counselor Skyler Barton for their tireless work in supporting students with their transfer aspirations. We also thank Cal State East Bay and UC Berkeley for their collaboration in hosting the workshops.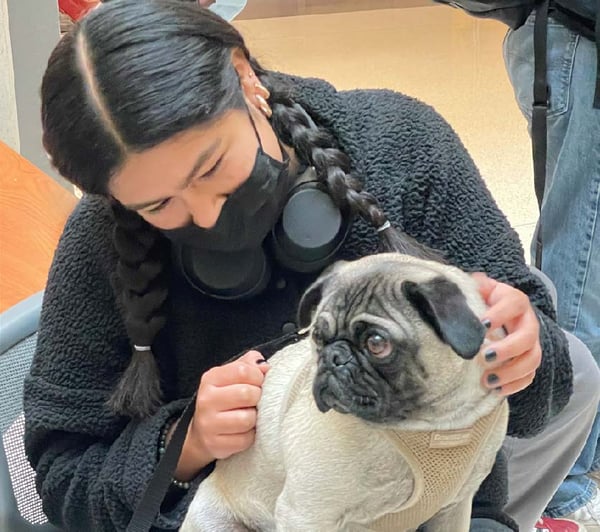 Therapy Dogs Visit BCC to Soothe Finals Anxiety
Dog owners with the Alliance of Therapy Dogs visited Berkeley City College on Wednesday, December 7th to give students a warm and fuzzy outlet for any stress they might be experiencing during finals week. The 3 dogs, Zack the yellow labrador, Navi the golden retriever, and Rex the Pug, spent an hour visiting with students, faculty, classified staff, and administrators. The Alliance of Therapy Dogs regularly visits nursing facilities, memory care facilities, and college campuses to soothe people with their soft fur and happy-go-lucky attitude. We thank them for visiting and look forward to hosting more furry events in the future! Big thanks to Librarian Jenny Yap for coordinating the event.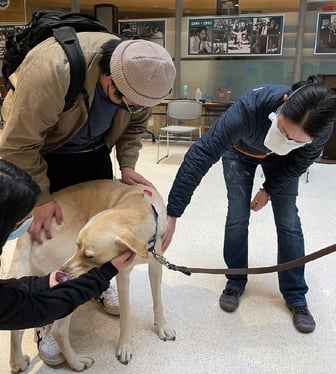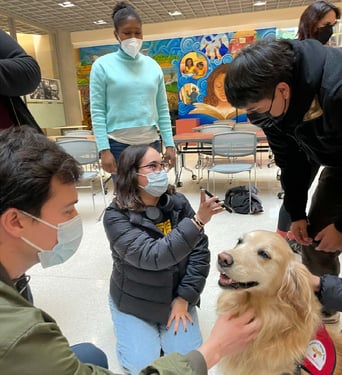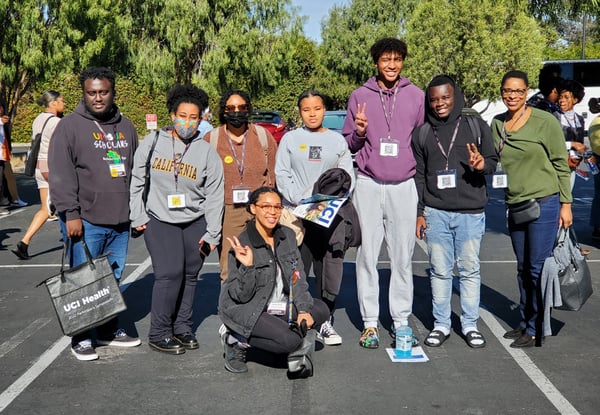 Umoja Scholars Travel to Anaheim for 18th Annual Conference
BCC Umoja scholars traveled to Anaheim, California for the 18th annual statewide Umoja Conference held November 3-5. 19 scholars and 2 alumni represented BCC Umoja, making up one of the largest groups in attendance.
The conference featured star-studded keynote speakers including former democratic strategist and author Symone Sanders-Townsend, poet, MC, and Grant Wood Fellowship recipient Brandon Williams, and academic leadership strategist and professor Dr. Chike Akua. Scholars also attended workshops and a college and opportunity fair with representatives from HBCUs, UCs, and CSUs.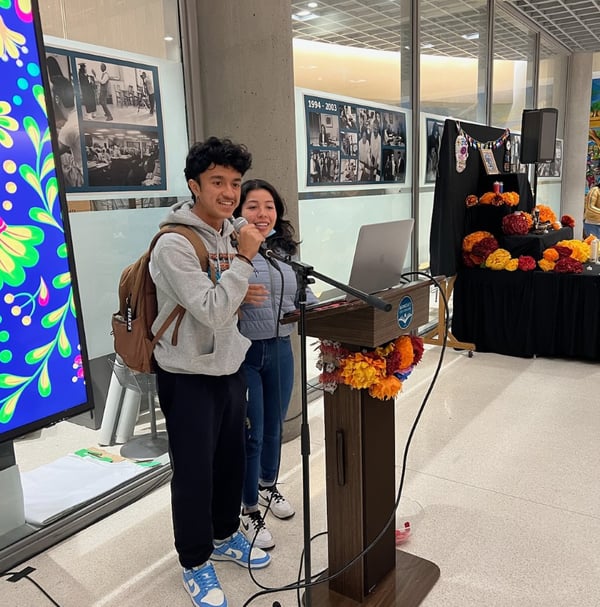 Puente Noche de Familia
On the evening of November 10th, BCC's Puente Project hosted its first ever Puente Noche de Familia (Family Night). This event was a celebration of BCC Puente scholars and their familias/support systems who play tremendous roles along their journeys! Over 65 community members attended. During the celebration, scholars and their families enjoyed food, raffles, lotería, music, BCC campus resources, and an open mic closing where scholars and family members shared affirming messages in Spanish and English to our Puente community. The event also featured a gallery walk of the Puente scholars'"Who I Am" projects, where they shared visual representations of their stories, identities, superpowers, passions, and the visions they are manifesting for their futures - this is a celebration of the power of collective dreaming! We'd like to thank President Garcia and Nima Kianfar for their uplifting words, as well as Angelica Peña, Christine Trowbridge, Camille Verbera, John Saenz, and Associate Dean Martín de Mucha Flores for supporting the event.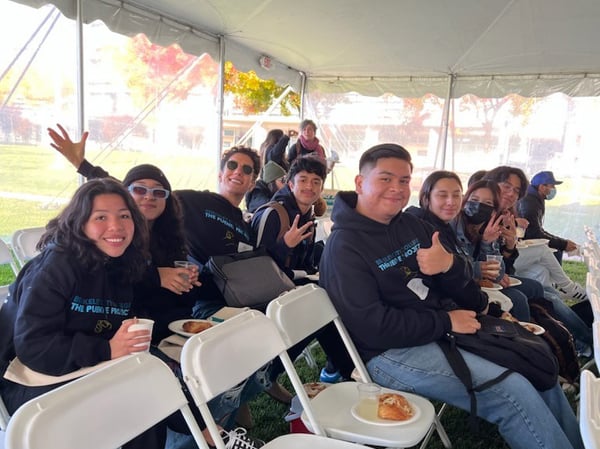 Puente Transfer Motivational Conference
On November 19th, 18 Puentistas attended the annual Puente Transfer Motivational Conference at UC Merced. BCC Puentistas had the opportunity to hear a powerful keynote from the trailblazing author Julissa Arce, connect with representatives from across the UCs, network with the over 1000 Puentistas from across Northern California community colleges, and choose from a variety of workshops to participate in. BCC's Puente community attended workshops including "New Developments on AB 540/ DACA", "Doing Math with Bad Bunny", "Writing Wellness for BIPOC Students", "It's Time to Thrive! LGBTQIA+ Student Support Services", and many more. Huuuuge shoutout to our amazing Statewide Puente leaders for organizing this experience for BCC Puentistas with so much corazón.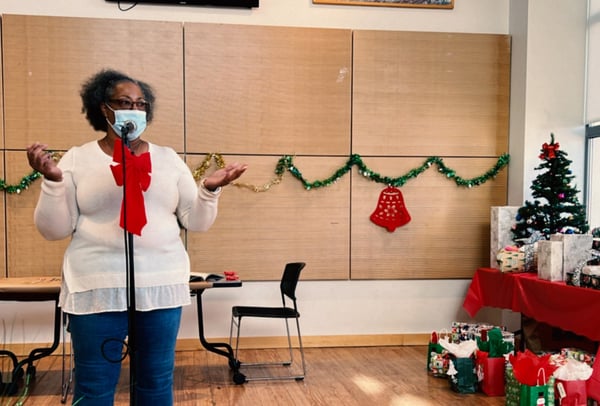 CalWORKs Holiday Luncheon and Gift Exchange
On Wednesday, December 8th, BCC hosted a Holiday Luncheon and Gift exchange for 5 CalWORKs scholars and their families. The event was organized by EOPS/CARE and CalWORKs Coordinator Ramona Butler, who extended thanks to campus colleagues for their support of the program. "The third floor and UCRC staff were instrumental in decorating the 5th floor lounge, which looked amazing. Dani Spencer's creativity and direction made it happen. Jeejun Bertuso drew all the holiday figures on paper for the kids to color," said Butler. "Thank you, Associate Dean Martin de Mucha Flores, for your words of encouragement and support. Our student parents really appreciated your inspiring words."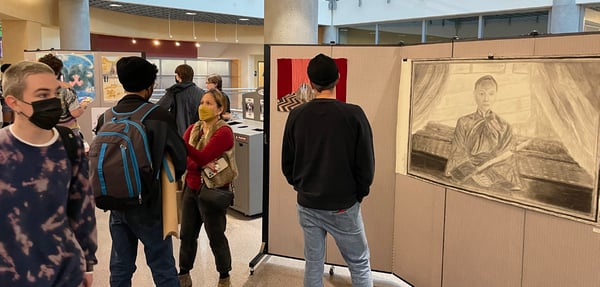 Art Department Open House
On Wednesday, December 8th, Berkeley City College students' artwork was on display at an open house organized by the Art Department. It was an opportunity for students to show their work this semester in sculpture, painting, and figure drawing to fellow classmates and instructors. Light refreshments were provided. We thank Art instructors Jennie Braman and Carolyn Martin for their work in organizing the event, and the students for their impressive work!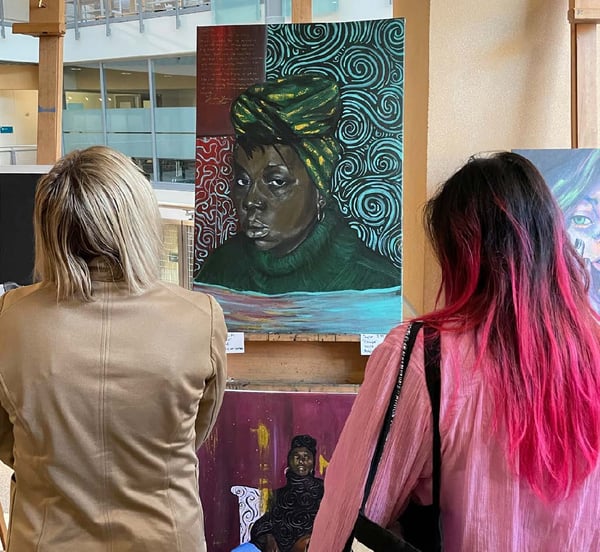 IEPI Partnership Resource Team Visits Berkeley City College
In March of 2022, Berkeley City College submitted a letter of interest for consideration of an Institutional Effectiveness Partnership Initiative (IEPI) grant for 2022-23. BCC requested the assistance of the IEPI Partnership Resource Team (PRT) to support the College's professional development initiatives, as well as data disaggregation to address institutional operations necessary for implementing Guided Pathways, Diversity, Equity, Inclusion, and Access (DEIA) supports, and teaching/service modalities in a changing landscape, all of which contribute to equitable outcomes. The two specific areas of focus for the PRT to make recommendations are:
Infrastructure Capacity Building for Use of Data Focused on Equitable Student Outcomes

Strengthen and Streamline Institutional Fiscal Capacity to Sustain Institutional Priorities Focused on Equitable Student Outcomes
Berkeley City College's IEPI proposal is directly aligned with the Peralta Community College District's goal to implement a Professional Development and Learning Center (PDLC) and the Core Commitments of the Vision for Success.
On Monday, October 31, the IEPI PRT visited with Berkeley City College representatives from administration, classified staff, students, and faculty to familiarize themselves with BCC's areas of success, challenges, and operational goals for the IEPI grant. The day-long work meeting involved interviews and focus groups with BCC IR, Enrollment Services, Student Ambassadors, Academic Senate, Teaching and Learning Center, Professional Development Committee, ASBCC, and the President's Cabinet.
The PRT synthesized the issues and desires from their meetings and research with BCC work groups and returned to campus on Friday, December 2nd with recommendations for improvements, as well as models and examples for BCC to follow. Some examples of recommendations include increasing engagement with students for student success and retention with more advertising and communications, investing in cohort-based and sustained professional development learning opportunities to expand data and inquiry literacy of faculty, staff, and administrators, and develop and implement strategies that would increase and improve campus communications such as weekly All-College emails, a suggestion box (can be virtual), and/or Town Halls.
BCC will reply and sign the IEPI treatment plan for submission by the December 9 deadline. BCC thanks the PRT team for their assistance in developing benchmarks and goals to improve BCC's institutional effectiveness: PRT Lead Dr. Char Perlas (Superintendent, College of the Siskiyous), Hannah Lawler (Dean of Institutional Research, Santa Monica College), Dr. Stacy Thompson (Vice President Academic Services, Emeritus, Chabot College), Aram Shepherd (English Instructor, Academic Senate President, Mission College), Jessica Carroll (Curriculum and Scheduling Analyst, Cabrillo College)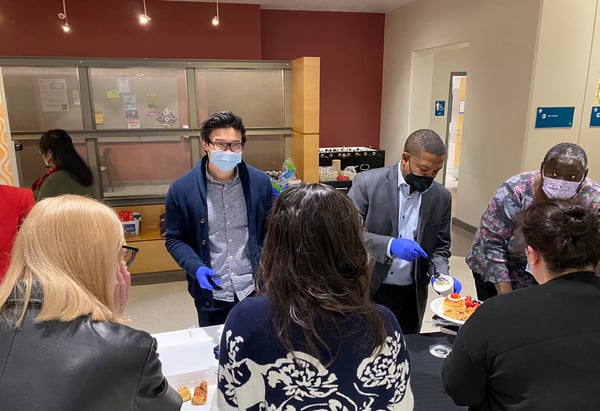 President's Message: Warm Holiday Wishes as We Close the Fall Semester
Dear Berkeley City College Community,
As 2022 ends, we have much to be grateful for when it comes to supporting student success and completion. The magic behind our community's success is, quite simply, each and every one of you. It was wonderful to see so many of you at the BCC Holiday Party and share in joy and laughter as we look toward the holidays. I hope you are able to enjoy the time with family & friends, and come back invigorated for the Spring semester.
While not an exhaustive list, below are some examples of what collective work and action look like at BCC:
US Department of Education Co-Operative $2.5M Asian American and Native American Pacific Islander Serving Institution (AANAPISI) Grant for "Healthy Transitions."

4th consecutive year as Champions of Higher Education for the overall percentage of students who transfer with an Associate Degree for Transfer by the Campaign for College Opportunity.
2nd consecutive year as Equity Champions for increasing the percentage of Latina/o/x students who transfer with an Associate Degree for Transfer.
Dual Enrollment for Equity grant from the College Futures Foundation, which has supported the exponential increase in historically minoritized high school students earning college credits.
BCC Faculty was recognized statewide for work in areas of Open Educational Resources, ESOL curriculum and assessment, AB 705 implementation, Equity & Inclusion work, and overall engagement in the CCC Academic Senate.
BCC Classified Professionals' outstanding work in supporting critical redesigns in student services and enrollment services to elevate students' experience with Outreach, Admissions & Records, Financial Aid, Business Services, Learning Resource Center, Library, Special Programs, and campus-wide engagement.
Recognized nationally for the 2022 Student Voter Engagement efforts led by the Associated Students of Berkeley City College.
Administrators' continued leadership in statewide organizations that impact legislation and implementation related to curriculum, assessment, student services, diversity, equity, and inclusion work, as well as Guided Pathways and Hispanic Serving Institution Network.
Thank you for making Berkeley City College such a magical place for students and the community. I wish you good health, and good cheer, and that your heart may be filled with
peace and love this holiday season.
In community,
Dr. Angélica Garcia (she| her| ella) President
Berkeley City College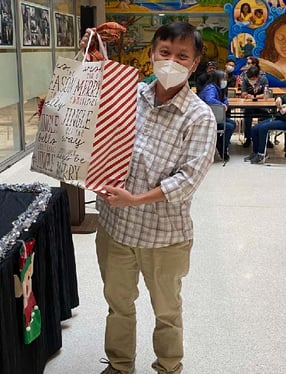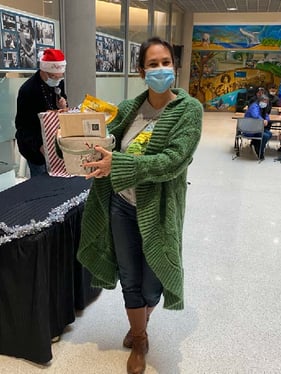 This article is taken from the President's Report, written by Dr. Angélica Garcia, Berkeley City College President, that was presented to the PCCD Board of Trustees during their regular meeting on Tuesday, December 13, 2022. To view it as a pdf, click here.