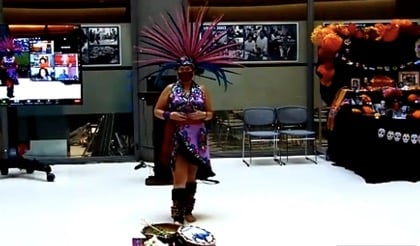 Berkeley City College Celebrates Latinx Heritage Month – October 12-14, 2021
In full espiritu, corazon and cariño, in full spirit, heart and affection – BCC celebrated Latinx Heritage month with an Opening Celebration in the Atrium at Berkeley City College (and by Zoom) where BCC President Garcia opened the week-long celebration.
In preparation for Día de los Muertos, the opening also provided a blessing of the college's Altar, honoring our ancestors, with a special ofrenda to the Black Lives Matter movement. Additional activities included: "Our Story, Our Voice" a community panel to amplify the Latinx experience. We welcomed founders of Locatora Radio, a podcast celebrating Latinx femmes, Mala Muñoz and Diosa Femme and also welcomed Dora Lopez, founder of FatChicanaFeminist and Sarahi Espinoza Salamanca, founder and CEO of DREAMers Roadmap. Sarahi was recognized by the White House as a Champion of Change in 2014. The celebration ended with two capstone activities, a poetry reading from local poets: Tony Aldarondo, Rafael Jesús Gonzáles, Dr. Naomi Helena Quiñonez and Susan Praver-Pérez, followed by an evening of community and entertainment through Jotería Lotería where we honored the intersectional identity of our Latinx Queer familia and built community through games.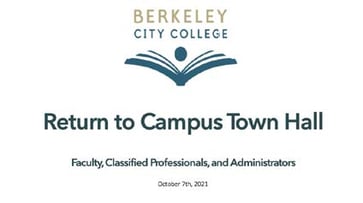 BCC Return to Campus Town Hall for Faculty, Classified Professionals and Administrators
On October 7, 2021, Berkeley City College held a Return to Campus (RTC) Town Hall for Faculty, Classified Professionals, and Administrators as part of ongoing campus discussions. In collaboration with the presidents of the Classified Senate and Academic Senate, the BCC leadership team provided information from the PCCD Monday October 4th Town Hall and addressed specific questions and concerns related to BCC. The town hall format created space for colleagues across campus to learn critical information related to the vaccination requirement, campus access protocols, air and water assessments completed for the building, as well as a space to answer questions and concerns in real time. Outcomes of this town hall included an RTC Town Hall for students, a session at the October 21, 2021 Mid-Semester Flex Day, and weekly communication from the Vice Presidents of Administrative Services, Sean Brooks, with RTC updates. We are proud of the commitment to provide quality instruction and support to students, while also ensuring the health and safety of our colleagues.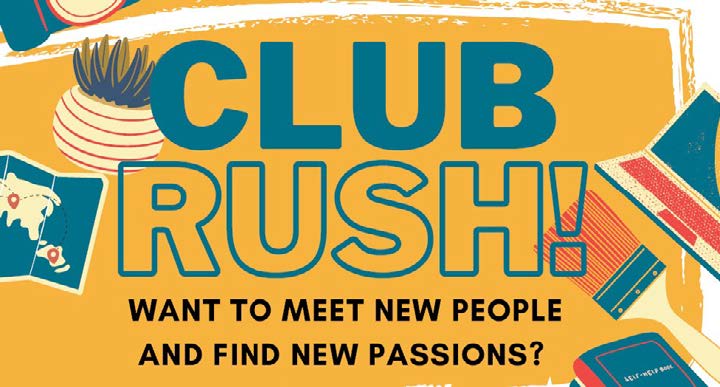 Berkeley City College Club Rush Creates Sense of Community
What better way to build community than to bring everyone together to meet new people and talk about interests they're passionate about? The answer? Club Rush! On Tuesday, Oct. 6th and Wednesday, Oct. 7th, students joined Club Rush where they had the opportunity to learn about the clubs available at Berkeley City College. Excitement came from everyone around who were eager to meet new people and find new passions. Many different clubs were on the scene to recruit members to their clubs. Through the numerous opportunities to be involved in extracurricular activities, students left with new friends with similar interests.
BCC students had this to say:
"Club rush was very insightful and shows the different perspective that Berkeley City College has to offer - Maged Saeed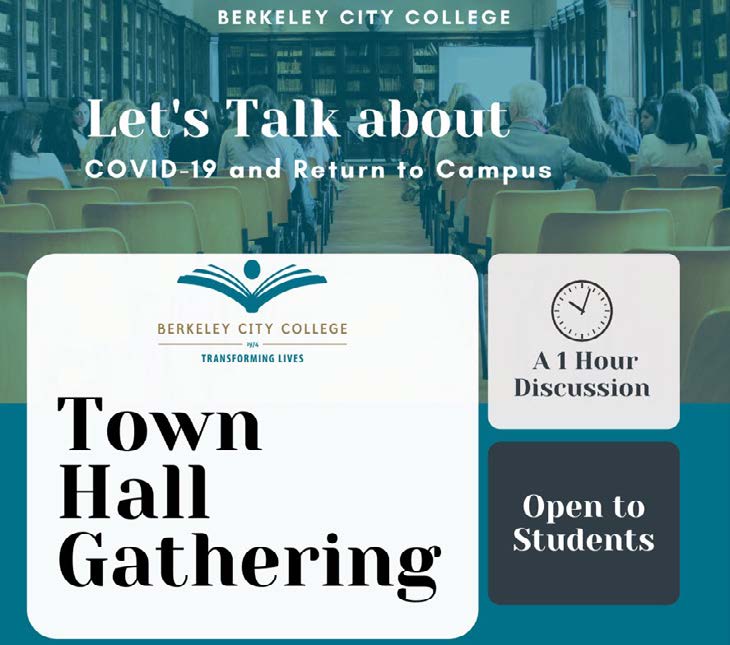 Berkeley City College Answering Questions and Listening In
On Friday, October 15th from 12:20 - 1:20pm, students had the opportunity to participate and listen in on a town hall about return to campus. The lively conversation was followed by a presentation by Vice President of Administrative Services Sean Brooks and Vice President of Student Services Stacey Shears. Students asked questions about the vaccination policy and how to safely be permitted into the Berkeley City College building. Students shared different opinions on whether to come back to campus and they left the town hall knowing that their thoughts would be considered. Moving forward, the Associated Students of Berkeley City College (ASBCC) will host community circles to continue hearing the thoughts of students. What a fantastic way to gather input during a successful townhall.

BCC Flex Your Vaxx Campaign
Students, faculty, and staff from across Berkeley City College share their reasons for getting vaccinated and their thoughts on returning to a vibrant campus community.
We understand that that vaccinations keep us safe. We understand that it keeps our families safe. We know that it keeps our community safe. That's why Berkeley City College is proud to present the Flex Your Vaxx campaign -- an effort to encourage folks in our community to get vaccinated to protect all of us. The campaign showcases the stories from BCC staff and students. BCC students had this to say:
"Through the beginning of Covid-19 my father was unable to work due to the shutdown of many jobs and without him working we struggled to pay bills and even buy food. It was a very stressful situation for my family and we tried our best to maintain happy even through this tough time. Being vaccinated has not only helped me in order to stay safe but also allows me to protect others and help spread covid-19. With my family now vaccinated my dad is allowed to go back to work and we start to build our life again with a stable income of money." - Astrid Vidal
"Being vaccinated has helped me by reducing the risk of catching covid-19, being able to protect the people in my household who are vulnerable to virus as well and being able to go outside to enjoy the places I missed out last year." - Marlene Rodriguez
"It (Covid) has taken a toll on all of us especially because we have to be extremely cautious when it comes to my little sister since she hasn't been vaccinated. It helps (to) remind myself that it is important to be up-to-date with your vaccination." - Jairo Lopez Hernandez
On the website, you can find the vaccination policy and where to schedule your vaccination appointment. To head over to the Flex Your Vaxx campaign website, visit https://www.berkeleycitycollege.edu/flexyourvaxx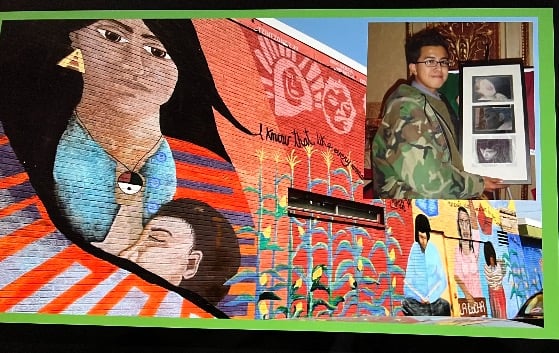 Undocumented Week of Action at Berkeley City College
As part of the statewide recognition of Undocumented Student Action Week, Berkeley City College's Undocumented Community Resource Center (UCRC) is holding a week-long recognition of solidarity with our undocumented community through the Undocu-Student Action Week from October 18-22nd. On Monday October 18th, President Garcia opened the week of solidarity activities sharing her personal connection to the movement and lifting up BCC's commitment in supporting Undocu and Dreamer scholars. On Tuesday, October 19th BCC Colegas welcomed guest Lilliana Campos, Clinical Psychologist from USF who focused on the importance of mental health issues that impact Undocumented scholars and their families. Wednesday, October 20th, Artivist Nicolás González-Medina shared his gifts with our community—sharing murals and prints that seek to elevate our indigenous community while consciously centering political activism to advance protections for Undocumented peoples in the US. The week culminated with dancing and music from Labor-Immigrant Rights Organizer and Artistic Director of Cumbiatón, DJ Sizzle Fantastic. Friday capstoned the week of action with a keynote from a BCC Transfer Student, Marithza Quiroz. Marithza graduated from UC Berkeley and is a graduate student at Stanford. Born in Sonora, Mexico and migrated to the United States at the age of 17 along with her parents, Marithza works for Immigrants Rising where she leads, Immigrants for Inclusion and Change, a peer-support group for undocumented students. Yenny Garcia, a BCC Undocu Scholar shared, "I am an older undocumented student, the UCRC has been an important place for me to find support and a place to belong", highlighting the impact of Undocu- Student Action Week.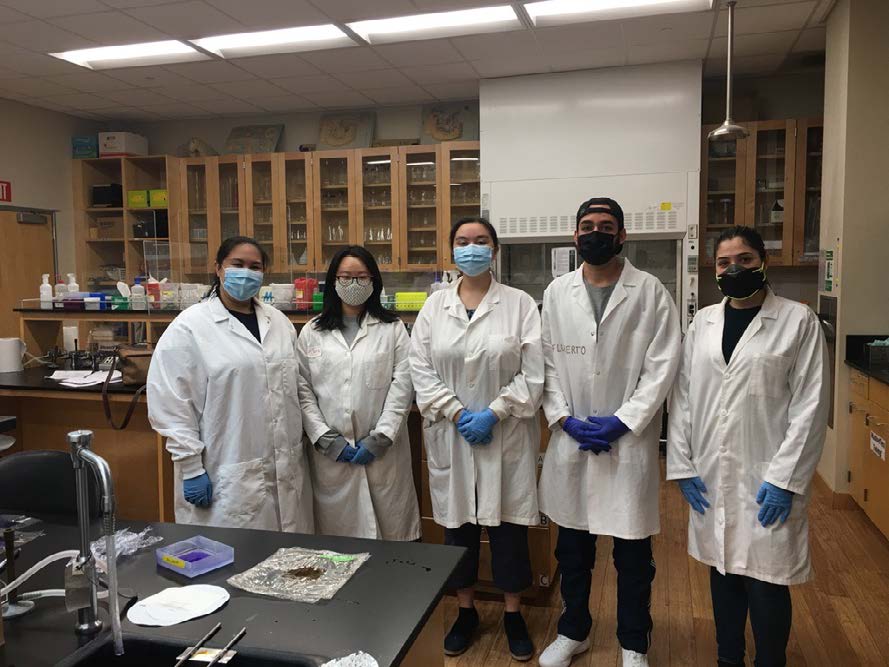 BCC CIRM Grant Award Update
On July 20th, the governing Board of the California Institute for Regenerative Medicine (CIRM) voted to award $51.08 million to fifteen community colleges and universities across California, including Berkeley City College (BCC), to fund programs that will help train the next generation of stem cell researchers. As part of the CIRM Bridges to Stem Cell Research and Therapy program award, BCC will receive $2,806,896 over five years. At the last Peralta Board of Trustee's meeting, this grant was approved, and activities are now underway.
The CIRM Bridges to Stem Cell Research and Therapy program provides Berkeley City College students with the opportunity to take stem cell related courses and receive hands on experience and training in a stem cell research related laboratory at a university or biotechnology company. Each Bridges internship includes thorough hands-on training and education in stem cell research, and direct patient engagement and outreach activities that engage California's diverse communities Berkeley City College students, from left to right, Gabby Pangilinan, YuJin Lee, Lillian Caballero, Alex Feliz and Karina Zago, are presently serving 10-month internships funded by the California Institute of Regenerative Medicine (CIRM). The students are conducting their internships in research laboratories at UCSF and UC Berkeley that are devoted to understanding and engineering stem cells for use in medicine. Lillian and Gabby are both at UC Berkeley; Lillian is in the Bioengineering department and Gabby is working in a laboratory tackling Parkinson's disease. YuJin, Alex and Karina are at UCSF in laboratories working on brain stem cells, brain cancer, and brain structure and drugs, respectively. At the end of their internships in July 2022, the students will present their findings at the annual CIRM Bridges Traineeship meeting.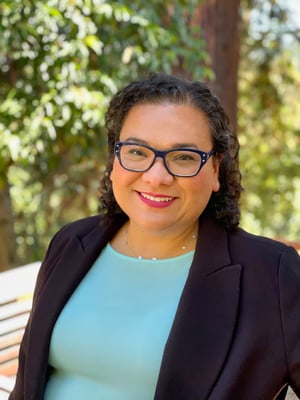 Berkeley City College President Dr. Angélica Garcia Selected for Aspen Institute's New Presidents Fellowship to Advance Student Success
On September 21, 2021, the College Excellence Program announced that Dr. Angélica Garcia, President of Berkeley City College, is one of 25 leaders selected for the 2021-22 class of the Aspen New Presidents Fellowship. This program supports community college presidents in the early years of their tenure as they aim to achieve higher and more equitable levels of student success. The Fellowship's philanthropic partner is JPMorgan Chase.
"I'm honored to receive such a prestigious fellowship," said President Garcia. "I believe pursuing higher education is an act of liberation, especially for historically minoritized communities. Berkeley City College students are part of a thriving community which mirrors the Bay Area's ethnic, cultural and socio- economic diversity. I am energized by the prospect that this fellowship will support the advancement of student success, completion, and building an equitable and racially just community at Berkeley City College."
The 25 Aspen Fellows, who lead colleges that collectively serve more than 280,000 students, were selected through a highly competitive process. Starting later this year, the Fellows will engage over nine months in residential sessions and virtual learning to develop strategies to meet their goals for student success and equity with data to assess challenges and progress.
"We continue to learn how the best community colleges improve outcomes for students and close persistent race- and income-based equity gaps," said Josh Wyner, executive director of the College Excellence Program. "This year's fellows have demonstrated their commitment to achieving excellent and equitable student outcomes, and we are eager to work with them as they join Aspen's network of more than 100 fellows who serve as community college presidents."
"Congratulations to Dr. Garcia for her selection to this prestigious Fellowship. Her leadership at Berkeley City College here in the Bay Area's diverse Peralta Community College District as well as her unique lived experiences that are representative of many of the students we serve will undoubtedly contribute a great deal to the Aspen New Presidents program. We are proud of her. Her peers in the program are lucky to have her," said interim Chancellor Dr. Jannett N. Jackson. As community colleges grapple with the impact of COVID and enrollment declines, turnover among presidents remains high. Aspen is committed to helping prepare the next generation of exceptionally capable and highly diverse leaders through its fellowship programs for new and rising presidents. This new class of Aspen Presidential Fellows is 52 percent female, and 64 percent are people of color. Located in 17 states, their institutions are also diverse, from a tribal college with fewer than 500 students to an urban college that educates more than 35,000 each year.
This article is from the President's Report, written by Dr. Angélica Garcia, Berkeley City College President, that was presented to the PCCD Board of Trustees during their regular meeting on Tuesday, October 26, 2021.
To view this report as a pdf click HERE