Berkeley City College Students Transfer!!
Berkeley City College is known for supporting students through the transfer process and into CSU and UC institutions. In fall 2020, BCC was thrice recognized as a Champion of Higher Education, by the Campaign for College Opportunity, for the numbers of Associate Degrees for Transfer (AD-T) awarded. Additionally, BCC was recognized as part of the inaugural cohort of Equity Champions of Higher Education for closing equity gaps in AD-T awards for Latinx students and the only California Community College to hold both distinctions. To date, students have received their CSU and/or UC final admittance decisions and the numbers of BCC transfers is impressive! While students are still sharing their admissions decisions, the following shows the rates of transfers to key CSU and UC campuses reported by students to date:
| | | |
| --- | --- | --- |
| # of BCC Students | CSU/UC Campus | Acceptance Rate |
| 184 | UC Berkeley | 40% |
| 48 | UC Irvine | 25% |
| 65 | UC Los Angeles | 18% |
| 101 | UC Santa Barbara | 47% |
| 117 | UC Santa Cruz | 58% |
| 110 | CSU East Bay | 75% |
Sharon Aguirre Gonzalez attended BCC directly from High School participating in First Year Experience, as a High Hopes Scholar, and currently works in the Career/ Transfer Center. Her hard work academically and impactful support of students in the center has contributed to her own personal transformation. Sharon received admittance to 3 UCs and 3 CSUs, an academic merit scholarship and two Peralta Foundation Scholarships, and will attend UC Davis in the Fall of 2021 to major in Anthropology. Sharon states: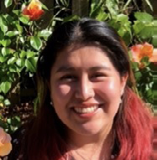 At the end of my BCC journey, I proved to myself that I do deserve to attend a UC. As a student with a learning disability, a DACA recipient and someone who was told I could not excel academically, I thought attending a UC was not reserved for people like me. Even being considered as valedictorian or salutatorian at BCC was mind-blowing. Even though I wasn't chosen, I proved to myself that all the hard work for the 3 years at BCC was worth it, and I have achieved things I could only dream of.


Ashli Woodfork returned to college in pursuit of transfer as she felt that without the attainment of an advanced degree, she could not reach her full professional and personal potential. As a full-time working mother Ashli has maintained a 3.9 GPA, developed a mentorship program at her son's school to support families around trauma and social justice issues. Ashli has been admitted to UC Berkeley, and is waiting to hear from Stanford University. Ashli shares: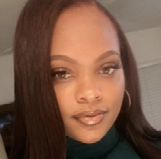 Berkeley City College has really prepared me academically to transfer and I am ready to attend a 4-year University. The support and mentorship I received from my instructors, the BCC Transfer Center and my fellow classmates was invaluable. After returning to college after a 10-year break, working full-time, and raising my children I was not sure I could do this. The BCC Community held me up, nurtured, and pushed me to be the best version of myself. I am so excited for what the future holds.
Professional Development: BCC Responds to Call to Action
BCC's Professional Development committee focused the year's professional learning around "Building Community and Advancing Equity and Racial Justice." With the partnership of anti-racist educator Lasana Hotep, the campus community came together during our Fall Zoom Flex Days to define the "Core Competencies for Equity Advancing Educators," and to learn what it means to become "Data-Informed and Racially Literate Educators." We also sponsored interactive workshops throughout the year designed to help Faculty, Administrators, and Classified Professionals put these equity-advancing principles into practice--on topics such as "Moving from Being a Hispanic-Enrolling to a Hispanic- Serving Institution," "Interrogating Practice to Improve Student Success," "Designing an Equity-Minded Syllabus," "Equity-Minded Leadership in All Shapes," and "Responding to Racial Microaggressions." In response to the challenges of building community and welcoming students in an online environment, the Professional Development Committee also sponsored workshops on "Digital Accessibility," "Zoom Etiquette and Navigation for Classified Professionals," "Assessment Completion Support," as well as a series of instruction-focused workshops (co-sponsored with BCC's Teaching and Learning Center) on topics including "Zoom Classroom Engagement," "Using Snagit to Record Lectures," and "Working with an Embedded Tutor." The professional development committee is looking forward to continuing to focus on equity and online engagement in the coming year, launching the fall semester with a talk by Gina Garcia, author of Becoming Hispanic-Serving Institutions: Opportunities for Colleges & Universities. As one Flex Day participant reflected, "I feel that we are moving in the right direction in regard to meeting students' needs and eliminating barriers."
Dr. Fabian Banga Appointed Chair of Modern Languages Association of America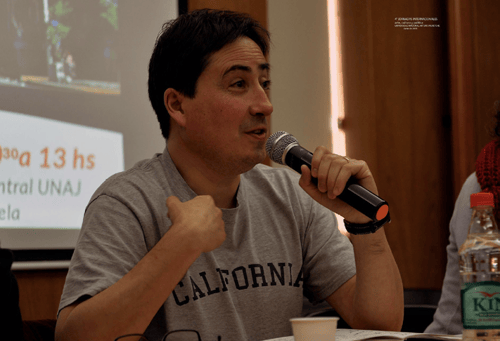 Berkeley City College is proud to have such distinguished and accomplished faculty, who are committed to excellence in higher education and in their fields. Dr. Fabian Banga is a Professor and the Chair of the Modern Languages Department at Berkeley City College and he teaches Spanish composition, culture and literature. He holds a Ph.D. (2004) and M.A. (2000) in Hispanic Languages & Literature from the University of California at Berkeley, and B.A (1998) in Spanish Language and Literature also from UC Berkeley. His last book Representation of Artificial Intelligence in the Arts, Vol. 1. (Bern, Switzerland: Peter Lang US, 2019) addresses the way in which artificial intelligence, mechanical anthropoids, Golems, and similar types of robots are represented in contemporary culture. You can view his list of publications at https://www.berkeleycitycollege.edu/wp/fb/ publications/
The Modern Language Association of America (https://www.mla.org/About-Us/ About-the-MLA), founded in 1883, provides opportunities for its members to share their scholarly findings and teaching experiences with colleagues and to discuss trends in the academy. MLA members host an annual convention and other meetings, work with related organizations, and sustain one of the finest publishing programs in the humanities. For more than a century, members have worked to strengthen the study and teaching of language and literature. Learn more about the MLA's mission.
Dr. Banga has recently been appointed as the Chair of the Committee on Community Colleges for the term 1 July 2021 through 30 June 2022. This is a prestigious honor and one that is recognized and endorsed by colleagues throughout the nation. The Committee on Community Colleges @ MLA (https://www.mla.org/About-Us/Governance/Committees/ Committee-Listings/Professional-Issues/Committee-on-Community-Colleges) will consider a range of issues that affect modern language teachers in two-year colleges, e.g., conditions of employment, staffing, curriculum, articulation with secondary schools and four-year institutions, the preparation and recruitment of faculty, and the encouragement of scholarship about teaching in the community college. The committee should develop convention sessions and propose publications and other projects that will serve the needs of students and current and future teachers at two-year colleges. This leadership role is impactful and Dr. Banga will undoubtedly represent the very best of Berkeley City College faculty.
President's Task Force on Equity & Racial Justice – Answering the Call to Action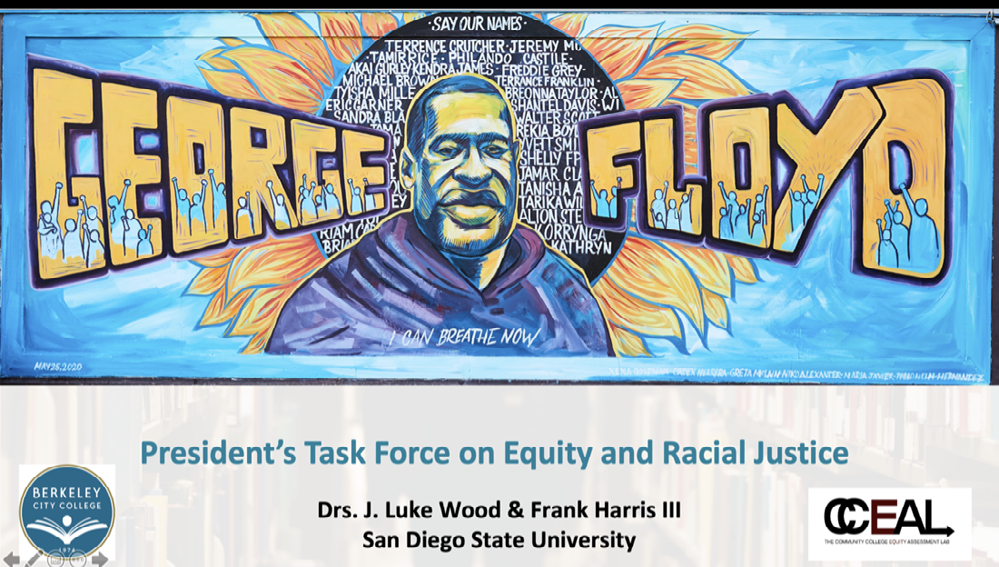 At the beginning of the fall 2020 semester, Dr. Angélica Garcia called for a President's Task Force on Equity & Racial Justice for Berkeley City College in response to community input on the need for BCC to be responsive and supportive to fostering an inclusive community that values diversity. Berkeley City College is committed to Chancellor Ortiz Oakley's Call to Action and the guide to engage in practices that promote open dialogue and address campus climate, create inclusive classrooms and anti-racist curriculum, review and update the College's Equity Plan, and fully implement the Diversity, Equity, and Inclusion Integration Plan.
In consultation with governance leadership teams the task force has been assembled to provide work, guidance, and recommendations to the President and the campus for cultivating a community that is just, equitable, and centers racial justice. The task force members represent students, classified professionals, faculty, and administrators. With expert facilitation from Dr. Frank Harris, III and Dr. J. Luke Wood from the SDSU Community College Equity Assessment Lab (CCEAL), the task force started its work in December 2020 and has moved into the spring semester in earnest. The work of the Task Force will entail a range of planning efforts, conversations and activities to assess BCC's equity culture, identify institutional strengths and assets that can be leveraged to institutionalize equity, and aligning equity with other campus initiatives. Task Force members will work collaboratively to collect and analyze disaggregated institutional data and propose recommendations for institutionalizing equity with a particular focus on professional development, teaching and learning, curriculum, academic and student support, institutional research, and strategic planning. BCC is one of many institutions with which CCEAL has partnered to advance equity.
Additionally, a BCC representative is a member of the PCCD task force to ensure collaboration, alignment, and integration on diversity, equity, and inclusion work throughout the district. BCC is committed to closing equity gaps in success and completion by creating an inclusive teaching and learning environment that is safe, healthy, and values the experiences among our community.
Going the Distance with Distance Education: BCC Joins CVC-OEI Consortium
The face of Distance Education (DE) has undoubtedly changed in spring 2020 when the COVID–19 pandemic brought our college to an abrupt shift in teaching students. While the outlook of safe return to campus looks positive with the increased vaccination and stabilized infection rate, the role of DE in our teaching and learning context has expanded and continues to take a significant role in student learning, achievement, and success moving forward.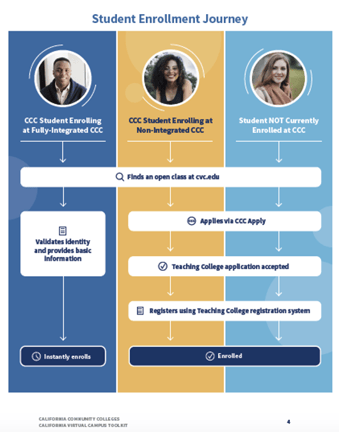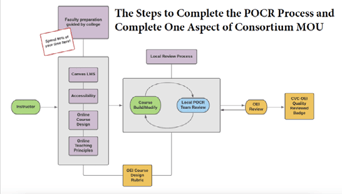 Berkeley City College (BCC) DE faculty coordinators, Dr. Cora Leighton and Mr. Christopher Bernard, led and facilitated BCC's DE conversion of the courses from face- to-face to online. DE faculty coordinators worked closely with the BCC's DE Committee as well as the district-wide DE coordinators and DE committee and increased faculty support by instituting additional DE faculty leads, multiple workshops, and training modules. In addition, BCC began focusing on ensuring the quality of DE teaching by adopting the California Virtual Campus Open Education Initiative (CVC OEI) rubric prior to being invited to become a member of the CVC OEI Consortium in December 2020. The DE faculty coordinators focused on increasing the number of courses that meet the standards and rubric of the CVC OEI by helping faculty go through the Peer Online Course Review (POCR). The DE faculty coordinators are working with the BCC DE Committee to develop our local POCR process and currently have 4 courses in the review process.
To date, ten faculty completed trainings and are certified POCR course reviewers. The DE faculty coordinators and the BCC DE Committee have also developed a faculty-led training course to introduce faculty to the CVC Rubric and build a pipeline of courses to be reviewed after POCR certification. The DE faculty coordinators are continuing with this effort, as well as addressing the required elements of the CVC OEI Consortium, such as providing training POCR using the CVC – OEI Course Design Rubric and ensuring that courses utilize technology and materials that comply with the accessibility requirements of Section 508 of the Federal Rehabilitation Act of 1973. Currently, BCC is in the process of identifying an effective infrastructure to address these elements of DE which they hope will be in place at the beginning of Fall semester.
Classified Senate – Engaging Classified Professionals
The Classified Senate is instrumental to the collective work that BCC does to teach, support, and celebrate students and the broader community. While classified professionals have experienced some challenges in the transition to a fully remote working environment, engagement at Classified Senate meetings has tripled, as colleagues are making every effort to stay informed on college activities. Recent discussions have included the compensation of classified professionals in college-wide efforts, such as Guided Pathways, college committees, such as the newly formed Integrated Planning & Allocation of Resources Committee, and the Health & Safety Committee. These matters have become district-wide topics across the classified senates at each of the colleges in the district. In an effort to support classified professionals, the senate meetings include a regular reflection and safe space for colleagues to share their experiences during these times. These safe spaces have fostered an institutional culture of inclusion and engagement as a community.
The Return to Campus plan is of high importance for classified professionals and the senate leadership team provided input on a campus-wide survey for classified professionals to share how COVID-19 has impacted them personally and professionally. The survey is NOW OPEN and we encourage all BCC classified professionals to complete the survey and have their voices heard.
Classified professionals have appreciated joining Dr. Angélica Garcia in the monthly Cafécito with the President sessions, as these sessions provide real-time updates on pressing college matters. This space fosters a sense of inclusion for classified professionals to share their questions, ideas, and input on matters such as the Return to Campus, Enrollment Management, Accreditation, and Fiscal Updates, to name a few. The Classified Senate is active and engaged in shared governance work all throughout the college.
Berkeley City College Students in Action
On Tuesday, April 13th & Wednesday, April 14th, 2021, students at Berkeley City College participated in the electoral process by voting for their next student representatives for the 2021-2022 academic year. The goals of ASBCC for the upcoming year are to increase student participation in participatory governance, improve upon student events & activities, and ensuring that students receive representation at the local and state level.
Associated Students of Berkeley City College Election Results
| | |
| --- | --- |
| Name | Office |
| Harry Mapodile | President |
| Jiawen Wu | Vice President of Programs |
| RJ Ishimaru | VP of Finance |
| Liya Mehretab | VP of Administration |
| Mazin Sawwd | VP of Public Relations |
| Hamid Sahraye | Senator |
Virtual Commencement
Berkeley City College will be celebrating 567 graduates at its second virtual commencement on Friday, May 28th at 6pm. The theme this year, decided by ASBCC, is Trailblazers -- Trailblazers is defined as someone who is willing to take risks, and leave the normally treaded path for the sake of others. Trailblazers are pioneers of change, communication, and community.
6:00PM: Virtual Commencement Begins
Welcoming Remarks

Dr. Angélica Garcia, President

Welcoming Remarks

Dr. Cindi Napoli-Abella Reiss, Peralta Board of Trustees

Chancellor's Greeting

Dr. Jannett Jackson, PCCD Interim Chancellor

Faculty Greeting

Matthew Freeman, Faculty Senate

Classified Greeting

Andrea Williams, Classified Senate

Associated Students Greeting

Liam Zhu, Associated Students

Valedictorian Speech

Andrea Castaneda

Salutatorian Speech

Francesca Rasella

Commencement Address

The Honorable Jesse Arreguín, Berkeley Mayor

Awarding of Degrees & Certificates

Conferring of the Degrees

Turning of the Tassels

Closing Remarks

Dr. Angélica Garcia, President
Raices Peralta Latinx Student Graduate Celebration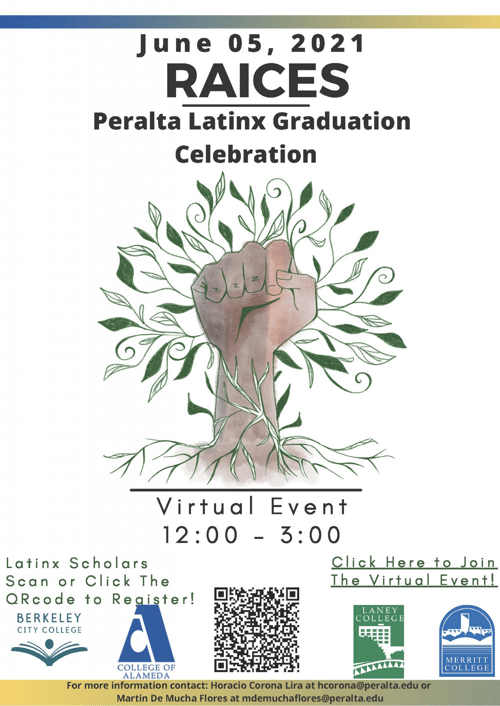 The first annual district-wide Raices Peralta Latinx Student Graduation Celebration is planned for June 5, 2021 from 12:00 pm – 3:00 pm. The virtual event will include a live DJ, Mexica Blessing Ceremony, recorded messages from college presidents, Peralta students and a special congratulation message to our Latinx graduates and their families from California Community College Chancellor Ortiz Oakley. Mil Gracias to the co-chairs: Horacio Lira, CoA HSI Director & Martin De Mucha Flores, BCC Associate Dean, and the planning committee which includes representatives from Merritt PACLA, BCC PACLA, and Laney.
One of Six CA Community Colleges Experiencing Growth Amidst Declining Enrollments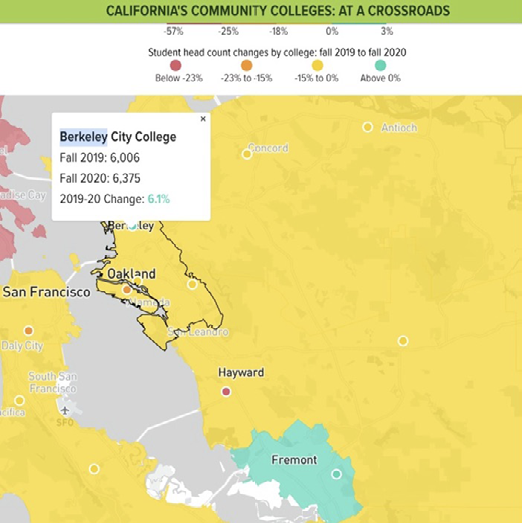 Enrollment declines throughout the California Community College system have reached alarming rates, according to an Ed Source analysis of the fall 2020 enrollment. The impact of COVID-19 on students and their families has resulted in fewer students enrolling and/or students enrolling in fewer units. Berkeley City College is among 6 colleges in the California Community College system that experienced headcount enrollment growth (6.1%) amidst the statewide decline (Ed Source Fall 2020 Enrollment Analysis). This growth is a direct result of the College's Strategic Enrollment Management Plan, which included a focus on Dual Enrollment growth, providing intentional course offerings for local high school students, as well as a comprehensive and integrative approach to support students through the enrollment process with Live Chat support directly from the BCC Website.
While BCC has seen an increase in the number of students enrolling this 20-21 academic year when compared to the 19-20 academic year, the data still hold that students are enrolling in fewer classes. In spring 2020, full-time students represented 15.5% of the student body. In spring 2021, the rate dropped to 7.9%. More students ages 16-18 and 35-54 are enrolling at BCC in spring 2021, showing a 2.5% and 1.6% increase, respectively, from spring 2020.
As of May 4, 2021, 6,644 students are enrolled in 11,739 classes at Berkeley City College. The enrollment has generated 1,259 resident full-time equivalent students (FTES) and 119 non-resident FTES, totaling 1,378 FTES. The resident FTES rate is 86% of our spring 2021 FTES target. We are offering a total of 442 classes for students to complete their academic and career education program.
The spring 2021 student demographics shifted by very small amounts when compared to spring 2020. The College's ethnic composition grew in the proportion of Latinx students, from 26.3% to 26.7% while White students decreased from 23.8% to 22.7%. The percent of female students increased by 1.4% and male students decreased by 2.4%. Students who reside in- state increased by 2.5% and foreign/international students decreased by 2.3%.
Berkeley City College is committed to serving the academic and career needs of diverse students. Our enrollment data show that BCC is working hard to support students to remain enrolled during the COVID-19 health pandemic, as evidenced by faculty converting courses into an online format, student services programs moving all supports online, and the College offering technology support (e.g. Laptops and hot spots), as well as basic needs support with food pantry and prepared meals. As the College continues to prepare for Return to Campus, we will remain focused to keep a student-centered approach to support enrollment and program completion. As of May 4, 2021, 1,188 students have enrolled in 1,426 classes for the Summer 2021 term, generating 153 total FTES. For fall 2021, 1,257 students have already enrolled in 2,350 classes. ENROLL TODAY: BCC Student Enrollment Web Page.
This article is from the President's Report, written by Dr. Angélica Garcia, Berkeley City College President, that was presented to the PCCD Board of Trustees during their regular meeting on Tuesday, May 11, 2021.