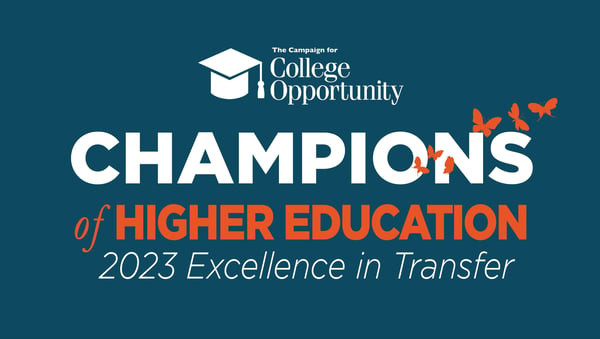 Dear Berkeley City College Colleagues -      

I'm proud to share that The Campaign for College Opportunity announced Berkeley City College is a 2023 Champion of Higher Education and an Equity Champion for Black students, gaining recognition for its work in equitably awarding Associate Degrees for Transfer (ADT) in the 2021-22 academic year. This is the sixth year Berkeley City College has been recognized as a Champion of Higher Education by the Campaign for College Opportunity for our work awarding ADTs.
Of the 399 associate degrees conferred to students by Berkeley City College in the 2021-22 academic year, 65% were Associate of Art for Transfer and Associate of Science for Transfer. In that same year, 65% of Black associate degree earners at Berkeley City College earned an ADT. This underscores Berkeley City College's commitment to closing equity gaps. "Berkeley City College is proud to be a premier destination for students looking to transfer to four-year institutions. Our diverse offerings of over 40 different degree programs provides students with many avenues to achieve success," said President Denise Richardson, Ed.D. "Receiving recognition six times as a Champion of Higher Education speaks to the collective and intentional work of our esteemed faculty, classified professionals, and administrators."
Since the passage of SB 1440 (Padilla) in 2010, the California Community Colleges have awarded over 480,000 Associate Degrees for Transfer, providing a streamlined pathway between community colleges and the California State University (CSU) system. In the 2021-22 academic year, Berkeley City College supported 201 students in achieving their goal of transferring to a CSU campus. Additionally, 398 students transferred to a University of California campus, in-state private, or out-of-state institution.
Tom Rizza
Public Information Officer - Berkeley City College