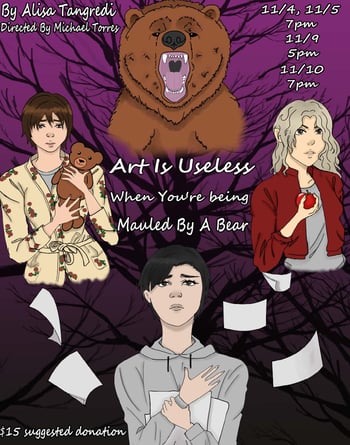 The Laney Theater Arts Department put on four performances of "Art is Useless When Being Mauled by a Bear" in November. The play was directed by Laney Professor Michael Torres and written by Alisa Tangredi, who was present for all the productions and praised all involved at Laney. Also, following the performance, cast member and first-semester student Jackson Nguyen was subsequently cast in another production off campus.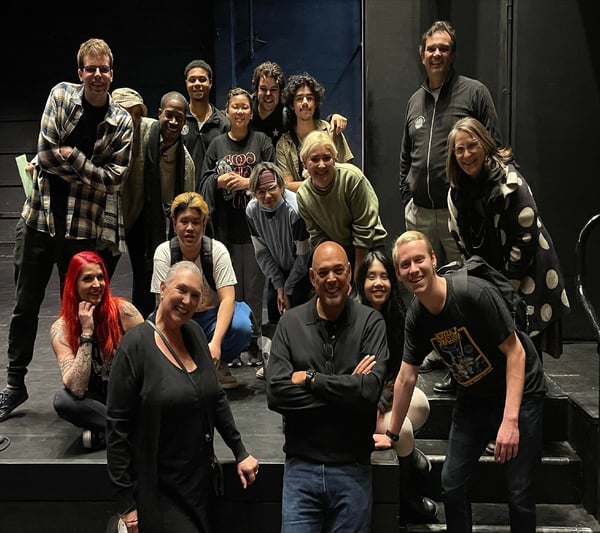 Mr. Nguyen was not the only student actor to prosper. Juliann Lathung – a recent scholarship winner – has also been employed by the San Francisco Playhouse and central works Theatre (Berkeley), with the money earned from the performances sufficient to cover college costs. Her future is bright, as she has also earned a full-ride scholarship to SFSU and will have received a baccalaureate degree with training that will position her to apply to top grad schools as a Theatre major.
Professor Torres' collaboration and leadership are also paying dividends. Local playwright and one of the bay area's favorite pro artists Jeffrey Lo has given Laney Theater a play to produce, and there are also collaborations between Laney and Cal Shakes, The Aurora, The Oakland Theater project, and The Shotgun players. Most recently, the San Francisco Playhouse named Chair Michael Torres the head of its 29-member Board, and part of his leadership will involve a project that will eventually lead to a pathway for students that begins in high school, continues through Laney, and culminates in performance opportunities with the San Francisco Playhouse. Laney congratulates its student thespians, theater technician extraordinaire Alejandro Acosta, and Professor Torres for their outstanding achievement.