Welcome back and happy New Year! We hope you all enjoyed spending the holidays with your loved ones, and just as we're ringing in 2023 Peralta TV is ringing in a new month of programming for you to enjoy.
Peralta TV can be seen on
Channel 27: Alameda, Berkeley
Channel 28: Emeryville, Piedmont, Oakland
AT&T U-Verse Channel 99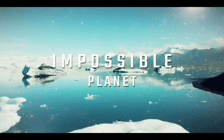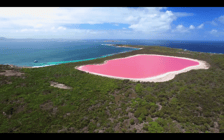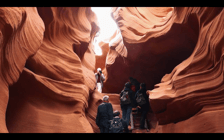 IMPOSSIBLE PLANET: MASS MOVEMENTS
1/03 (Tue) @ 5pm; 1/06 (Fri) @ 9pm; 1/07 (Sat) @ 10am - Episode 1: EPIC EARTH
1/10 (Tue) @ 5pm; 1/13 (Fri) @ 9pm; 1/14 (Sat) @ 10am - Episode 2: RARE SIGHTS & LIGHTS
1/17 (Tue) @ 5pm; 1/20 (Fri) @ 9pm; 1/21 (Sat) @ 10am - Episode 3: UNEARTHING MYSTERIES
1/24 (Tue) @ 5pm; 1/27 (Fri) @ 9pm; 1/28 (Sat) @ 10am - Episode 4: THE WEIRD & WONDERFUL
1/31 (Tue) @ 5pm; 2/03 (Fri) @ 9pm; 2/04 (Sat) @ 10am - Episode 5: DEMYSTIFYING NATURE

Our planet generates an incredible amount of extraordinary phenomena. A lot of these wonders can be reasonably explained but others baffle even the most experienced scientists.
IMPOSSIBLE PLANET takes viewers on a journey around the globe to discover just how strange and unaccounted for our world can be. From luminescent, electric-blue waves crashing ashore to mysterious fairy circles as far as the eye can see, the series explores some of Earth's most incredible natural phenomena.

Episode 1: EPIC EARTH
1/03 (Tue) @ 5pm; 1/06 (Fri) @ 9pm; 1/07 (Sat) @ 10am
• Lake Hillier:
Tiny Middle Island off the Southern coast of Western Australia is home to the striking bubblegum-pink Lake Hillier. IMPOSSIBLE PLANET talks to Doc Reynolds, an Aboriginal Elder of the area to hear the Dreamtime story of how the lake got its glorious color, while Ken McGrath from the Extreme Microbiome project tells us about the incredible science he used to help answer the question that has baffled scientists for generations.
• Glacier Lagoon/ Diamond Beach:
We also explore the extraordinary contrasts of Diamond Beach in the shadow of Iceland's Vatnajökull glacier. The beach's stunning black sand is dotted with glistening pieces of glacial ice. They look like sparkling gemstones, but how did they get there? The nearby Jökulsárlón Glacial Lagoon may hold the answer.
• Stone Forest:
Standing proud across the landscape is an army of mysterious rock towers. The Shilin Stone Forest is located in Southern China, where over hundreds of thousands of years, they gradually transformed into these astonishing thick layers of limestone rock. With the help of tectonic plates and weathering, this incredible landscape has become a sight to see.

Episode 2: RARE SIGHTS & LIGHTS
1/10 (Tue) @ 5pm; 1/13 (Fri) @ 9pm; 1/14 (Sat) @ 10am
• Bioluminescent Waves:
Arguably one of the most stunning and rare spectacles the glowing alga known as sea sparkle appears like hundreds of eclectic lights under the water. There are many variations of the bioluminescence organisms throughout the world, with some of the most spectacular occurring in Tasmania and the Maldives.
• Karijini National Park:
Among the dry outback of Australia is a unique slice into our planet's past. Karijini's gorges are some of the oldest in existence, with rocks dated over 2,500 million years old. Slowly carved out through the process of erosion, these massive mountains and escarpments rise out of scenic flat valleys.
• Hverir:
Like a witch's cauldron in Hell's Kitchen, grey mud boils perpetually, releasing the stench of rotten eggs with every popping bubble. These bubbling potholes are surrounded by sulfur-rich shades of yellow, orange, and red, giving the landscape a truly other-worldly atmosphere. This volcanic region of Iceland hosts many extreme features.

Episode 3: UNEARTHING MYSTERIES
1/17 (Tue) @ 5pm; 1/20 (Fri) @ 9pm; 1/21 (Sat) @ 10am
• Giant's Causeway:
Northern Ireland's only UNESCO world heritage site, the Giant's Causeway is a well-known attraction. The spectacular 60-million-year-old geological formation has long been steeped in myth, its perfectly hexagonal columns being attributed to the Irish giant, Finn McCool. Yan Lavallée, Professor of Volcanology at the University of Liverpool shares fascinating new discoveries about this ancient Irish monument.
• La Brea Tar Pits:
The contradiction between a busy modern metropolis and some of science's most ancient archaeological evidence seems impossible! The La Brea Tar Pits are one of the world's most significant fossil locations and they're located right on Wilshire Blvd in the heart of Los Angeles. The incredible mammoths, saber tooth tigers, sloths, and other animals that once roamed the area from the last glacial period became trapped in the tar. Dr. Emily Lindsey, Assistant Curator & Excavation Site Director shares with us some of the secrets of the pits.
• Thingvellir:
Situated in the west of Iceland, Thingvellir is known as an incredible site to see the crack between the two tectonic plates. As the tectonic plates pull apart beneath the ocean floor, above ground is a remarkable landscape that appears to stretch, creating a depression of rift valleys. The crystal clear water filtering through the cracks is some of the most pristine on earth and one of the only places possible to swim and stand between two plates.

Episode 4: THE WEIRD & WONDERFUL
1/24 (Tue) @ 5pm; 1/27 (Fri) @ 9pm; 1/28 (Sat) @ 10am
• Giant Spider Crabs:
It's an annual event, one that is surrounded by mystery. It is an incredible scene with a cast of thousands, but it's not a film. It's an epic migration, yet a modest drive from a major city. This episode explores the extraordinary Giant Spider Crab migrations. Not far from the city of Melbourne, the destination of this intrepid march is at the base of Port Phillip Bay.
• Sólheimajökull Glacier/ Ice Cave:
In the land of fire and ice, we explore caves formed within the Sólheimajökull Glacier of Iceland. Part of the larger Myrdalsjokull Glacier, both these mammoth ice formations are threatened with destruction. Formed on the edge of a volcano, the surrounding landscape is spectacularly striped with volcanic ash. These remarkable caves are a window into the effects of climate change.
• Cappadocia, Turkey:
Rising out of the sun-kissed ground, punctuating the Turkish landscape, Cappadocia is home to nature's very own enchanted castles. As if out of a fairy tale, the story behind these unusual rock formations is one of majesty and mystery. They are steeped in history and are impossibly beautiful.

Episode 5: DEMYSTIFYING NATURE
1/31 (Tue) @ 5pm; 2/03 (Fri) @ 9pm; 2/04 (Sat) @ 10am
• Fairy Circles:
Until 2014, Namibia's mysterious network of barren circles dotting an otherwise fertile landscape was thought to be the only example of Fairy Circles on earth. In this episode of IMPOSSIBLE PLANET, we take you to Namibia and to the only recently discovered site of these natural phenomena, the Pilbara region of Western Australia.
• Antelope Canyon:
The incredible Canyonlands in Arizona are a vast wilderness full of impossible splendor. Curious rock formations, cascading falls and sky-high sculptures await interested adventurers, including the famous slot canyon – Antelope Canyon. Only accessible through guided tours, this incredible sandstone phenomenon has been shaped by flash flooding, wind, and other forces of nature.
• Fire Whirls:
Fire Whirls, also commonly known as fire devils, or Fire Tornados, are whirlwinds induced by shear wrapping flames up to spiraling heights the small pockets of smoke can rise to an intense heat with turbulent wind conditions. Combined with ash, flames, and debris this combative force of mother nature can even escalate into a towering tornado of fire; a spinning vortex sucking in everything in its path.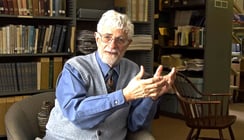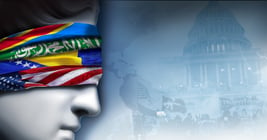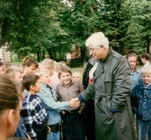 BLIND TRUST: LEADERS & FOLLOWERS IN TIMES OF CRISIS
1/14 (Sat) @ 8:30pm
1/23 (Mon) @ 3pm
1/29 (Sun) @ 8pm

Directed by Molly Castelloe
Produced by Molly Castelloe, Kurt Ossenfort, A. Dean Bell
BLIND TRUST celebrates the life and work of psychiatrist and psychoanalyst Dr. Vamik Volkan, a five-time Nobel Peace Prize nominee who has spent over four decades bringing enemy groups together in areas of conflict all over the world.
BLIND TRUST traces Dr. Volkan's life journey from his birthplace on the ethnically divided island of Cyprus to his development of a model of diplomacy based on the emotional life of nations.
This look into his pioneering fieldwork and peace-building missions in Europe, the Middle East, and the US shed light on how large-group identity and shared trauma can both unite us and divide us for generations.
This film was originally titled Vamik's Room.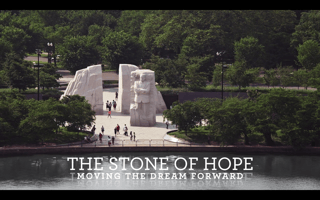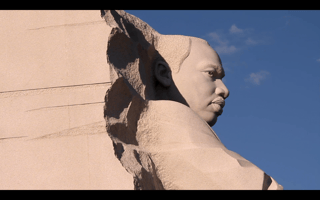 THE STONE OF HOPE: MOVING THE DREAM FORWARD
1/16 (Mon) @ 7pm
2/02 (Thur) @ 2:30pm

Produced and Directed by Drew Perkins
THE STONE OF HOPE: MOVING THE DREAM FORWARD documents the first decade of the Martin Luther King Jr. Memorial on the National Mall in Washington D.C. Now the fifth most visited Memorial averaging 3-5 million visitors a year, the King Memorial uniquely serves the country as the only Memorial on the National Mall honoring an activist, a preacher, and a man of peace. People from all walks of life including Prince Charles and Camilla, Duchess of Cornwall, have visited the King Memorial. On numerous occasions, world leaders have made their way to the Memorial with President Obama proudly serving as a tour guide. It is rare for the three most powerful leaders of the United States to participate in the same event, but on the occasion of the King Memorial's 10th Anniversary celebration, President Joe Biden, Vice President Kamala Harris, and House Speaker Nancy Pelosi all took time to pay tribute to Dr. King and the Memorial which bears his name.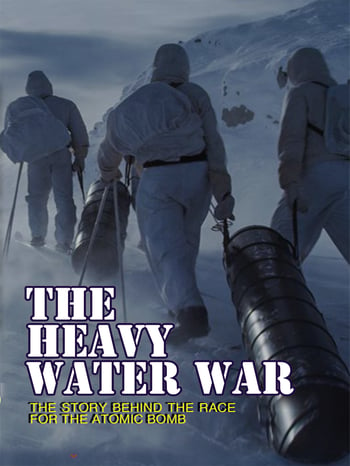 THE HEAVY WATER WAR
1/20 (Fri) @ 2:30pm
1/22 (Sun) @ 8pm
1/30 (Mon) @ 7pm

In 1939 the scientific world is buzzing. The race for the atomic bomb is launched. But to control nuclear fission, the French and the Germans alike absolutely need heavy water. This rare resource is produced in a single factory in Vemork, a small Norwegian town, which then becomes a major strategic issue. From 1939 to 1944, the Allies lead several secret operations to recover the stocks of heavy water and to prevent Hitler from getting his hands on them. This documentary, constructed as a true historical thriller, returns for the first time to this little-known, but nevertheless crucial episode from the Second World War.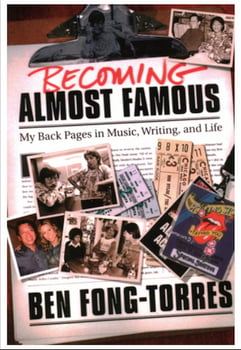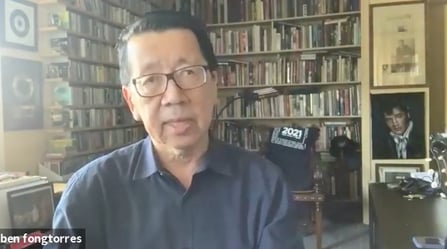 CINEPOD - ROLLING BEN FONG TORRES
1/19 (Thur) @ 5:30pm
1/22 (Sun) @ 7:30pm
1/25 (Wed) @ 11am
1/28 (Sat) @ 8pm

Oakland native Ben Fong Torres is a pioneer in rock and roll journalism. He started at an early age with the equally youthful Rolling Stone magazine in the 1960s and for many years was the only Asian active in the burgeoning Bay Area rock scene that went global with The Grateful Dead, Jefferson Airplane, and others. Fong Torres interviewed and wrote about all the icons of our musical history including Elton John, Grace Slick, Paul McCartney, and many many others. He was also one of the inspirations for the movie "Almost Famous" directed by Cameron Crowe who was a teenager when Fong Torres employed him at Rolling Stone. He is still a working writer today with landmark books to his credit. Indie filmmaker and journalist Suzanne Joe Kai have now made a documentary that tells his untold story. Cinepod host, Roger Garcia took that opportunity to talk to Fong Torres about his roots and influences.