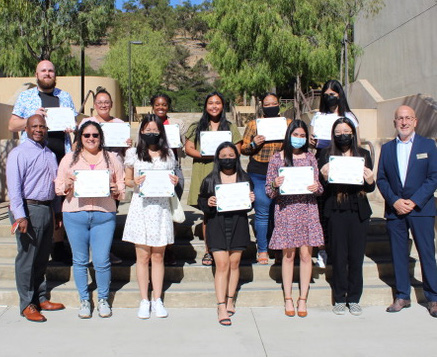 Berkeley City College students Starlissah Stewart and Tyler Bennett were recently awarded the first round of the Alameda County Behavioral Health Career Pipeline Scholarship and Mentorship Program. The award, which could reach $10,000, will support their tuition at their transfer universities.
Stewart transferred to Cal State East Bay and started classes in the Fall, where she is majoring in Ethnic Studies and minoring in Mental Health. Stewart comes from a long line of health workers serving in Oakland, her mother and grandmother both worked in the health field. "I am very honored by receiving this award," said Stewart "I appreciate all the guidance that I received from Miss Janine Greer, who is the mental health specialist over at BCC. I took a bunch of health courses with Melina Winterton, who gave the best guidance ever."
Bennett transferred to UC Berkeley where he is majoring in Public Health and minoring in Data Science. He applied for the scholarship due to financial need and an opportunity to network and receive mentorship for his future career in public health and grad school. "I'm really excited to receive this scholarship because it will alleviate the financial burden of living in the bay area and I will be able to focus more on my studies! I also can't help but thank Melina Winterton and Janine Greer from BCC, and Dr. Sang Trieu from Ohlone College for their mentorship, advice, and support in my education process so far."
Congratulations Starlissah and Tyler!!